The Asia trip had got off to a good start despite the late arrival of our luggage from KLM. Never mind, we had entertained ourselves with all that Bangkok had to offer.
We had filled ourselves on Asian cuisine and got our minds in the rhythm of Asia time and our taste buds back into Asian spices and flavours. We even squeezed in a trip down the river and a spot of market dwelling in Chinatown. But now it was time for some sun and beach but first we had to get there.
Getting Ko Lanta
Ko Lanta is nestled in the Andaman sea and unlike its larger neighbour, Phuket, has no airport so your options for getting there from Bangkok will require at least two or three forms of transport.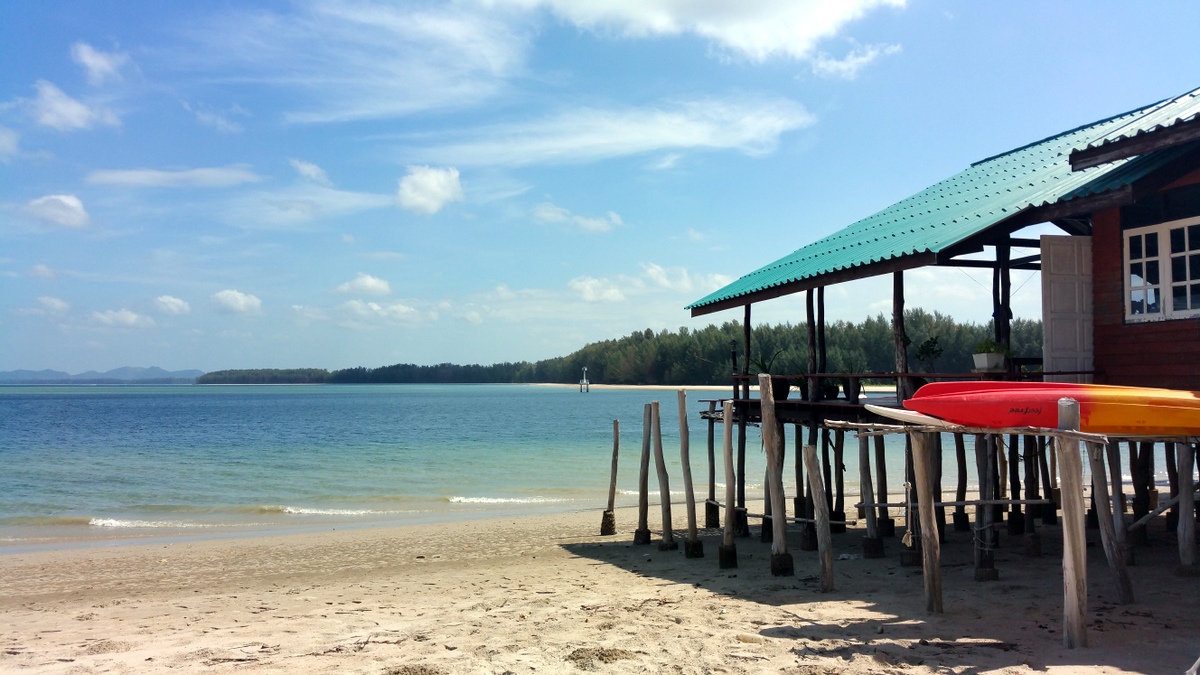 You can get trains and buses from Bangkok that will get you to Krabi or one of the other nearby mainland ports from where you can catch a ferry, but given we only had a month on this trip we opted for a speedier flight into Krabi airport and then a minibus to take us the last fifty or so kilometres to the island.
If you want to know what to expect here is our video of the journey:-
There are plenty of flights from Bangkok to Krabi, but Air Asia and Nok Air both offered and all in fare which would not only get you to Krabi airport but also arrange for the minibus to get you over onto the two car ferries that will eventually get you to Lanta Yai. Air Asia's offering was much cheaper though so we chose that.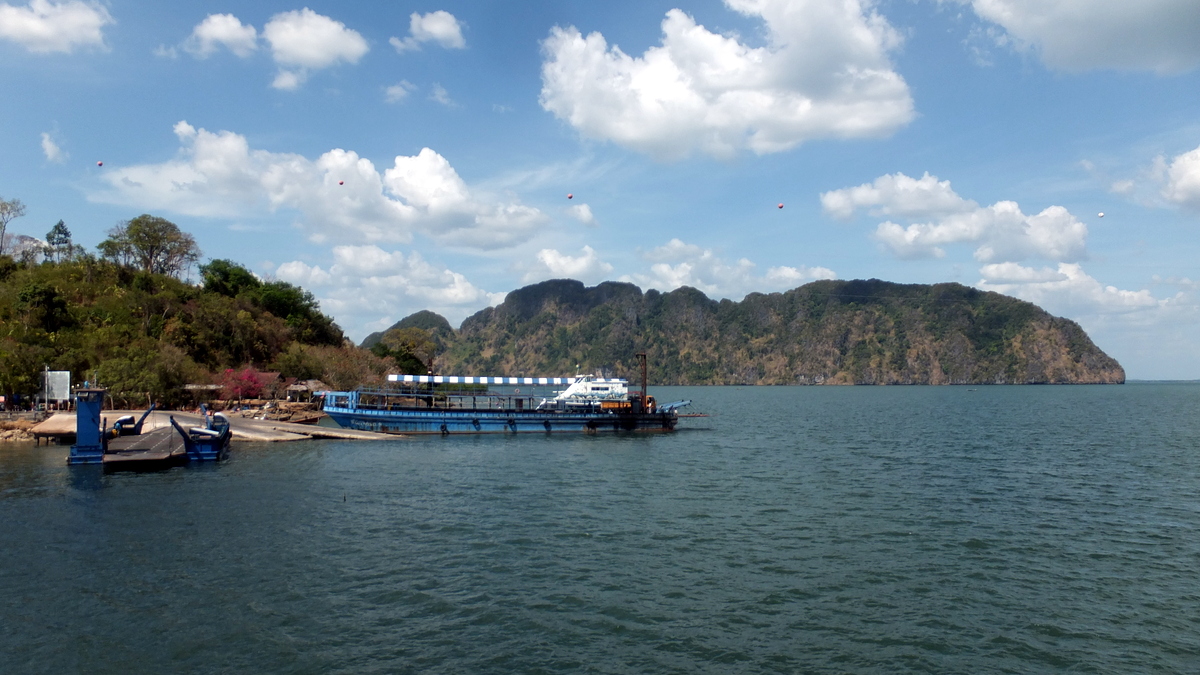 We did the research before we left home and the extra cost that Air Asia quoted for the transfer to the island was pretty much what we had read it would cost if you took your chances and hoped to organise the minibus when you arrived. Given it was getting to the end of the season we weren't sure that there would be many buses touting for trade and you may end up paying for a private transfer at a higher cost. So for £50 each (including luggage costs) we had a flight to Krabi and the connection to Sala Dan town in Lanta. We probably made the right decision as there were no other minibus traders looking for extra passengers when we arrived.
The Air Asia Bangkok to Ko Lanta Transfer Experience
The flight, as has always been the case with Air Asia, was on time with perfect service and landed on time just over an hour after we had left Bangkok Don Muang airport.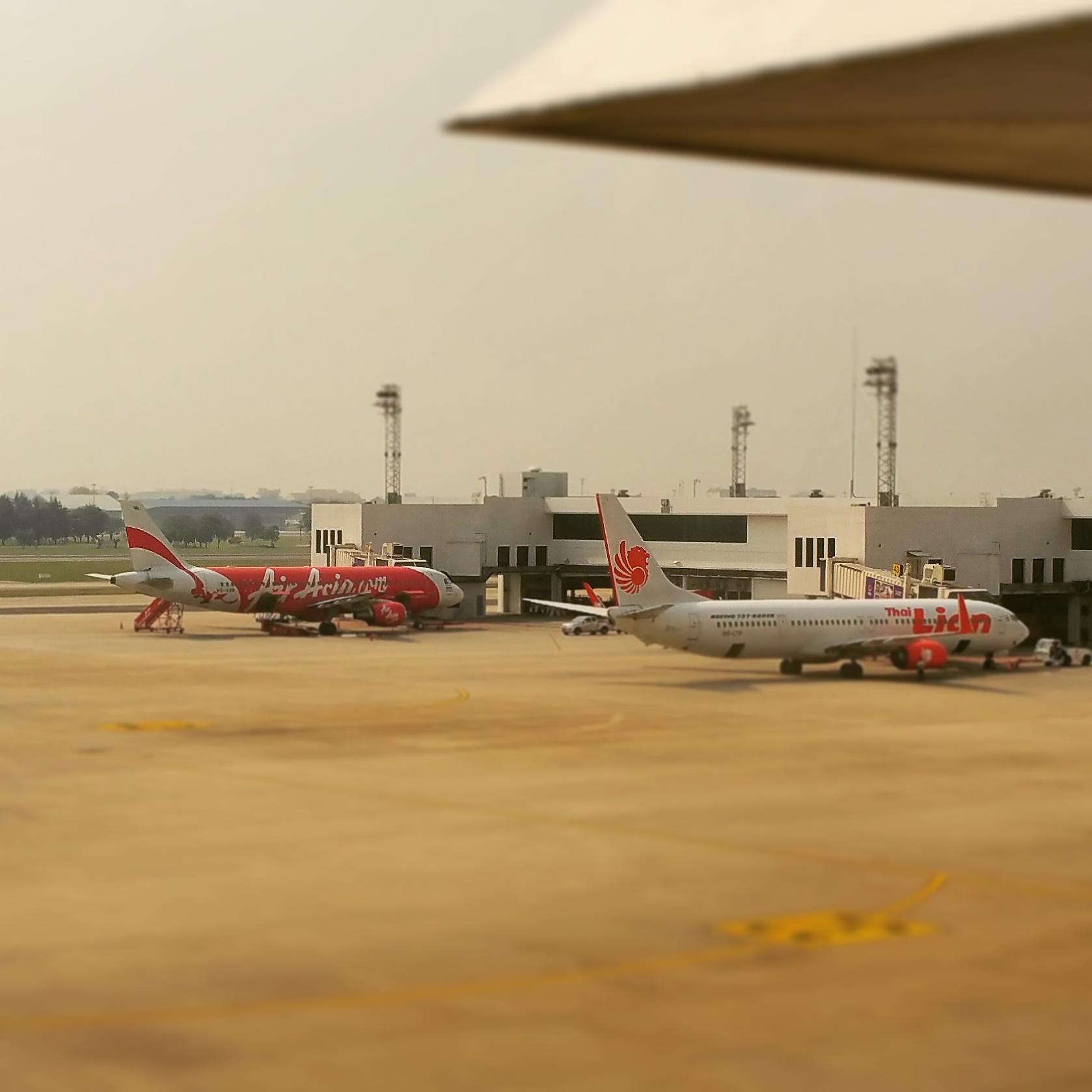 From here on in Air Asia's wonderful customer service experience was left wanting. We had found a useful post from our fellow bloggers withhusbandintow which told us what to expect.
I am glad we found that or it all would have been a little confusing as to what was happening. We were greeted as we emerged from the luggage carousel by an Air Asia representative who crossed our names off the list, applied a non sticky sticker to our arms (which promptly fell off and flew into the wind)and then pointed in the direction of a door where we were greeted by a Thai bloke in shorts and a casual shirt. He turned out to be our driver and pointed us at his minibus.
Our luggage was hurled on the front seats and we joined eleven other travellers who were already aboard a van whose air conditioning was struggling to meet the cooling demands of its passengers. We waited in the van for a further half hour while other planes arrived where the driver was expecting (or hoping) to snag a final two passengers for the Island journey. They never arrived and we were thankful as we had the whole back four seats to ourselves. It would have been an even more sweaty and uncomfortable journey had they been found.
With no information forthcoming from the driver we set off from Krabi and made our way down to Hua Hin pier (which took around an hour) from where we catch the first of our two car ferries. We were on this one within about ten minutes of arriving at the pier and we were allowed out of the van to sit on the viewing platform have a fag and admire the view. Then it was back inside for the land trip across Lanta Noi for our second car ferry to Lanta Yai. The wait was a bit longer for this one and we stayed in the van for this crossing.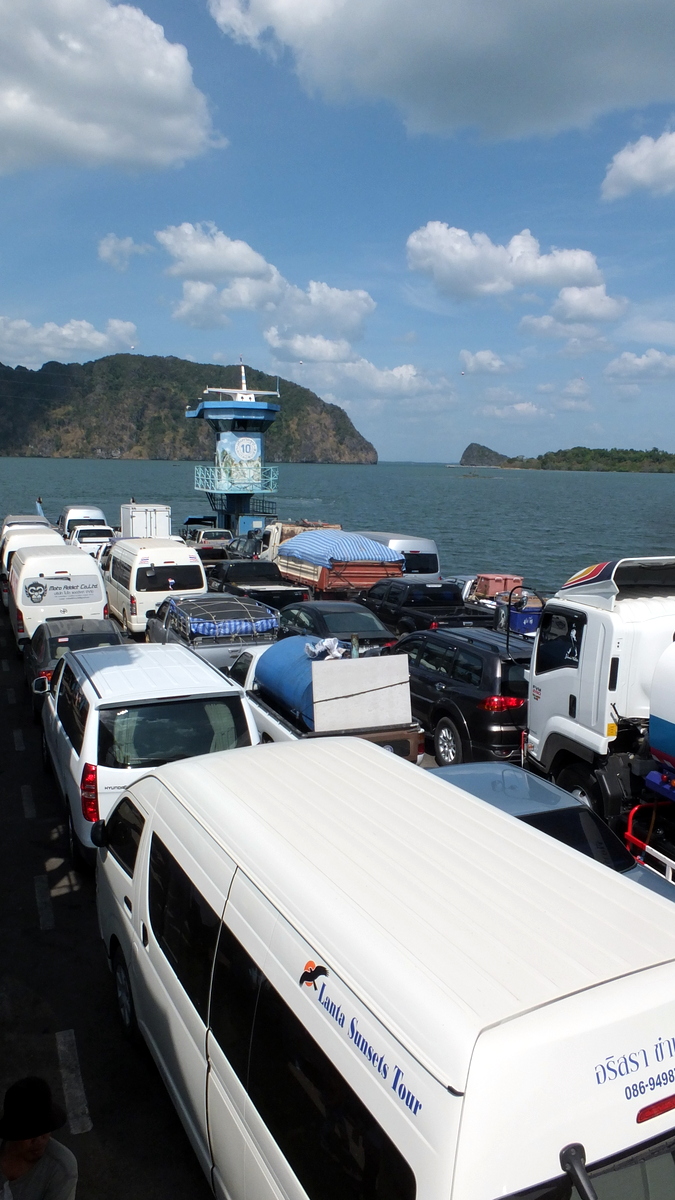 We were eventually deposited on the main road in Saladan (not Saladan Pier as advertised on the Air Asia tickets) while the driver earned a few extra Bhat ferrying other passengers direct to their hotels. In the end it didn't matter to us as our hotel by chance was directly across the road from where we were dumped. But another couple of passengers released from the van were desperately trying to explain to their hotels where they had been left which was not easy when you just arrive n a new place. It would have been much easier if we had been dropped off where we were supposed to.
Flashpacking Thoughts on Air Asia Transfer
From landing in Krabi we arrived on Lanta at just before 4pm which made a total transfer time just short of three hours. I think we were lucky with the ferries and our minibus was almost full as we joined it so we had a much better experience than Amber and Eric had on their journey.
Despite the lack of information the all in package was a great deal and all Air Asia need to do is to either provide a little more information on the ticket as to how long the transfer will take, or get their representative at the airport to explain more and people I think would be much happier with the service.
You let us down a little this time Air Asia, but you are still our favourite airline.