Bangkok is very much the same as we remember it, there doesn't seem to be any discernible difference from our previous visits following the recent coup.  But then we don't live here so how would we know.
It was definitely quieter though; this could be simply because we are here at a different time of the year or maybe tourism is still struggling a little after last year's demonstrations.  Anyway from our perspective there is no reason not to visit Thailand.
Hotel Sunflower Place
One thing that our travels have taught us is it is possible to get a good hotel at a decent price with all the amenities you want if you do your research.  That's how we stumbled upon the Sunflower Place.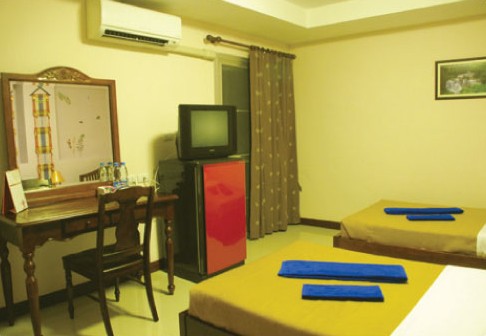 It is located right smack bang in the middle of Silom (on a side street off Soi 6).  We had a spacious, spotlessly clean room with air con, a massive fridge, laptop size safe, a decent shower and free water, tea and coffee 24 hrs a day.
The place sits in between the main roads Silom and Thanon Surawong so it remains reasonably quiet given its central location!  The MRT station is a five minute walk (Silom and Sala Daeng BTS Station ) Phatpong Market is even closer and you are within staggering distance from the gay areas of Soi 4 and Soi Twilight (Soi Pratuchai).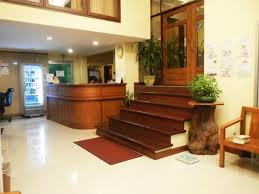 All this for £19 ($29) per night for both of us is a steal given the location.  It is run by the owner; a fierce looking granny who seemed at first a little frightening, but this hard exterior hides her businesslike management of the place.  We didn't need much help from her, but she organised the receipt of our lost baggage without any fuss and even remembered to return our key deposit when we left as I had actually forgot.
There is also Citibank branch near the hotel which is the only bank in Thailand where you can avoid paying the 180 THB ATM withdrawal fee.
After Hours Restaurant

We tend to pick on street food during the day when we are in big Asian cities but we

had a couple of meals at a restaurant just round the corner from the Sunflower Place. When we first arrived at the hotel I spotted a good mix of Asian and expats dining there so had my eye on it from that point. They do a happy hour between 6pm and 8pm so you will also save on your drinks bill if you eat at this time

The food proved to be up to the mark. As we'll as tasting fantastic it was presented with just enough fuss to justify the few baht more you are paying to eat there.  You can also enjoy the added bonus of a pretty decent acoustic singing duo who 'mostly' didn't murder western songs and even brought John to tears (of joy) at her rendition of an Ed Sheeran track.
We managed to munch our way through their tom yam soup (we asked for it a little spicy) and while it had a kick it didn't blow your head off.  The Peneng curry was mild but beautifully flavoured and the pad thai large and fresh.
Our second visit we went for Pad Kha Proa, chicken with basil leaves, and was medium spicy, Papaya Salad which despite our asking for little spice this time came with a belt of Thai chilli spicing but tasted fresh and delicious.  The soured spare rib had an unusual taste, not unpleasant though, and was almost too spicy to eat, but we persevered and washed it down with a cool Chang.
We were happy to find these two budget gems in the heart of Silom in Bangkok and they made our stay there practical and enjoyable.