Sri Lanka Two to Three Week Itinerary
Sri Lanka is set to be one of the up and coming travel destinations over the coming decade now that the civil war and violence are a thing of the past.  Get planning your trip to this special country that for years has been overshadowed by its overbearing neighbour – India.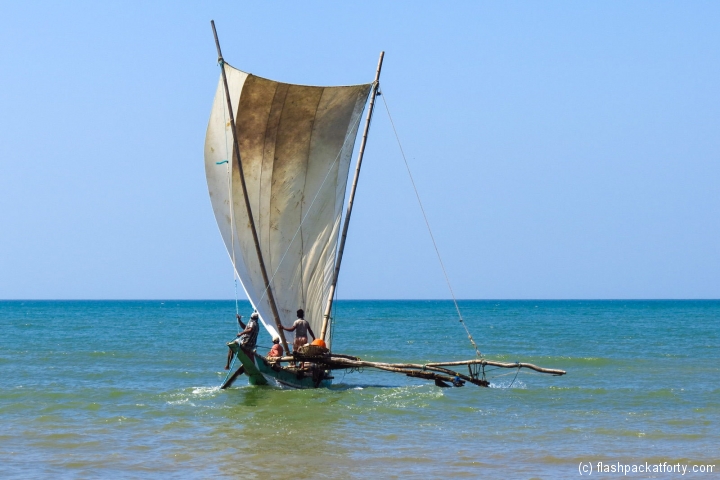 Basics
Sri l Lanka has to be one of the easiest to get around and friendliest countries we have visited    The tourism industry is still developing and has not yet fallen foul of tourist money greed that some succumbed to.  A two or three week trip to Sri Lanka can be more than sun, sea, and beaches, though it has those too.  You can squeeze in mountains, tea plantations, culture, history and the opportunity to interact with the local people, especially if you choose to stay in the many family guest houses on offer here.
Travel
Sri Lanka has a great transport system and if you don't expect modern luxury and trimmings you can get around the country for few dollars for each hop  The local buses are very frequent and will get you to your destinations in open windows buses that were built anything from 20 – 30 years ago.  There are more luxurious smaller mini vans that have air-conditioning but we tried these once and found them uncomfortable.  The trains, while not particularly frequent, with a bit of planning you can let the train take the strain for a less bumpy ride between your destinations. In particular don't miss the incredible scenic journey between Kandy and Badulla on your way to Ella or Nuwara Eilya .
If you really want to do the tour in style you can hire your own driver and car for around $30-40  dollars per day, but you would miss out the fun of travelling on local transport.
Sri Lanka in Two or Three Weeks
Day 1 – Arrive at Colombo airport and decide whether you want to stay in the Capital Colombo or the nearby beach resort of Negombo for a day or so to settle in to the Sri Lankan life and visit the capital's sights.   We chose Negombo and liked it so much we returned at the end of our trip.   You can explore the capital from Negombo by hiring a tuk tuk for the day or use the buses to get you there in about an hour.
Day 3 to 6 – Set off by bus to Dambulla (buses pass through Negombo for this trip but you will change about half way into your journey at another transport hub, Kurunegala ).  Dambulla should be your location for exploring the sights of the cultural triangle at Anuradhapura, Sigiriya and Polonuwarra and you will need to spend at least three nights here to fit it all in without tiring yourself out.  The journey from Colombo to Dambulla will take around 6 hours, and an hour less from Negombo.
You will arrive in Dambulla early in the afternoon and you could squeeze in your trip to the Dambulla caves at the north of town.
Next Day set off early for your trip to Sigiriya, about an 45 minutes away by bus from Dambulla, climb the rocks and marvel at the views and the lions claw carvings and wall paintings on your way up.  Leave plenty of time to admire the gardens and terraces at the entrance to the rock.
Spend the afternoon exploring Dambulla town, introduce yourself to Sri Lankan cuisine at the many local restaurants serving curry and rice (be prepared it's normally served cold), kothu and the wonderful platters of short eats  – samosas, fish rolls, savoury pastries and dal cakes.
Up early next morning for your trip to Polonuwarra which will take you about one and a half hours.  Form here hire a bike or negotiate a tuk tuk to whisk you round the historical sights for the next four hours.  Spend the evening in town adding to your Sri Lankan menu sampling.
Next day your final trip to Anuradhapura which will take you two hours by bus.   The tour around the sights will again take around three hours by tuk tuk or four by bike and will leave enough time for you to get back to Dambulla for dinner or hop on a bus direct to Kandy if you want to claim back a day.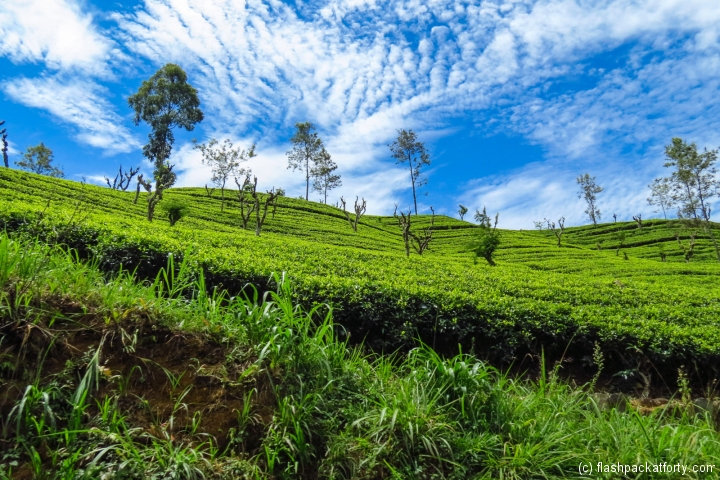 Day  7 and 8 –   Take the two hour bus ride to Kandy where you will be dropped off by Kandy Lake which dominates this charming Sri Lankan city.
You will notice the temperature drop slightly as you are now on the edge of the hill country and have gained some altitude.  You can spend that afternoon visiting the Temple of the Tooth and city centre while you arrange your train tickets for the picturesque journey to Ella or Nuwara Eliyah.  The next day hire a tuk tuk or hop on a bus and go in search of some tea factories and elephants.  Don't forget to see the unusually shaped Bible rock situated a few kilometres out of town.  Enjoy the smaller towns and villages you will pass through along the way.
Day 9 – Get up for your morning train to Ella which will take you along one of the most scenic train routes in the world.  Beauty cannot be rushed so settle in for your six hour journey as you climb into the mountains and enjoy the mountain and plantation views as you pass through the heart and major export industry of Sri Lanka.
You can save an hour on this journey if you stay at Nuwara Eliyah, but it is busier than the sleepy Ella so make your choice, or if you have time do both.  Enjoy the afternoon and early evening in the cool air of the mountains sipping tea or beer at one of the many restaurants in Ella town and plan your treks up Ella Rock or Adams Peak the following day (Day 10) .
Day 11 – Consider spending at least two (or three if you have longer) nights here as it is a pleasant way to relax after your hectic cultural sightseeing trip so far.  Hire scooters or get a tuk tuk and explore the waterfalls and temples, cute train stations and villages that litter the area around.
Day 12 – Catch the bus down to the south coast (five to six hours depending on your choice of location with a bus change at Matara) and give yourself some beach time at one of the many beautiful, quiet silver sand beaches that adorn the south coast.
You can choose from quiet spots of Mirissa and Tangalle, or the busier places Hikkaduwa, Bentota or Unawatuna.  Relax, sunbathe, watch the turtles hatching and make sure you go to watch the whales and dolphins if you are here between November and April.    Take a half day trip to see the historic fort town of Galle (45 minutes from Mirissa by bus) while you are here.
Day 14  –  If you are stuck with a two week trip get the bus (four hours) or train (three hours) back to Colombo or Negombo for your flight home.
For three weeks
If you have longer and have not used all your extra time lounging in the sand,  head East and visit Yala National park to spot some more elephants and if you are lucky a Sri Lankan leopard    You could even return to Negombo for the last couple of days and enjoy the Western beaches before your flight home.   With this extra time you have one further option from Dambulla  to visit the Eastern beach resort of Trincomalee which will add two to three days to your itinerary.
Sri Lanka Two or Three Week Itinerary – Google Maps

View Sri Lanka Two Three week Itinerary in a larger map