South Korea Two or Three Week Travel Itinerary
Two to Three Week Itinerary for South Korea
South Korea ended up on our travel itinerary quite by accident after bumping into two South Koreans at our home stay in Sapa, Vietnam.  They were such good fun we decided the country had to be worth a visit.  It turned out they represented their country perfectly and it lived up to all our expectations and more.
Basics
South Korea is a very easy country to visit.  You will find a warm welcome from the locals who will happily share their food and drinks with you and help you get about the country, if you get lost, and introduce you to the pleasures and rituals of the Korean barbecue.  The food is interesting and varied as are the landscapes and cityscapes.   Accommodation costs are on par with Japan, but here you can eat and transport yourself about the place much cheaper than Japan.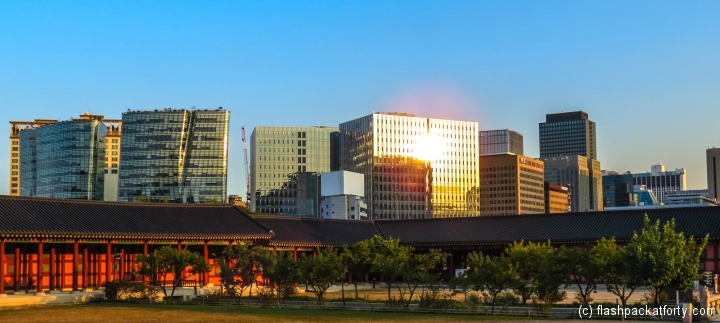 Travel
South Korea's train system may not have the kudos of the Japanese bullet train, but the system is fast, cheap and like everything else in Korea, spotlessly clean.  If you wander away from some of the main train routes there are plenty of luxury buses to whisk you to your next destination.   Low cost Korean airlines can fly you about this compact country if you are short of time, with good last minute fares easily available.
Seoul  in Three Weeks
Day 1 – Fly into Seoul and explore the capital city for a few days lapping up its museums, temples, nightlife and feast on your first South Korean food flavours. Two to three days here should be enough to get a feel for Korean life.  Don't forget to book your Korea DMZ tour for when you return to the city.
Day 4 – Take a cheap internal flight to the wonderfully quirky Jeju Island and spend three days marvelling at the land the volcanoes left behind.  Hire a car, it's cheap, driving is easy and you can get to see more of the hidden gems.  As well as the natural wonders don't miss the chance of sampling some of Jeju's 'unique' museums.  Now you have the hang of Korean food, sample the earthy flavour of the local black pig grilled on your barbecue. Don't miss out on a visit to one of the traditional markets.
Day 7 – Head over back to the mainland, you can catch a ferry and then connect with buses or trains or jump another cheap flight. If you are there in Autumn head next to Jinju for the mesmerising lantern festival and spend an afternoon at the Korean bullfighting ring (its all humane).  If you arrive at other times try out the southern cities of Daegu or Busan for a bit more city life.  If you are here in the summer Busan also has some beaches to laze on for a while.
Day 10 – Head next to Gyeongju and be prepared to be immersed in the cultural history of Korea with an astounding number of historic temples, tombs and palaces to marvel at. Three days will allow you enough rest in between some frantic sightseeing.
Day 13 – If you are limited to two weeks, head back to Seoul and squeeze in the fascinating DMZ tour before setting off home.
Three Weeks
If you have another week you could add an extra day or two in Jeju to go hiking up some of the peaks to peer inside the volcanic craters and enjoy the scenery from up on high. Add a couple of days lazing on the beaches in Busan, or travel to the north east to Seoraksan National Park to enjoy some impressive mountain views and expend some calories gained eating your Korean food.  Stay at Sokcho and enjoy beaches one day and mountain views the next.

View South Korea Travel Itinerary – Google Maps in a larger map