India Rajasthan and Golden Triangle Itinerary
Two Week Itinerary for Rajasthan and the Golden Triangle
You can get to see some of the top sights in Rajasthan and the Golden Triangle in India in fourteen days or less, it will not be a restful experience, but you will gain a lifetime of memories and images from the magnificent Taj Mahal to the the sights of Delhi and the colours and vibrant life of the Rajasthan cities.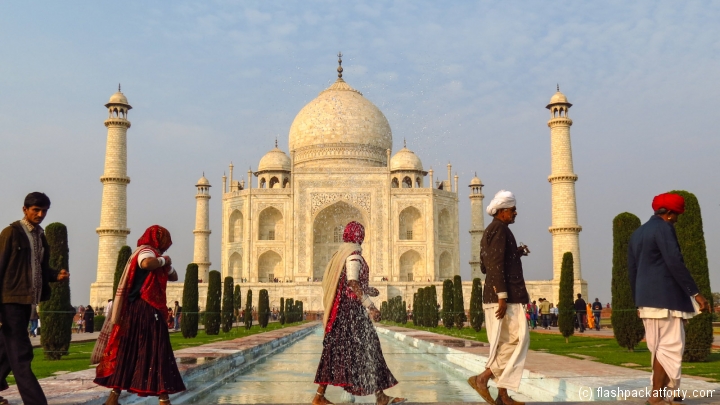 Basics
Some people think India is not the easiest country to visit, but with a few guidelines and a completely open mind you too can be enchanted.  You will be enthralled by the majestic history of Rajasthan and wonder at the buildings, monuments and temples that form the Golden triangle sights of New Delhi, Agra and Jaipur.   If you are limited for time the Golden Triangle can be completed in just seven hectic days, but if you add on other less well visited areas of Rajasthan you can have a wonderful culture packed introduction to Northern India.
India Travel Tips
Travelling in India is sometimes easy, there are always plenty of buses, trains, planes and car and driver options available to get from place to place, but its also difficult,  this choice can often be overwhelming and complex to plan when you are not in the country.
If you are planning to do this itinerary by train you will need to plan well in advance and book your trains online yourself  through Cleartrip, weaving your way through the timetable or let a reputable agent do this for you.   Doing this itinerary by bus and coach is also possible in this time frame, but you will spend a lot of your time on bouncy buses and will most probably be exhausted after your trip.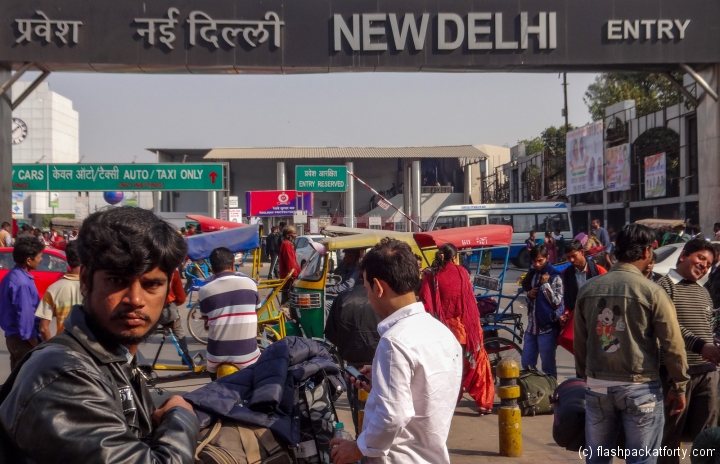 Limited train timings between some of these destinations may mean you will have to get overnight trains and/or arrive very early/late at your next destination to squeeze this itinerary into 14 days.  You can check here on the Indian rail system site for timetables in detail to see what works for you.
By far the easiest, but not the cheapest, way of completing this itinerary in fourteen days is to hire a car and driver to escort you from place to place and whisk you around the sights in the larger cities.  Our India car and driver rental guide should help you find the right car and driver and be aware of some of the potential pitfalls in choosing this option.
Rasjasthan and the Golden Triangle Two Week Itinerary
Day 1 – Arrive in New Delhi and explore the capital city for a couple of days lapping up its museums, temples and historic buildings, if you have taken our advice you will be interviewing potential drivers to see if you like them.
Day 3– Set off for Agra early to avoid the Delhi rush hour and your car should have you arriving in the number 1 tourist site in India by lunchtime.  Drop your bags and spend the afternoon and sunset visiting the enchanting Taj Mahal and Agra Fort.   Train from Delhi to Agra takes around 2-3 hours depending on whether you get the express train.
Day 4 – Another early start will see you on the road for your six hour journey to Jaipur, the third destination on your golden triangle tour, Jaipur, where you will cross state lines from Uttar Pradesh and finally enter Rajasthan.   On the way you can visit the ghost town of Fatehpur Sikri for an hour or two (it is 80kkm outside of Jaipur).    With lunch and this visit to the ghost town you should arrive in Jaipur early in the evening.  By train this journey should take you five and half hours.
Day 5 – Explore Jaipur 's Amber fort   early and ride up the mountain on an Elephant, add the Floating Palace, the City Palace, the Hawa Mahal and the Observatory to your list of sights.  Finish with a visit to the Albert Hall Museum and your two nights in Jaipur should allow enough time to relax and spend some time wandering the pink city and its bazaars at leisure.
Day 6 – If you are just doing the golden triangle tour it will be time to head back to Delhi by train (five hours) or by car (four hours).
If you are continuing onto the Rajasthan tour you can head to Pushkar.  Pushkar will be your time to get away from the hordes of tourists as you savour this highly religious, and much calmer destination in India .
The three hour drive from Jaipur will get you there by lunchtime giving you enough time to explore the lake and enjoy a lassi and dinner overlooking the ghats below, before setting off again early next morning.   There are no easy trains here so you will have to use the buses or get to Ajmer Junction and get a train from there.
Day 7  – Back on the road again for another five hour journey  to Mandawa to introduce yourself to the Havelis of Rajasthan. This is another small town which is enchanting and became one of our favourites along the route.   You will arrive just after lunch and an afternoon is ample time to explore this tiny place. Make sure you stay in one of the traditional Haveli's here to ensure you soak in the atmosphere and history.   No train routes here so again you will have to rely on the buses.
Day 8 – From here you can head to Bikaner which is around three hours away by car.  If we had to recommend one place to skip on our itinerary this would be it.  We didn't find anything that we either hadn't seen elsewhere and the town did not impress. There is the ghee (butter) and rat temple to see along the way but you won't be culturally deprived if you skip these and Bikaner Fort from your trip.  Buses and cars are your only real option for getting here on this itinerary.
Day 9  – You are now on your way to Jaisalmer for a few days getting down with the camels in the desert and exploring Jaisalmer Fort which still has people living inside its wall, but who know for how much longer?  You will need at least two nights here, one in a hotel and one under the stars (or in a tent) in the desert. The journey here from Bikaner will take five to six hours by car and about the same by train.
Day 11 – If you are staying just two nights you will be back from your camel safari at around 10am ready to make the five hour journey to Jodphur (its about the same timings by car or train).  You will arrive in time to do a very quick tour of the fort to enjoy the stunning images of the blue city below and explore the bazaar in town.
Day 12  – An early start is necessary here as you head to your final destination of Udaipur which is around four to five hour drive away.  It will take longer if you do the detour to see the temple and hills at Ranakpur , so you will arrive in Udaipur early in the evening.
Day 13 – Enjoy the beauty of Udaipur with its traditional buildings, charming lakes, ghats and laid back atmosphere.   If you have more time treat yourself to a few days here to unwind before heading back home or continuing your India tour elsewhere.
You then either have the choice to remain in Udaipur or make your own way back to New Delhi or Mumbai.  Adding this option to your driving itinerary should only take another 1 or 2 days.
India Rajasthan and Golden Triangle Itinerary – Google Maps

View India Rajasthan and Golden Triangle Itinerary – Google Maps in a larger map
I hope you found our sample itinerary useful, if you have any other suggestions please leave a comment for other blog readers.