After a long haul flight and a busy travel day ahead, you don't want to risk making the jet lag worse.  You need a place you can relax, refresh, recharge and the Tune Hotel KLIA 2 has all this and more.  This has got to be the best reasonably priced flashpacking hotel ever.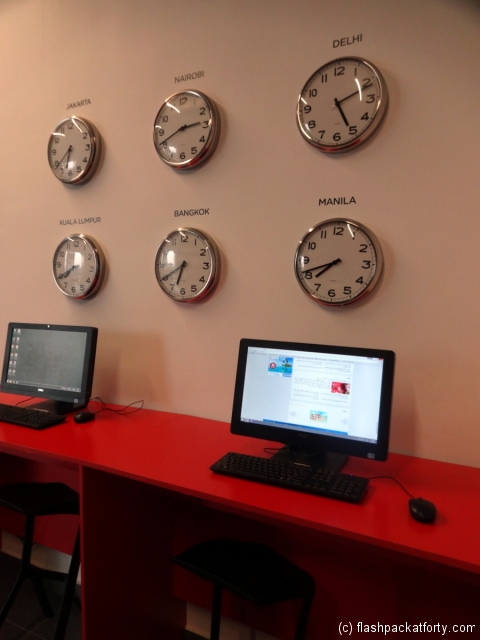 A Great Airport Hotel Experience
Before booking at the Tune Hotel, we did some online research on where to stay for our one night stopover in Kuala Lumpur.  We'll be ending our month long trip in Malaysia, so we won't be missing out on another visit to KL. Many of the cheaper budget options didn't compare, by the time you incorporate taxi charges from and back to the airport.
Checkout our own video from our stay at the Tune Hotel in KL.
Those hotels offering free transfers didn't seem very appealing, so we decided to treat ourselves at the start of our trip, and booked to stay at the Tune Hotel before our arrival.  We're glad we did, as our luggage was delayed with KLM, the tune with its facilities and location allowed us to sort everything out as best we could under the circumstances.
Why we loved the Tune Hotel.
A super friendly and quick registration. A great room with everything you need including a lovely hot shower and comfy bed. The room was impeccably clean. First priority to get online and chase luggage, with the faultless WiFi.
We love 7 Elevens, and this hotel has it very own downstairs. A quick bit of shopping for emergency supplies, for some bits and pieces contained in our lost/delayed luggage.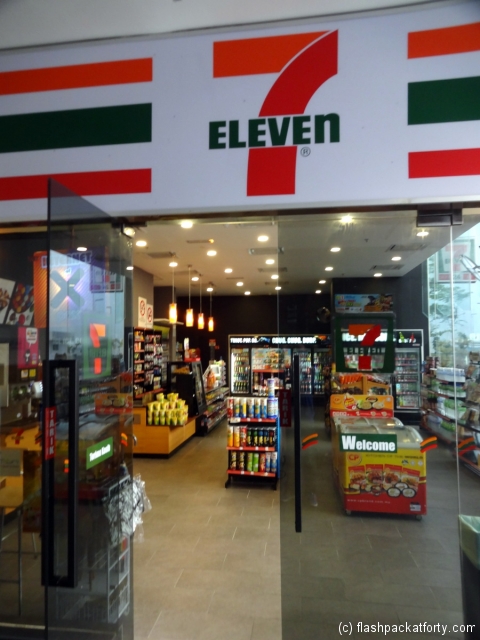 A quick bite to eat and drink in the hotel, I love Malaysian food, yum yum!
Then a quick walk over to all the shops at terminal 2 for some fresh clothes for the morning.
Back to the hotel, a bit of TV and then off to a faultless nights sleep. The hotel even has its own Departure Boards in Reception and Air Asia check in kiosks which was perfect for our flight to Bangkok.
Thanks for everybody at the Tune for a great experience and excellent flashpacking value for money
Getting to the Tune Hotel KL from International Arrivals at KL
Having read about some not so great travel stories, from not necessarily the brightest of people, on how they found it difficult to transfer to the Tune Hotel from international arrivals at Kuala Lumpur airport, I thought I'd point out how simple it is.
No need to get a taxi as some people do, it is this easy.  Firstly, you need to get yourself to KLIA 2 (terminal 2). From the baggage claim, after exiting customs just follow signs to buses. Find a bus with KLIA 2 written on it, or just ask. It costs just 1RM, and takes about 5-10 mins. On arrival at terminal 2 follow signs to hotel, you need to take the elevator to the 3rd or 4th floor, its signposted hotel. Then take the covered walkway to the hotel, less than 5 mins walk. You can take a baggage trolley with you. They also have trolleys available at the hotel.
Back to Travel Blogging
For us travel blogging isn't just about  documenting our travel experiences, although the old grey matter ain't what it once was, as it can be fun to look back from time to time over the blog.  We try where possible to include information that other travellers may find useful.  We still receive emails and social media comments from people thanking us when researching their own trips, which is always great.
I follow many bloggers who inspire, amuse or just make me plain jealous when I'm working hard back in the UK.
Useful for this trip so far, to name but two other travel blogging couples, A @HusbandinTow and their Air Asia transfer experience to Koh Lanta (you can read about our transfer in a few posts time, which was good) and @nomadicboys for their Koh Lipe post which resulted in us including this island onto our itinerary. We value the commitment of other travel bloggers and big thanks for their work, otherwise research would be left to the sometimes murky world of professional marketers.