Meandering around Madrid
This is the second of our posts dealing our all too short trip to Madrid, you can find the introductory post here.
After a fantastic hotel breakfast, and a luxurious nights sleep we were out of the door and ready to see how much of the city we could squeeze in to our only full day in Madrid.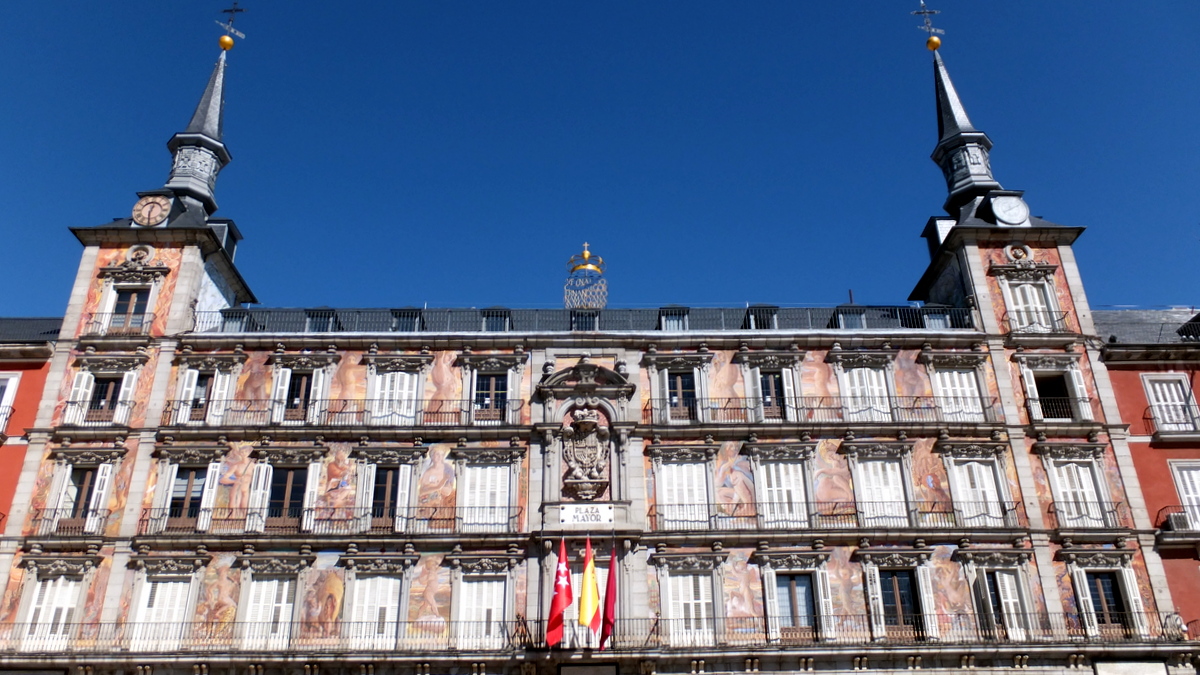 The great news was that our hotel, the Radisson Blu, was located in the Museum triangle, so we decided we would save the cultural museum musings until our second day and headed off to explore.   So with map in hand we took to the streets for a day of sightseeing, food and drink.
Our day began with a walk from the hotel located just off Paseo Del Prado and a slow meander up the small streets Calle de las Huerta which are full  of interesting bars, restaurants and some great traditional shop fronts.  Its alive in the day, but as we were to discover later this place comes alive with bars and restaurants in the evening and you can saunter along choosing your drinking place and listen to the soft waves of jazz and more traditional music wafting from the bars.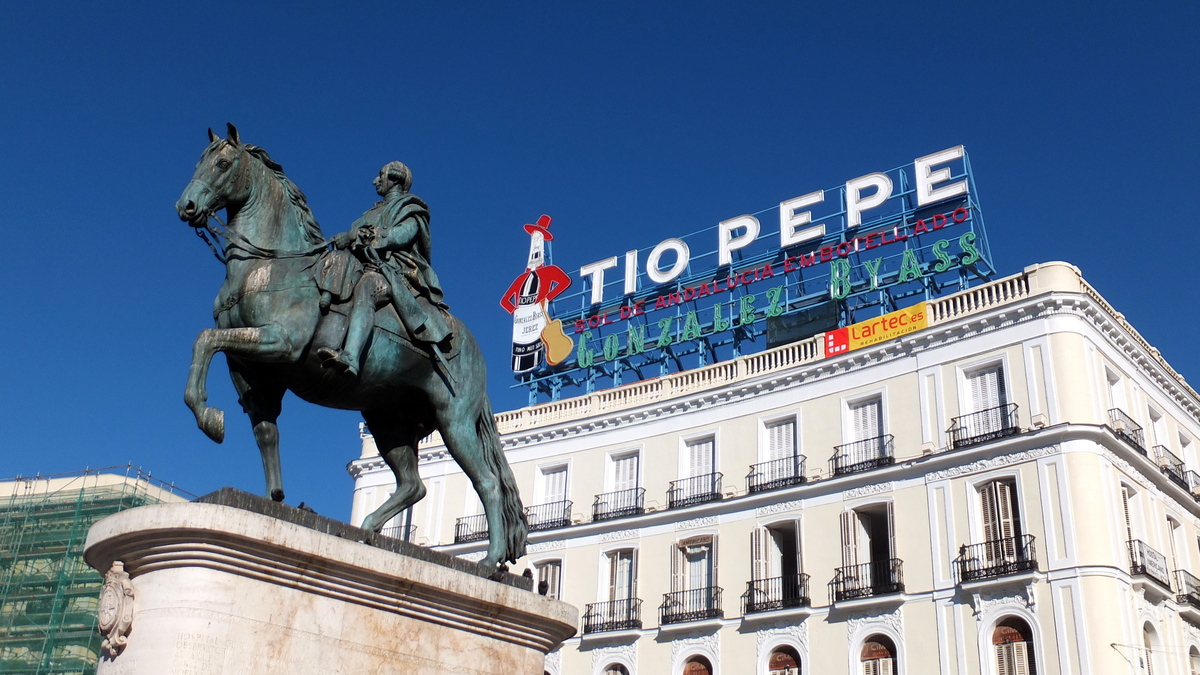 Next stop was Plaza de Santa Ana, our first great Madrid square and then on to Plaza Mayor, admiring the fantastic architecture and impressive iron balconied façades along the way.  We did a quick stop at the Orange store to get myself kitted with a Spanish mobile and data SiM and then made our way to the Palacio Real taking time to enjoy both the stunning palace, its gardens and the Basilica De Francisco Grande which adjoin Madrid's most impressive building.   The Palace is the 'official' residence of the Spanish Royal family, but is only used for state occasions leaving them to slum it at the Palacio de la Zarzuela on the edge of the city.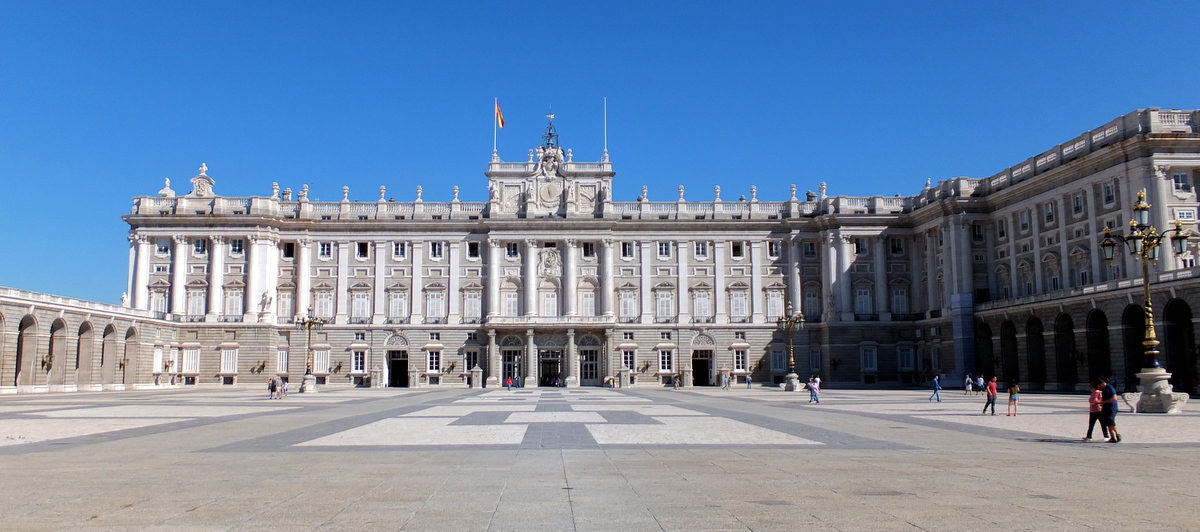 We had already packed in a few kilometres (our total for the day was 19.7km) and decided we were now deserving of some tapas and a couple of cereveza's to help us with the afternoon's sightseeing.  From the Palacio we headed to the Mercado de San Miguel and indulged in beer and snacks.  The market is a foodie heaven and you can eat your way around the stores sloshing down your food with a cool beer, sangria or a glass or two of wine.
Wandering around this area you will find other smaller squares and intimate churches to satisfy any architectural or religious curiosity you may have before heading to Plaza Mayor.    Here step back and enjoy the wonderful  buildings and fresco fronts of this immense rectangle (it measures 95M by 130M).  You can check out  the 237 iron balconies that protrude from the three story buildings or just grab a seat and watch the tourists marvel at the street entertainers.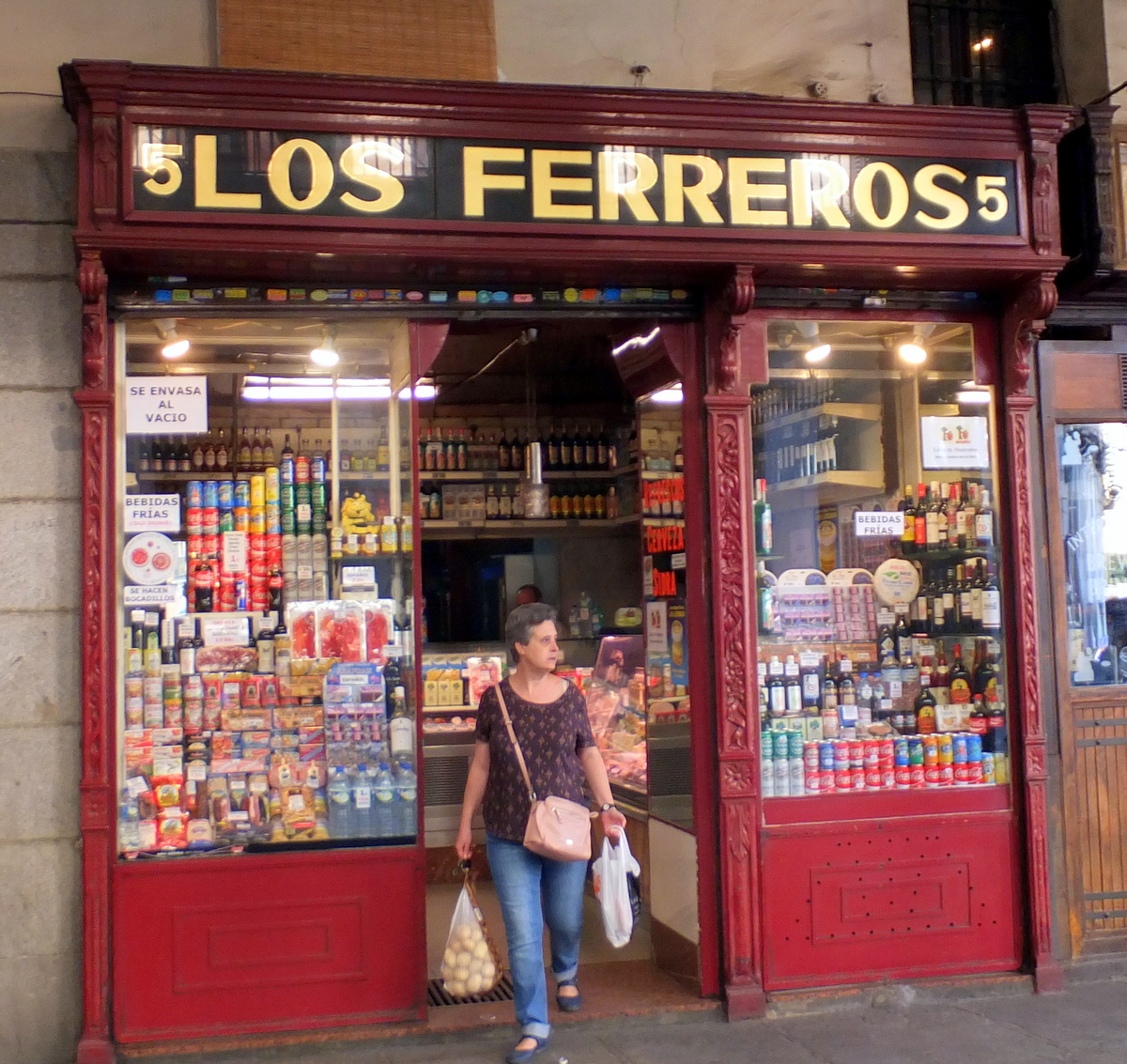 The Casa de la Panadería (Bakery House) dominates the square with its impressive frescoes.   Spend some time to study them, you never know what you might find hidden.
Our final few kilometres of the day was dedicated to  Gran Via , but first we squeezed in the Templo De Debob and Plaza de Espana. Unfortunately for us we arrived at the temple when it was closed but the surrounding park is pleasant and has some good long distance views of the Palacio and the outer edges of Madrid City.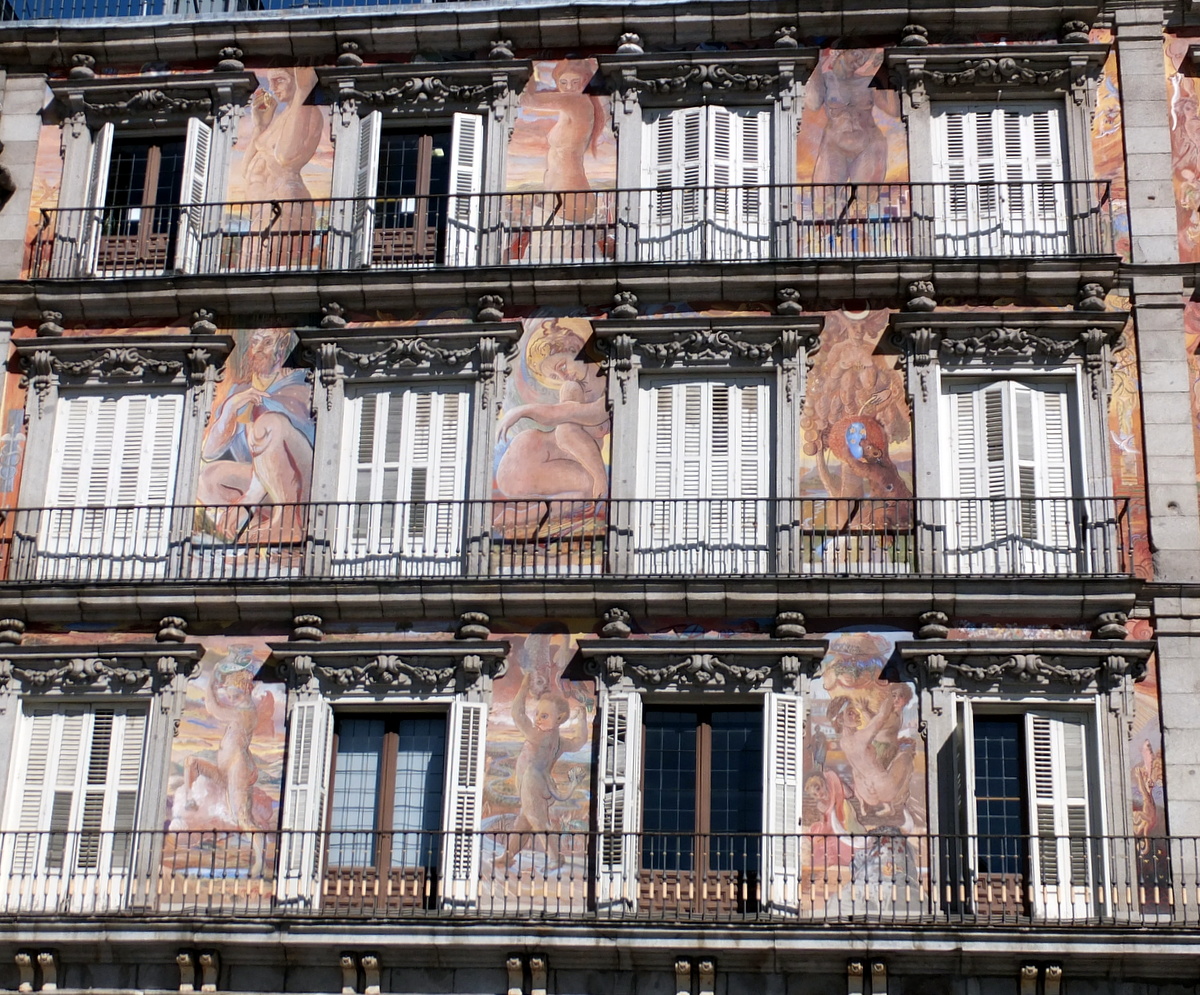 Gran Via hosts any number of restaurants, classy shops and theatres, but for us was merely a pathway to Plaza de Cibeles and more wonderful architectural asorbtion before heading back to the hotel for a well earned siesta and a shower before our meal at Casa Alberto's.
Casa Alberto's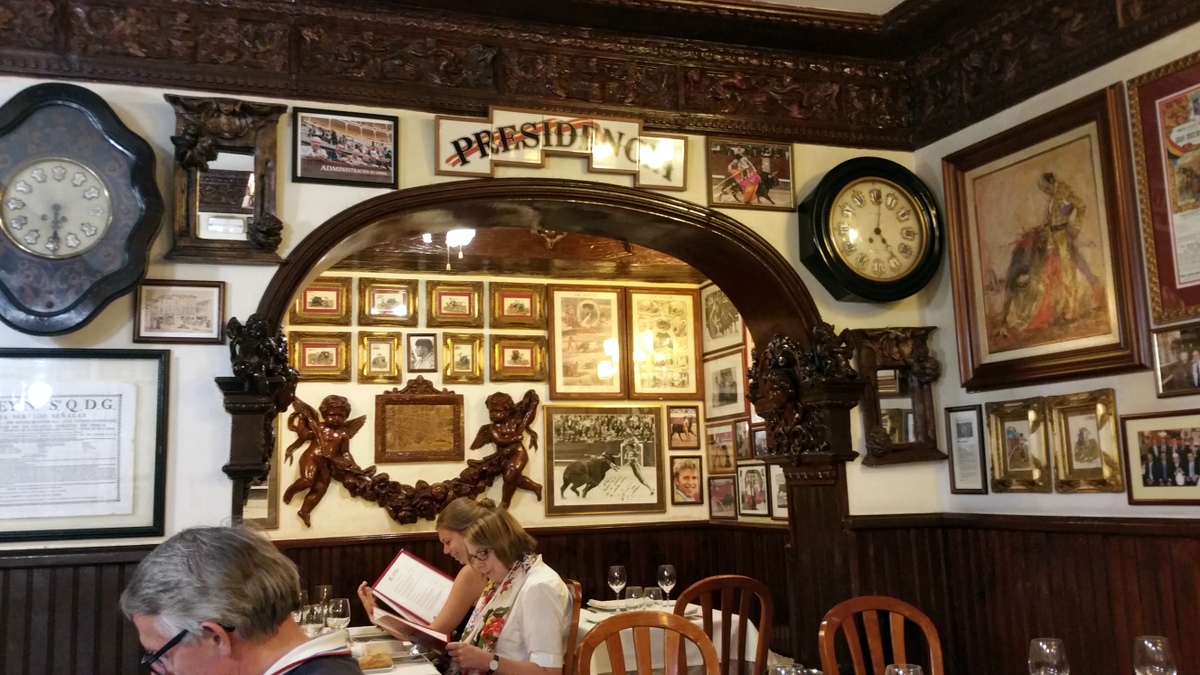 If you only have one night in Madrid you want to get your restaurant choice right.  Luckily we came armed with some recommendations from a friend who had lived in Madrid.  After explaining we wanted authentic local food, she recommended this place.   It is located on Calle de Las Huertas and a short hop from the hotel.
We hadn't booked a table, so turned up at 7.30pm to book a table for 9.30pm.  After going through the reservations book with the waiter he told us in Spanish there were no tables available, which was clearly evident from the reservations.  After seeing our disappointment, he said he could accommodate us now, but would have to finish our meal by 9.30pm.  We were  delighted and proceeded to the bar to grab an aperitif.  We warmed up the evening with a bartenders recommended tipple  of port along with some delicious pork scratchings and moved on to the dining area for the main event.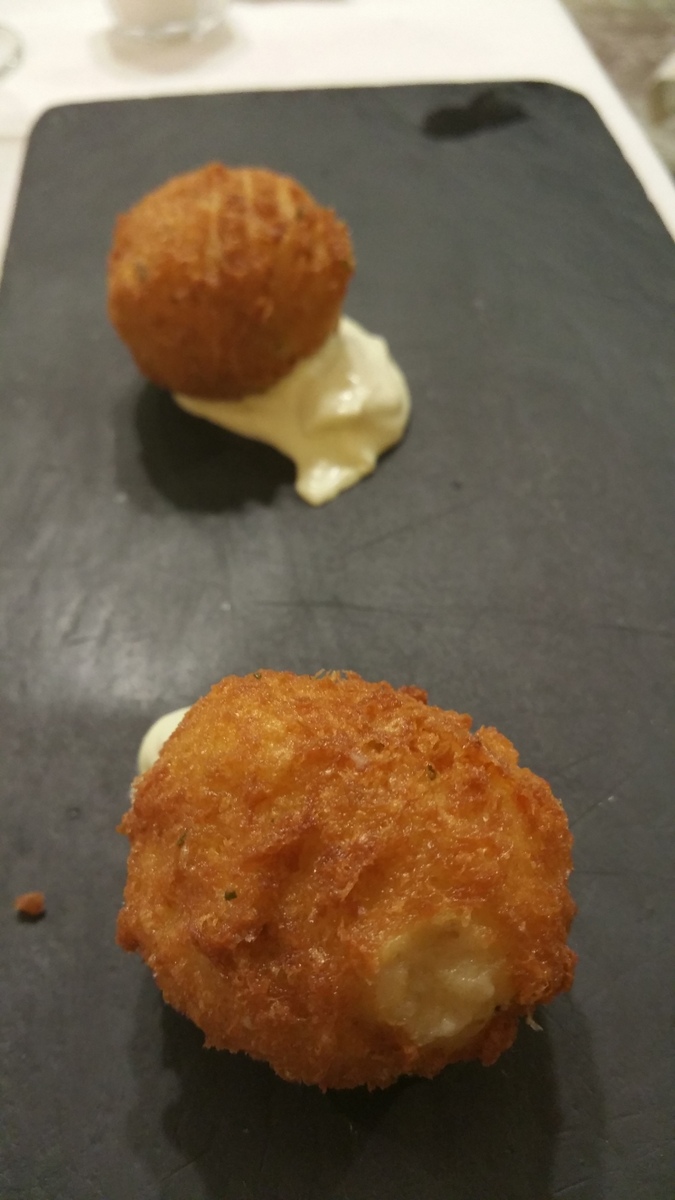 The restaurant quickly filled up with every table taken.  Starters were the house fish balls with a dreamy accompanying sauce and for mains I had Ox Cheek (it sounded much tastier on the menu in Spanish)  and John had monk fish.  Both dishes without being fancy were delicious and fairly priced  considering you were in one of Madrid's  main streets.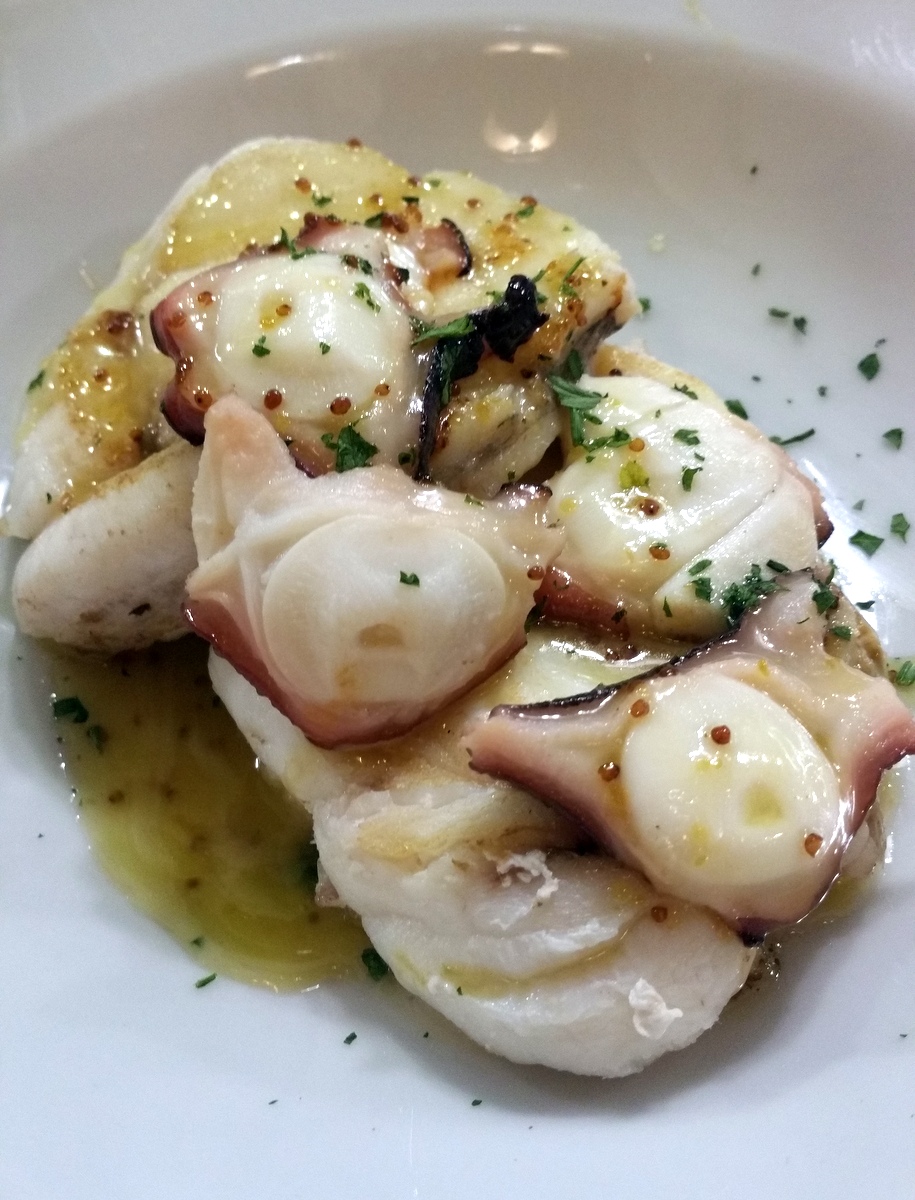 We finished off the evening with a pear purée and chocolate desert that I wasn't sure about when we ordered.  Afterwards any doubts were erased as John did all he could to stop me licking the bowl clean.   I would definitely recommend eating here, its authentic and good value.
We had to leave Madrid the next day at 12:30 so after packing and a second belly filling breakfast we managed to squeeze in a visit to the Museo Del Prado.    We didn't have time to do it justice, but the museum provides three routes that feature major masterpieces of European art.  They feature artworks such as The Annunciation by Fra Angelico, Christ washing the Disciples' Feet by Tintoretto,  The Garden of Earthly Delights by Hieronymous Bosch, and The Three Graces by Rubens. They also include key works of Spanish art such as Las Meninas by Velázquez, Jacob's Dream by Ribera and The Third of May: the Executions on Príncipe Pío by Goya.  Pick your route according to your likes and time available.
Thanks Madrid , we shall see more of you next time.