Koh Lanta is a popular Thailand island travel destination, especially for families with young children, Scandinavian, Dutch and German visitors. We visited in April 2015, which is considered an off-peak travel time. This meant there are plenty of low season flashpacking bargains to be had so you get the most value for your travel buck.  We were pretty amazed at some of the price reductions on offer just by travelling to Koh Lanta at a different time of year.
Low Season Travel Around Koh Lanta
One of the advantages of travelling outside of peak season is that there just aren't as many tourists around, which means you can easily find a table in the most popular of seafood restaurants without having to queue, or just rock up to an isolated piece of paradise on a beach.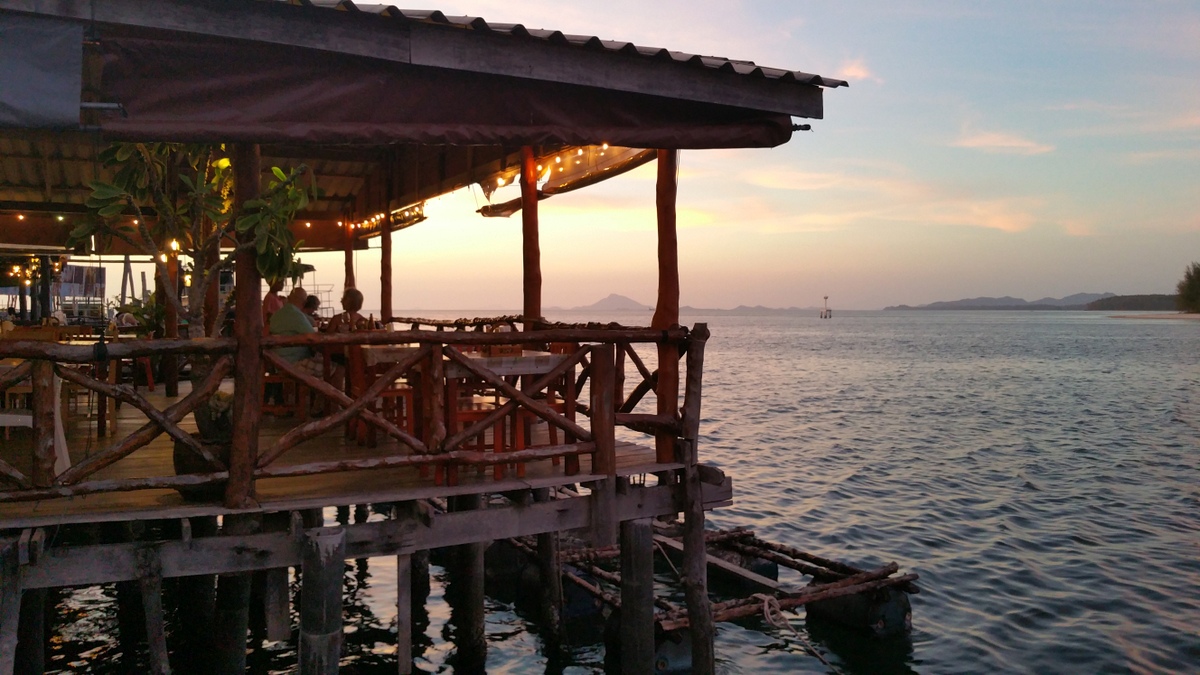 What we didn't realize was just how much cheaper everything is towards the end of the season, not only on hotel and accommodation offers, but things like scooter hire, trip bookings and even boat and coach deals for onward travel destinations, such as Krabi or Koh Lipe.
Some Disadvantages to Ko Lanta Off Peak Travel
The first has to be the weather.  We consider ourselves to be fairly well travelled and able to tackle most environments with a little planning and consideration. We are not great fans of air conditioning, a fan will usually suffice, but when temperatures are topping 40 degrees its a basic luxury until you're acclimatized to the heat.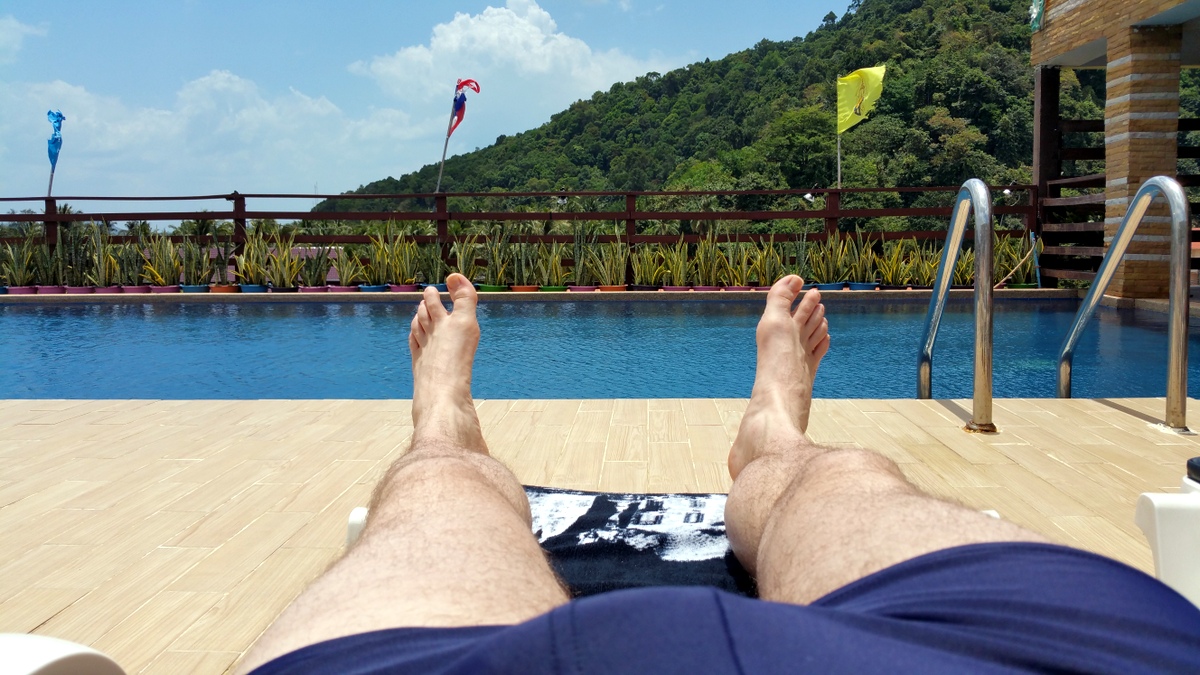 For our first day in Koh Lanta we decided to treat our pasty white skin to a bit of sun hanging around the hotel pool.  We coated our skin well in a high factor all day sun cream, before leaving our room, following the instructions to the letter.  We took shelter from the fierce midday sun, reapplying different sun creams when we thought necessary, so what could go wrong?
After a few hours of dipping in and out of the pool regularly to cool down we decided to be cautious and return to our room taking the slow approach tanning. Applying some aloe vera moisturiser the damage was evident.  Our skin began to resemble that of somebody who had boiling water poured over them. After many embarrassing musing over how this happened we are still not entirely sure.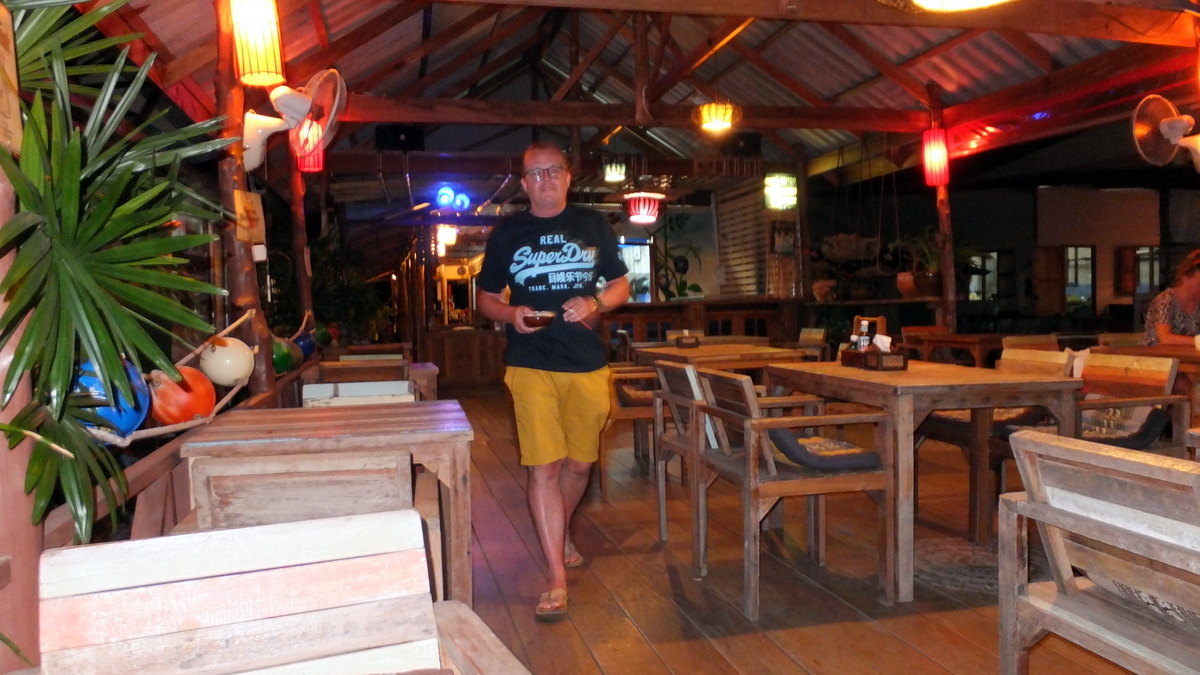 Approximately two weeks later writing this on my notepad, my chest still stings resting my tablet on it, not forgetting the layers of skin we are still shedding around Thailand. It's a bit like the Pringle crisp advert, once you start you just can't stop.
This occurrence sort of spoilt our experience of Koh Lanta as we were restricted to mostly after dark activities, alas this did not include the infamous mong and monkey bars, and probably wouldn't have happened if the sun had been so fierce as it is at this time of year.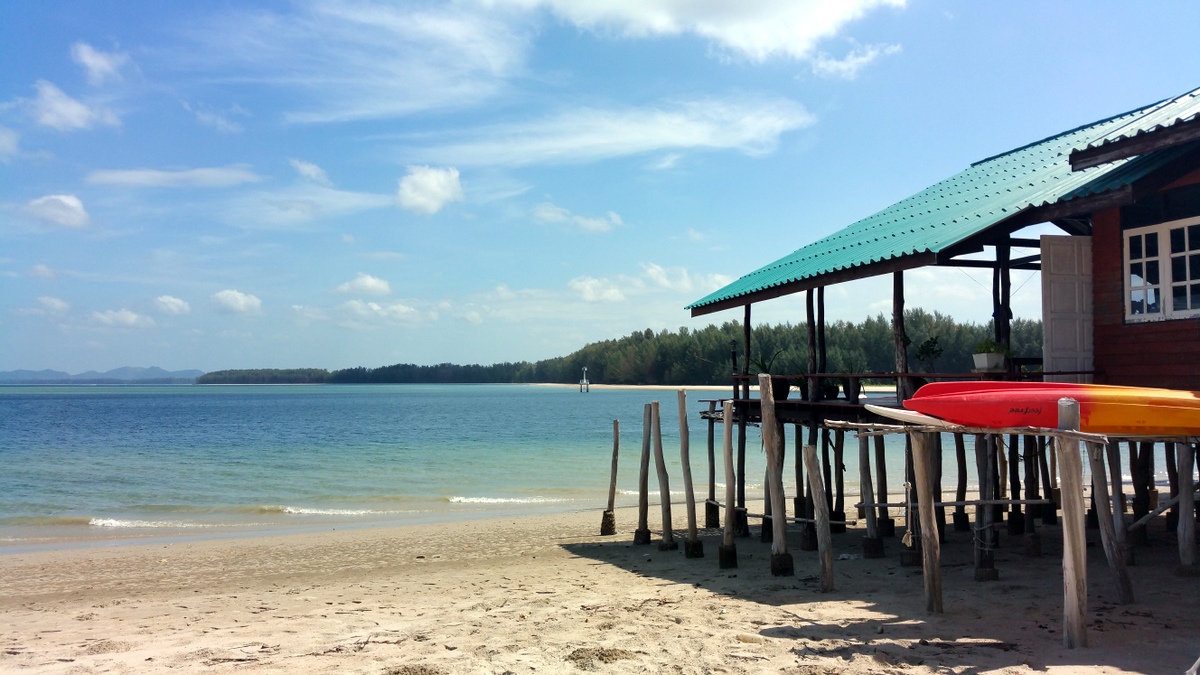 Another thing to consider when travelling off peak is the frequency of transportation. Some peak time ferry services may not be in operation, or you may have to change your itinerary slightly depending on more extreme weather conditions. However, I don't think this should outweigh the cost advantages unless you're on a very tight schedule then more in depth travel planning may be required.
Why are all the bars in Koh Lanta empty?
One slightly annoying problem is that your favourite bar or restaurant just may not be open on any given night, if there just aren't enough customers. While its great when traveling to experience many different places, its nice to try and establish some relationships with the locals. We do this by returning as regularly as possible to our favourite bar or restaurant once we've sampled the smörgåsbord of places on offer.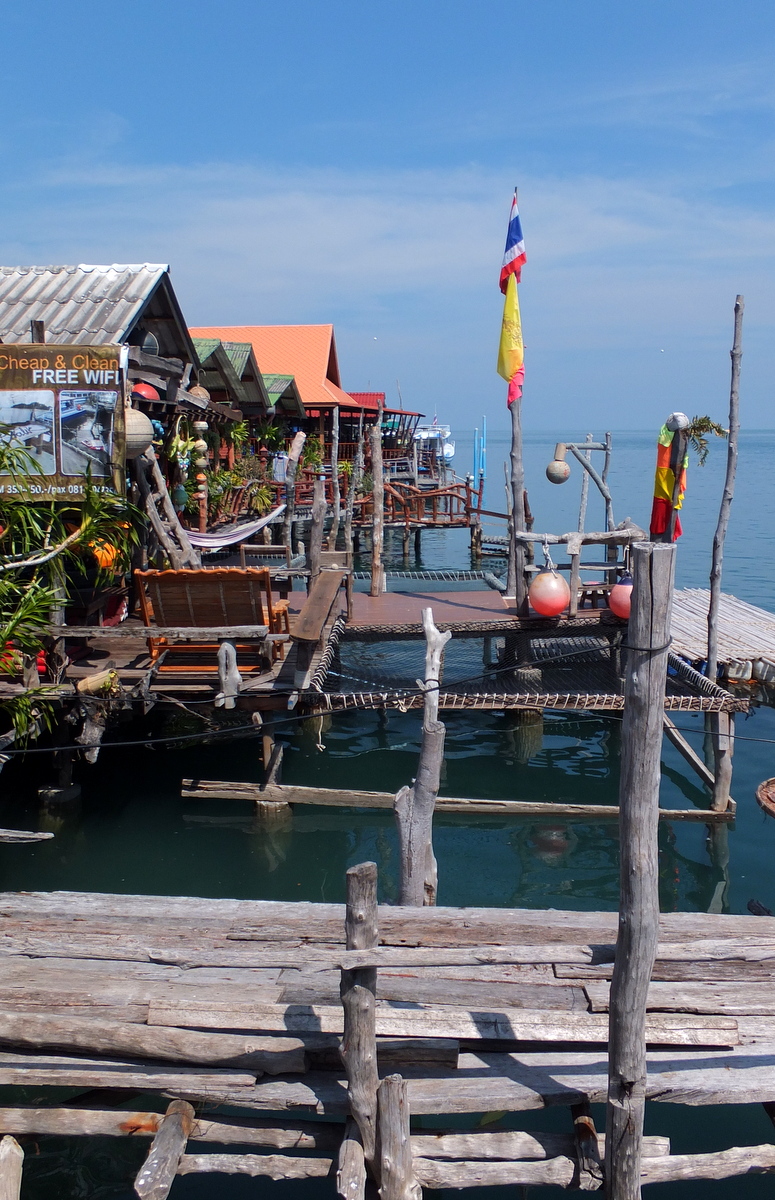 Our favourite place for cocktails in Koh Lanta was The Fat Pig, next door to Catfish. However, on four consecutive evenings the restaurant bar just didn't open, no explanation, they'd  just shut up shop. It had been fairly busy the few times we drank there.
There were many quiet or closed well located waterfront venues around the island. Some of the locals said it had been a quiet/bad business season, and they thought this was related to Europe's economic woes.  My cynicism likens this to some UK farmers, who by all accounts have never made a profit so I sceptically wonder why their family have farmed for generations and they wish for their own progeny to farm?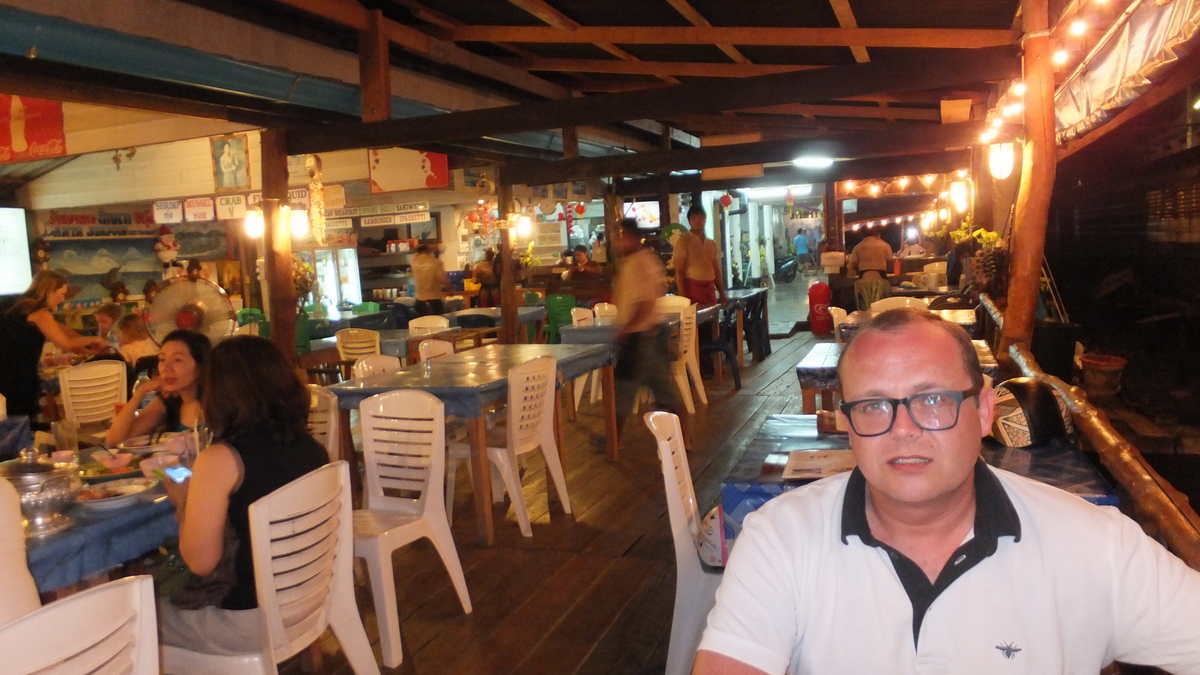 Although I suspect it has been a quiet season, based on Thailand's general tourism figures, and possibly a little too much development for the tourist market.  Another reason for patronising the same venue, apart from forming relationships, is that things can get better value, such as bigger portion sizes, better quality ingredients, stronger cocktails, even free drinks.  After returning to one Koh Lanta eatery on more than a few occasions we  received a new menu, identical in every way, just much cheaper prices.  I suspect the two menu practice goes on in many places in Koh Lanta, as it does all around the world. So it can pay off to try and have a local bar and restaurant even when travelling, its just slightly more problematic when travelling off peak season.
Benefits of traveling to Koh lanta out of season
Your major overheads when travelling are accommodation, transportation costs, and excursions. (Food and drink costs can be met nearly anywhere in Thailand whatever your budget).  There is no need to book accommodation in advance, just grab a scooter taxi there are plenty to chose from including a large number of women taxi drivers, and checkout your short-list of places to stay. Just be prepared to barter hard Thai style, and if the price ain't right, walk away.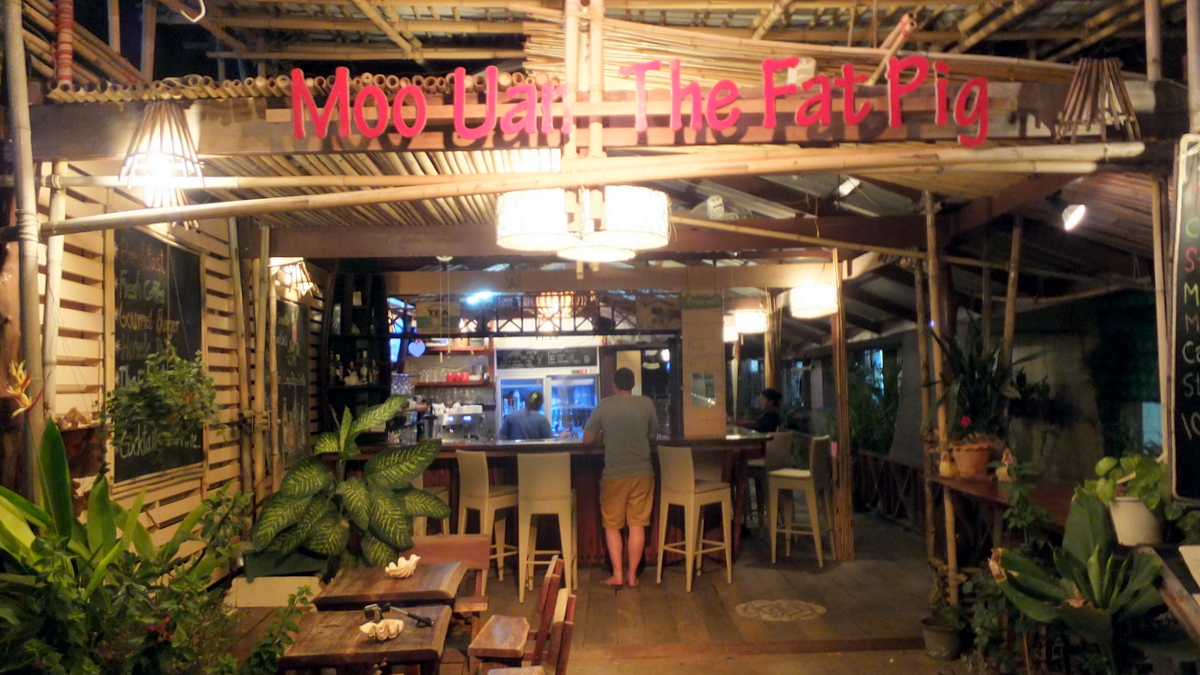 We even managed to negotiate the price of the fast ferry down from advertised low season rates. Our biggest bargain was hiring automatic scooters for the day (automatic mopeds cost more to hire, according to some of the Thais we spoke to) for just 100 Thb each including fuel, helmets etc. That's about £2 or 3 EUR.
Final flash-packing thoughts on Thailand's Koh Lanta
Koh Lanta is a very family friendly island with pushchairs aplenty and caters exceptionally well for this market.  Although it does cater for the indie traveller with its reggae bars, full moon and speciality jungle parties for the more energetic.
Koh Lanta is undeniably beautiful and has enough to entertain most tastes.  However, your unique experiences inevitably inform your opinion of a place. May be the sun burn slightly overshadowed the islands charms.  We both liked Ko Lanta, and we would return for a day or two en route to somewhere else.  I guess Thailand just has too much to offer and this wasn't the island for us.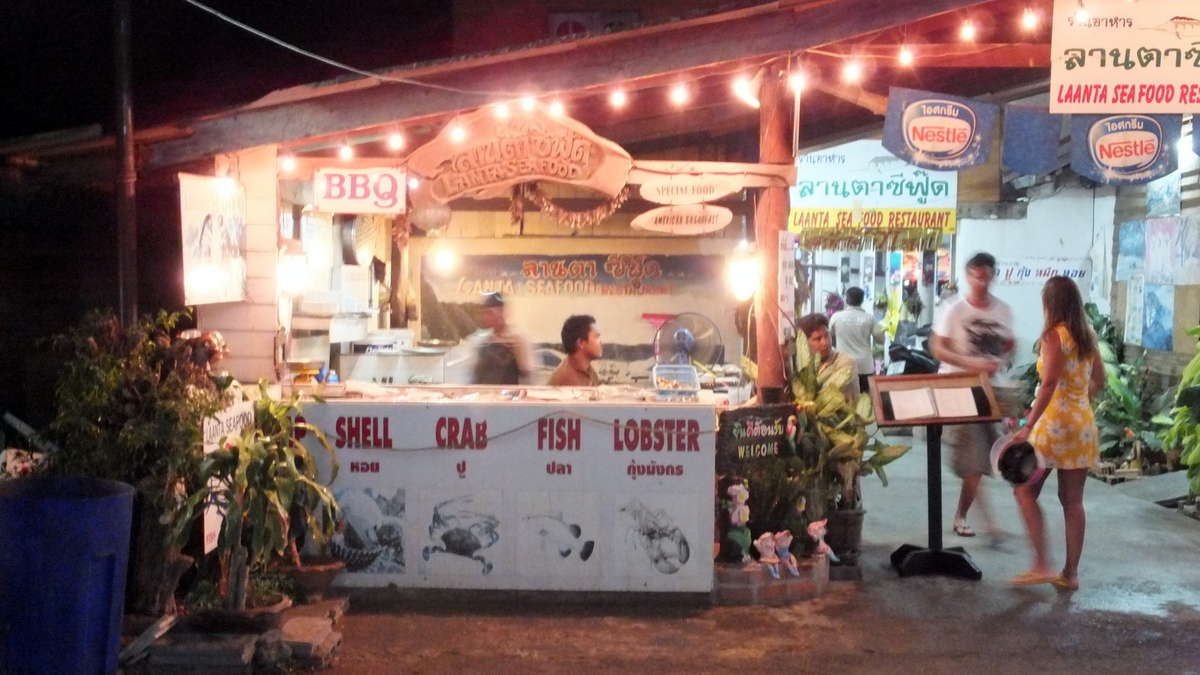 If you want to travel to Koh Lanta and can be flexible and don't want to experience the islands delights when its in full tourist mode, then consider visiting off peak, if you don't mind the odd storm and power cut your budget will most definitely go further.