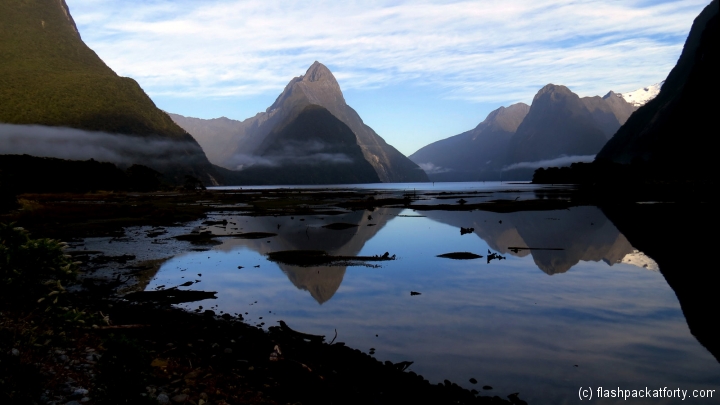 After our three months travelling we thought it was about time we did a mini update about our experiences, featuring the highs and the lows of flashpacking travel.
The good news is we are having an absolute blast and there really hasn't been any time when we have felt 'lost' or homesick.   Of course you miss family and friends, but with a good internet connection and an hour on facetime or Skype and we 'almost' feel like we were back home.   We are missing very little from home, certainly not the weather nor the gloomy news media.
Things that aren't so important when travelling
The Internet
For me, I thought it'd be a struggle, but in fact it has become far less important that I am permanently connected to the web. If I can get a daily fix to check e- mails twitter and Facebook for a few minutes I am happy. If not it's OK too, because we are busy doing something exciting and new.
Every few days we need to find a good strong signal to update the blog and do some research on our next locations (we are trying to travel without travel guides) but apart from that I have come to terms with losing my 'always on' status. Something I thought I would never do.
Celebrity news
I must admit back home I was a bit of an addict following the goings on of the rich and famous, now I couldn't care less, though an occasional picture of David Beckham's latest swimwear collection is always welcome.
Junk Food
We ate way too much at home, fact. We have both learnt to order what we need, eat when we want and we're both eating loads more vegetables and fruit than we did at home. Fast food has seldomly been eaten. We have mostly eaten local dishes and local produce, which is a joy. Our waistlines are testament that this is good for both of us. I am now a stone and half lighter than when we left the UK!
How are we doing on the road together?
We are both getting on really well and while we both don't enjoy all our destinations equally we agree more often than not on the things we have enjoyed and want to do next. We take great pleasure in changing our minds regularly about where we are going, often this has led to the discovery of some little gems we otherwise would not have seen.
The Travel Challenge
The challenge of long term travel is not as hard as I thought it would be when I was back home a year ago worrying about all the things that could go wrong. In saying that our destinations have been pretty easy so far with a common language (in Australia and New Zealand) or a previously visited location in terms of Bali.
Things no doubt will get a little tougher as we enter the Philippines as we are hoping to cover a lot of ground in a relatively difficult country. Follow us and find out how we do over the next few weeks.
For now here are a few highlights of the trip so far in an easy readable format.
I've also collected some of our favourite travel photographs in a 'best of' the first three months RTW trip, at the end of this post.   Why not leave a comment if you like any of the images.
Most shocking moment
Craig – A good shock, but the views over Lake Tekapo when we rounded a corner in the road and saw it for the first time.
John  – Crazy driver on the way to Padang Bai and the strength of Australian sun.
Best accommodation
Craig – has to be some of the DOC campsites in New Zealand for the locations peace and tranquillity.
John –  the self catering apartment on the Gold Coast gave us a homely feel for a week and was a nice antidote to hotels.
Worst accommodation
Has to be Base backpackers in Auckland, down with the kids, never again. Although, it wasn't that bad really!! We just got our heckles up a bit, as the booking with hotels.com wasn't honoured as described, reception and management didn't give a hoot.  However, we were generously compensated by hotels.com, so it was all OK in the end.
Best food
Craig – Oysters in new Zealand and the local sweetcorn from the farm shops, no butter required.
John  – Sate Campur in Bali and anything seafood on Gili Air (including the seafood pizza   – it was our first cheese in nearly two months) plus all the smoothies and juices you have on the road. My favourite at the moment is Lime Soda.
Best Beach
Craig – Pick any of the beautiful mostly deserted beaches up and down the coasts in Australia or new Zealand, but for all round setting Gili Air for me
John – The huge beach at Pakiri in New Zealand
Most difficult travel moment
Getting away from the shop ladies in Bali who had insisted on giving us an unprompted manicure and pedicure and then wanted paying for it.
Best customer service
Craig – Has to be Bali in our current hotel, they are all just lovely, but that goes pretty much anywhere in Bali.
John – Virgin Australia check-in desk when they bumped our flight and gave us emergency seats –  lovely, but generally in Australia the service quality is outstanding.
If we had to pick one Travel highlight
Craig – Helicopter ride over Mount Cook and the Fox Glacier
John – The whole of New Zealand.
Biggest Travel Experience Disappointment
Uluru and not making it to the Great Barrier Reef, both weather related.
Best free WiFi
Singapore airport and at various points around the city
Worst Internet
Gili Air for lack of speed, but all across  New Zealand generally, it was very expensive, slow and just not there in many places.
Most useful travel gadgets & things
In terms of our travel gadgets for 2012 – Travel kettle, our £1 Home and Bargain collapsible water bottles (which we left in a freezer somewhere in New Zealand and have been searching for replacements since), our travel flasks, the little Mifi router and my three gang plug.  The Mifi allows you to pop a sim card in from your current country and you can connect all your phones/laptops to one single internet connection.
Oh and my tools to repair the camera and laptop on the road.  Also, a great app I discovered is travelbudget which quickly allows you to update all your expenditure easily on your phone as you spend in local currency, allowing you to keep track of how much you've spent.
Things we haven't used travelling 
Our Long trousers, spare walking shoes, indigestion tablets and the large medicine bag full of things easily available in any location should we have the need.  John used to suffer terrible indigestion and used to take a tablet daily, he has not had a bout since we hit the road.
Best transport experience
Craig – Club class courtesy of KLM  on the flight to Bali
John  – The Milford Sound small boat trip,  it let you get up close and personal with the waterfalls and sea life
Worst transport experience
Craig – Getting Bertha accross 20 km of gravel track in New Zealand, bumpy and we had to rearrange the cupboards afterwards
John – Parking Bertha in Wellington during Waitangi weekend
Most annoying travel moment
John – Some naughty cafe attempting not apply happy hour prices on a bill, other eateries and bars adding things to bills. People trying to charge double because you are a tourist.  Needless to say we haven't been stung yet!
Craig  – GPRS Mobile internet connections in New Zealand.
We're off to the airport now, for our next destination of the Philippines. I hope you've enjoyed reading our travel blog as much as we've enjoyed producing it. Our round the world flashpacking adventures will continue for the foreseeable future, so if you have any travel tips our advice please post them on our site. Thanks.