I would love to give you a few paragraphs extolling the excitement and things of interest to see and do in Alice Springs. However, we didn't really get to do any of them, as with most visitors we used this as a base to discover Australia's Red Centre, what we learned is it's no longer Red but more of that later. With the little time we had to visit Uluru and Kata Tjuta, we only managed to stay a short time in a town called Alice.
Tension in Alice Springs
We witnessed real poverty for the first time on this trip and I am sad to say without exception it was Aboriginal (Indigenous) people who seemed to be suffering. I guess that's why people steal. We witnessed several attempted thefts of goods from supermarkets within 5 mins of arrival in Alice(not a coincidence I'm sure).
There is a reasonably high and visible police presence and a warning from our lovely Motel owner not go out after dark, after the big steel gates are locked at 9pm. You don't feel threatened and we found it very safe walking around in the day. As the night falls you hear screaming, shouting and glass smashing which makes for a slightly uncomfortable feeling.
There is obviously an alcohol problem too, given the police presence at bottle shops, you overhear arguments over prices and some customers are short of the cash to pay. You see the alcoholic related glass and wine box debris every morning which the local council quickly try to clean up but they're not winning. So why don't the Northern Territories authorities do something about it?
I guess it's to do with the cultural tension and sensitivities which it seems, to me at least, still exists here between the Australians and the Indigenous people. After all it is only 25 years or so that the Australian government recognised the land rights of the aboriginals. Maybe in another 25 years the lasting damage witnessed in Alice; in the poverty, crime and alcohol problems will then be a distant memory, but I get the feeling this is more deep rooted and will take longer to resolve. Enough of the polemic, what about the rock visit?
The Red Centre Goes Green
No I am not talking environmental credentials here but the landscape. For the last two years this area has had record rainfall, after the previous 10 years of drought, the red centre is a sea of green and lushness. As we were to discover.
After having exhausted all attempts to do the (Ayers Rock) Uluru tour ourselves (minimum five day hire on camper/4WD vehicles, excessive mileage surcharges etc) and calculating it would cost in excess of £600 to do this. We were then forced into the one day tour ($190 each) by our train timetable (arriving mid Monday and leaving mid Thursday), we only had two full days in Alice.
All the two night/three day tours you need to be there for three full days to fit them in ($350 – $395 each). There is a two and half day tour which would have worked timing wise, but for some reason this costs nearly $500 each (£350) so we passed on that.
The morning started overcast for our tour of Uluru and the Kata Tjuta (Olgas) but we were hopeful, in that hold your chin up British way. This vain hope consisted of us believing that the burning searing sun, up above the grey skies, would make it all disappear during the 5 hour journey to get there. It didn't.
What did it matter if the sun wouldn't shine, we were in the middle of Australia on a trip of a lifetime and we were darned sure we were going to make the best of it rain, wind, cloudy skies, flood or pestilence.
The Ayers Rock Tour
We had two drivers for the day on our tour. They play tag with the driving, guiding and the wisecracks throughout the day, as you are with them for over 18hours, but it doesn't seem like that.
After about five minutes from departing Alice Springs the overhead cables from telephone masts and electricity pylons are left behind, your phone cries "no signal", and you realise you're actually in the outback.
It is a long but simple route from Alice Springs to Uluru, you turn right out of Alice Springs, drive for 2 hours along the Stuart Highway and then right again onto the Lasseter Highway, at Erlunda Desert Oaks Resort, and drive for another 2½ hours and you are there. Simples…
The five hour journey to the Uluru – Kaja Tjuta National Park is very interesting especially with the expert knowledge of local guides. They wittily keep you informed about the flora and fauna that inhabits the bush. You pass through 5 million acre cattle stations; that cannot be fenced because it would just take too long. You pass massive rivers that have no water in them; they only fill during serious rainy season. We bumped into some feral camels, not surprising really as there are approximately 1.5 million in the outback since the camel trains (which were the only mode of transport pre-trains) released them once they became superfluous. A little toot of the alarmingly loud coach horn and they scarpered, but not before I had managed to get a snap of their retreat.
This used to be one of the most dangerous roads in Australia and a driver couldn't get insurance to drive here, evidenced by occasional rusting, long since abandoned cars. Once a year they come and remove the burned out vehicles, as if you break down or have an accident here it probably won't be worth trying to arrange for your vehicle to be towed due to the massive expense.
You witness thousands of green sprouts of new healthy growth emerging from blackened charred trunks and shrubs, the victim of bush fires, and marvel at the resilience of this plantlife to survive such a regular onslaught.
As you approach Yulara (the township which is actually a holiday resort owned by the Indigenous Land Corporation, thus having a monopoly to charge what they want!) is your snake training? First informing you that this bit of Australia is host to seven of the 10 most deadly snakes in the world. They then try calming you down saying that snake bites are rare and deaths from snake bites even rarer and finish by telling you how to avoid one anyway. Basically if you see one stand still, and if you get bitten get a good look at it so they can give you the right anti venom.
We entered Kata Tjuja National Park (there is a AUS$25 charge per person but this lasts 3 days) and not long after we caught our first glimpse of Uluru. It was a little hard to make out at first through the haze and the rain, but she was definitely there. As we got closer, she became clearer to make out. I did a little smile to myself, even seeing her through this haze, she was still magical and beautiful sat they like a sulking whale while the rain poured off her back.
A few turns in the road and we lost sight of Uluru and into view came the Kata Tjuta . The rain splattered down the coach windows and clouds hung over the tops of Kata Tjuta, hiding their true height from us. It was at this point with the rain battering down and the winds whistling through the gap in between the monoliths that John and I realised we had not brought the weather proof jackets. These are the ones we had so carefully been carrying around with us (unused) for the last month.
We tried, in between wiping rain off the lens and ourselves, to bag a couple of the cloud capped Olgas. The beauty of the Olgas was somewhat enhanced by the rolling clouds which briefly gave glimpses of their peaks and true magnificence, creating an electrifyingly moody atmosphere.
After a brief visit to the cultural centre it was finally time to get up close and personal with the rock herself on an Uluru base tour. Here you are told of some of the aboriginal (Anangu) stories (called Tjukurpa) told about the rock and provided with some more geological insights into their formations. How the rock was formed millions of years ago and rubbed round and smooth by the elements in the intervening millions of years thus producing the rounded monolith she is today.
What is most surprising as you explore the rock is that the familiar symmetrical lozenge shape you so often see in documentaries and on pictures is misleading. The rock is not a pebble shape at all but looking from above more like a triangle with lots of undulations and scars on its surface. This detail provides shapes and caves and indentations which have significant meaning to the indigenous people and certain areas are not to be photographed or visited out of respect.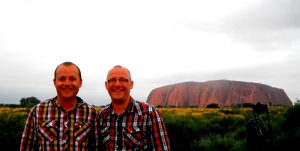 It was then time for our Aussie BBQ, champagne (and in John's case champagne and red wine) and what should have been the highlight of our trip, the sunset on the rock. Sadly, the thick cloud prevented this delightful denouement. However, how many people can actually say they have seen waterfalls cascade down Uluru, from the overflowing rock pools formed on her top. The colours of reds, greens, greys and coral competing in the light to give a mesmerising display, like no other that I've seen on some of the photographs I have viewed.
Did this spoil the day? Well if I am honest it would have been a perfect end, but it was not to be. In the end we got to see, touch, smell and hear the red centre which is something that even now as I write this making my spine tingle. That will live with me forever.
On the way home, one unexpected bonus of the trip was stargazing in the outback. As I looked up there was a large break as the dense cloud opened up and for about five minutes I got my wish; a sky full of stars. I decided that this must be the weather gods saying sorry, for spoiling my dream Uluru sunset. They didn't need to apologise but I thanked them anyway.