We are not really ones for the cultural shows that you regularly find in travel destinations.  Often they are a thin representation of the actual song or dance traditions of a community, overpriced and leave you feeling a little bit cheated.  This was certainly the case in Waitangi doing the Haka with some actors. Sometimes though, there are surprises and this Kathakali performance proved the exception to the rule of naff cultural shows.
You will find these offered all over Kerala, and while we had a great time here, others may not be so authentic.   Your experience starts over an hour before the actual performance where you are invited into the theatre to witness the elaborate make up preparations.  The performers spend 4-6 years training to be able to perform this spectacle whether they are a singer, actor or drummer and the make up preparations are part of this extensive learning.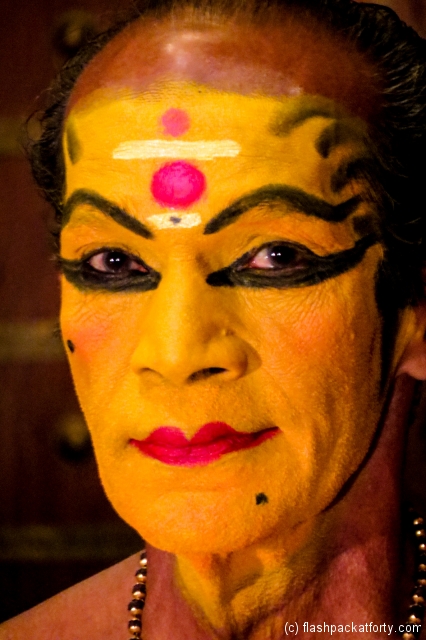 Watching the preparations really gets you into the sense of the performance and this is strengthened further by the narrator coming onto the stage to explain the principles behind the Kathakali traditions.   How the music, movements and facial expressions of the performers are an integral part of the story telling.  This is accompanied by one of  the performers going through the different emotional facial expressions which is a truly mesmerising start to the show. The performer in question was male, but played the part of the woman scorned in the story that followed, it was easy to forget his gender as the story unfolded and you became immersed in the drama of the story. The story was that of the Killing of Dussasana where a wife was lost in a gambling debt and her poor treatment at the hands of the winner and his  inevitable death at the hands of her husband, an act given its blessing by Lord Krishna.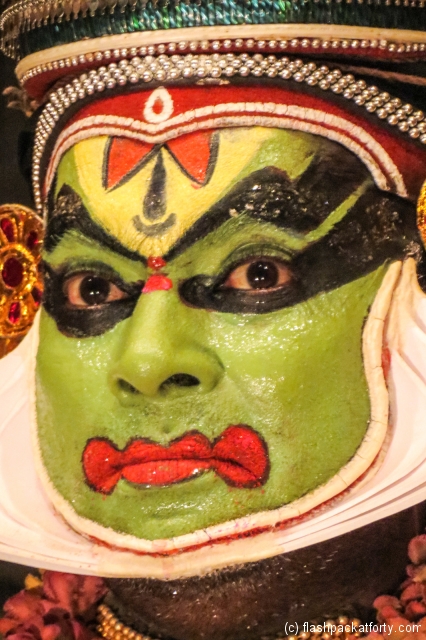 The training and dedication really did show in the final performance. The stage was tiny and we were an audience of about 80 people but the spectacle was neither amateur nor small.  If you are in Kerala seek out one of these performances, take some local recommendations as to its authenticity and enjoy two hours of colourful makeup, costumes, sounds and feel a little bit of Keralan cultural traditions.
You can see a small sample of the performance techniques on our Youtube channel here. – Kathakali performance video
This is flashpackatforty's  photographic flashback series.  We choose some of our favourite images from previous destinations. Travelling long term means you have so many experiences each day in the new places you visit, this series will give us the chance to look back and remind ourselves of some of our previous trips.