On previous visits to Bangkok we'd hurl ourselves around the city by Tuk Tuk (its got to be done) sometimes humouring the unscrupulous Tuk Tuk drivers by visiting a few of their shops so they get a commission and give us a free tour, visiting the marvellous temples etc.  We never bought anything but met some people who had regrettably been pressured into purchasing overpriced and inferior merchandise.
A Taxi and Tuk Tuk free visit to Bangkok
This visit was a temple and taxi free trip, apart from our arrival and departure from Don Muang airport, it's just quicker and easier in a cab comparing it to the other limited public transport alternatives from Don Muang.  It costs well under 300THB for a taxi from Don Muang airport in Central Bangkok depending on traffic, not including the tolls which you pay if you want to take the highway  (70 THB and 50THB) and you also need to pay 50THB additional fee if exiting from airport.
The taxi counter at the airport was very busy, and we had to listen to the crazed rantings from a group of drunk Russians shouting in English, the politest being, "The Russians Are Here!" such pride goes before a fall me thinks.
Patpong Night Market
Due to the location of our hotel it was inevitable that we'd encounter The Patpong Night Market aligned by "pussy shows" and hawkers offering you the opportunity of real sex shows every several metres.  We experienced a bit of a thunderstorm and took shelter in the partially covered outdoor market whilst the brief rains passed. The incessant badgering of two white older gents became a little tiresome, but was all very polite and business like, a bit like getting unsolicited phone calls for personal injury claims.
The market itself contains all the usual tourist fodder you'd expect, the majority of which is fake.  Things like watches, t-shirts, jewellery, underwear, electrical goods and trainers.  For the more adventurous there are a bewildering variety of sex toys available, but I wouldn't go hammering any purchases as I guess they're probably not fire safe.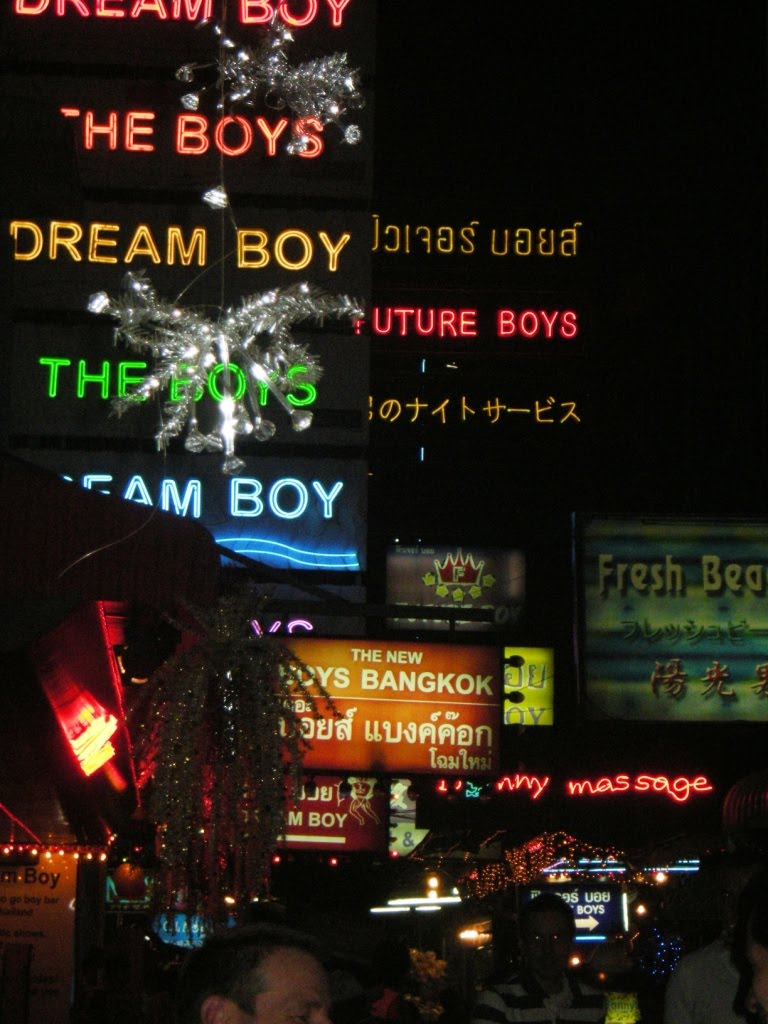 I would modestly say that my bartering skills are pretty good, but you shouldn't waste your time here.  Even if you did want something, the very professional vendors are not going to part with any goods unless you're prepared to part with some serious wonga.  If you want this kind of stuff, best to head to the MBK centre, and find a vendor that speaks no or very little English, as they won't be as accomplished in the dark art of sales.
There is also much more choice at MBK and you can quite easily see prices drop significantly when you find the right vendor.  Although it did seem that MBK traders on the huge amount of stalls are working in co-operation and had fixed what the lowest sales price would be to a tourist. Persistence and time do pay off, just remember to walk away if the price isn't right, there is plenty to chose from.
One great thing about the immediate area surrounding the Patpong night market are the street food vendors.  All the locals use these pavement eateries, from the market traders to those working in the bars and clubs, and you get some great cheap eats. The variety of Thai food on offer is fabulous and for those wanting something less spicy there are plenty of grilled meats on offer.   Just pull up a crate and eat away.