Departing from Terminal 3 at Manchester Airport was not a great experience as there are no smoking facilities once you get airside.
One thing that made our departure from Manchester more pleasurable, despite the nicotine cravings, was a bit of pampering in the pay for airport lounge called "The Escape Lounge" at terminal 3.  In this travel post we give a quick review of our experience.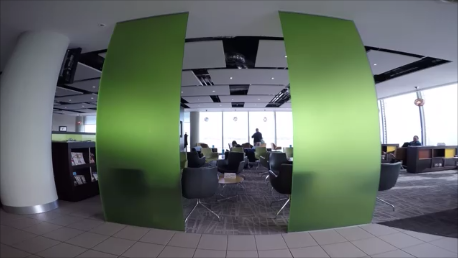 How does the Escape Lounge Compare to Other Pay As You Go Airport Lounges?
When we visited the lounge it was very quiet despite being the middle of the day on a weekend. Although the lounge is very spacious, so it would need to be extremely busy to feel congested.  At the time of our visit The Escape Lounge was mostly patronised by solo business travellers.
Usual dress codes apply regarding shorts and football shirts and they have a policy discouraging large groups, so no stag or hen parties.
The lounge has great free WiFi and plenty of plugs to stay connected and recharge your batteries.  Plenty of different seating options suiting the needs of the solo traveller or those in groups, those wanting peace and quiet or those wanting to spark up a conversation.
There was a good selection of periodicals, magazines and newspapers.
Unlike most other Manchester airport lounges staff do not call your flight, so go easy on the spirits, as you don't want to get too drunk comfortable and miss your flight.
The lounge is located just after you pass through security at the first bank of duty free shops, on your left hand side. You can take a lift or the short walk upstairs.
Take a look at our video of the lounge facilities.
A Word of Warning on Alcoholic Drinks at the Escape Lounge
One criticism some travellers have made about this facility, on review sites like TripAdvisor, is that the Escape Lounge doesn't operate a self-service bar.
You can help yourself to bottled beers and cider, but other alcoholic beverages are served at the bar.  As I mentioned the lounge wasn't busy when I used it, but I found the bar staff service attentive and efficient.
All the standard selection of wines, spirits and mixers are included in your entry charge. One thing worth noting is they don't serve Rosé wine, just a selection of red and white both being very palatable. There are no sparkling wines included in the standard fee package.  You can pay an extra premium for drinks like prosecco and more expensive premium brand labels, on a by the glass basis, but that would go against our maximising the value flashpacking principles. However, we didn't even feel tempted as there is a large selection of alcoholic drinks to cater for most tastes.
Food Menu at the Escape Lounge
If your a lover of salty snacks you maybe disappointed as no pretzels or crisps, just a jar of peanuts that you spoon out onto a plate or some not too tasty olives.
Standard fayre of fresh sandwiches, cooked meats and cheeses along with savoury pastries available on a self-service basis. You can also order things like a sausage or bacon roll that will be made in the kitchen for you. They also have a soup of the day with fresh bread rolls.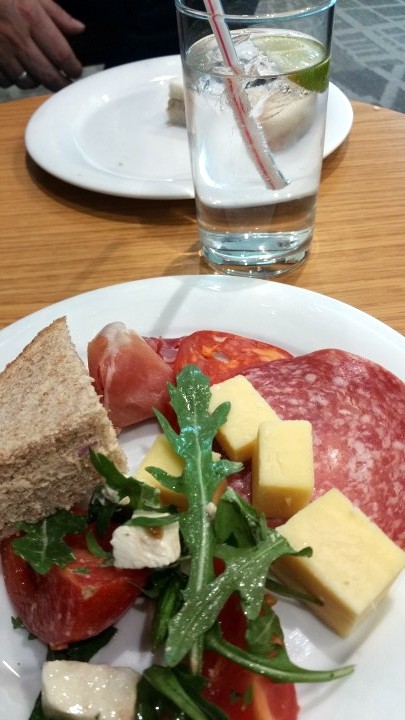 The hard cheese selection are cut into small cubes, (think 70s cheese and pineapple) and not really conducive with sticking on crackers.
Enough snacky type food to fill a hole, if your not too fussy.  I would imagine that for those with a more discerning palate or higher expectations would be disappointed.  There is a wide selection of tea, coffee and cake.
How to book The Escape Lounge at Terminal 3
It is always cheaper to pay for the lounge and book online in advance.  You can do this the day before or even on the same day.  We booked with Holiday Extras and found a 15% discount code, paying £17 each for a maximum of 3 hours. Walk ups can be easily booked at the lounge Reception desk and are £20 plus.
Why no smoking facilities at terminal 3?
On speaking with staff at the airport they informed us that they were investigating the feasibility of providing this facility to travellers.  There are smoking areas in T1 and T2 at Manchester, so why not terminal 3?  Once airside at T3, you can't access these areas.  Come on Manchester, your'e an international airport, providing a nearly perfect service to a large and diverse group of visitors.  Let's not wait until 2020 to provide all your customers with the pleasant transit they expect.
Review of Escape Lounge T3
We thought the lounge offered excellent value for money as we used the facilities for nearly 3 hours. If you like a few drinks before you start your journey to help you get into the holiday spirit then you can't go wrong considering the price you will pay using the other airport bars.
To sum our experience up, a relaxed environment possessing all the facilities of most good airport lounges. Beverages good, food OK but basic compared to other lounges used. Special mention to the staff and management who made our visit enjoyable.  We would definitely return.