One year ago we were beginning our tour of Japan, one of the more expensive, yet most rewarding destinations we have visited.  It was Spring and we were there at this time by choice hoping to understand why cherry blossom season is such an important time of year in the Japanese calendar. 
We had made it  to Kyoto just as the cherry blossoms were reaching their peak; after our whirlwind tour of the Kyoto Temples we happened upon a park where cherry blossom festivities were being prepared for later that evening, this left us just enough time to find some Geisha in the 'flower town' of Gion. 
On the Lookout for Geisha Kyoto
If you think of Japan,  one of the iconic images that springs to mind is that of the white powdered faces and shimada hairstyles of traditional Geisha, all wrapped up in vibrant coloured silks and bows. We had read that Kyoto offered one of the best opportunities to see them, so we decided to hang out in the Gion area to see if we could spot some of these elusive beauties. We had spotted some of the women wandering between the tea houses in the hanamachi (flower towns) and managed to snap some 'one the move' shots.  Turning a corner we noticed a line of executive taxis lined outside the theatre and decided to lay in wait to see if we would be rewarded with further sightings.  After hanging around for ten minutes thinking it wasn't going to happen, Geisha started to appear with their minders attached like velcro to their sides.  The companions quickly bundled them into the waiting taxis before they sped off to their next engagement, thankfully a mini traffic jam ensued and I was able to snap the beauty of the women seated patiently in the back fo the cab.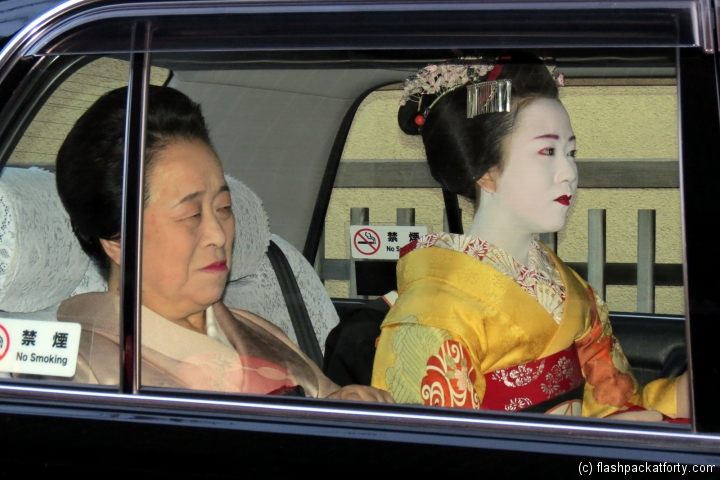 A Brief History of Geisha
The Geisha emerged in Japanese society in the 18th century and contrary to some popular myths the Geisha sold musical and conversational entertainment to the wealthy classes, not sexual services (the word Geisha is literally translated at Artist).  They were well  educated and were schooled in performing arts and literature during years of apprenticeships in the okiya, traditional geisha houses.  Numbers of Geisha in Japan have dropped dramatically since the end of WW1 when there were an estimated 80,000 to the current estimate of between 1 and 2,000.
Hanami a Party for Everyone
Visiting Japan in Spring is one of the best times to get some experience of the culture and traditions of one of the oldest civilisations on the planet.  During this time the whole country wants to celebrate the onset of the sakura (cherry blossoms)  and as you wander around parks and the countryside it is not uncommon to see a huddle of Japanese posing for photographs by the blossoms on their own, in pairs, with whole families or simply taking close up macro shots of the latest bloom to open.
This time is also a wonderful excuse for a party and wherever there are a concentration of cherry trees in a park or public space you will see groundsheets stretched out below them.  As the sun goes down crowds of families, student groups and business teams will gather round, open their boxes of food and drink, wrap up warm against the cold spring evening chill and party on till all the food,  drink and bonhomie has been expended.  I love this image as it reminds me of the laughter and togetherness that these wonderful parties engender.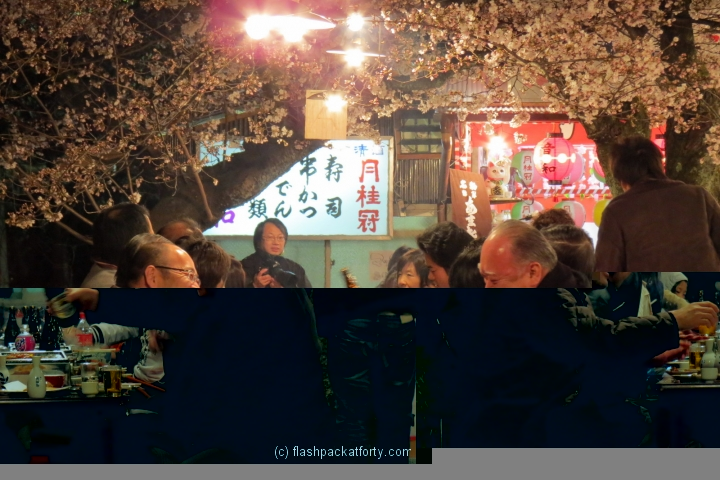 Don't be surprised if you are watching this and you get given, food, a drink or get asked to join any of the groups celebrating.  This is a social affair and the Japanese being the hospitable types that they are will often share their party food, drink and celebrations with any passing spectator.  This happened to us in a park in Kyoto and moved us both to tears.
You find out more about our trip around Japan here
This is flashpackatforty's  photographic flashback series.  We choose some of our favourite images from previous destinations. Travelling long term means you have so many experiences each day in the new places you visit, this series will give us the chance to look back and remind ourselves of some of our previous trips.