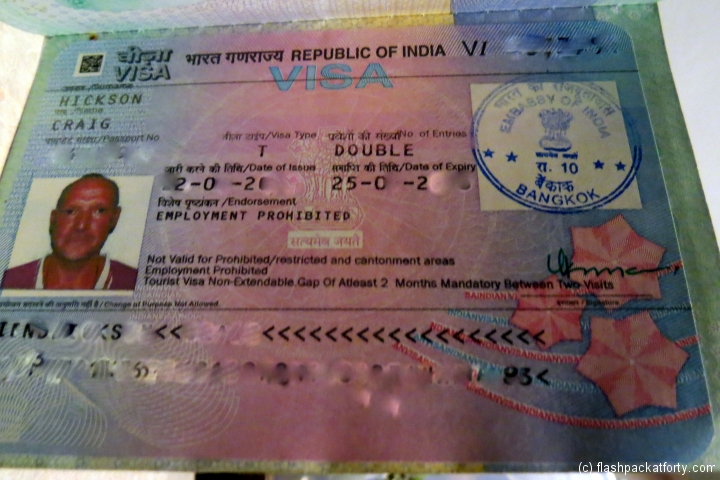 As you are travelling round the world it is often necessary to obtain your visa for countries that require one while you are on the move.   This usually means a trip to a major city where the country has a consular presence.  In our case this meant a stopover in Bangkok.  We had previously managed with great ease to obtain our visa for our Myanmar trip here.  We paid a supplement and got our Myanmar Visa on the same day.
No such luck with your Indian visa; for non Thai nationals you have to wait six working days to get your hands on your papaerwork and there is absolutely no way of speeding this process up.  They keep hold of your passport while the visa is being processed so you are either stuck with staying in Bangkok or limiting yourself to trips within Thailand while it gets sorted.
The good news though is that the process itself  is very simple.
Completing the pre application form
You first need to register and complete a form online and then print out your completed forms before you attend the Visa office (which is run and managed by VFS rather than the embassy themselves).  You can do them when you arrive, but you will be charged a hefty printing fee.
There was a link from the VFS site, but this didn't work for me so I accessed it from this link instead.
Photocopy your Passport Details Page
Once you have your form you also need a copy of your passport information page and (if you are resident in Thailand) a copy of your existing Thai visa/Entry Stamp
If Thailand is not your home country, You will also need to complete another short form with details of your address in Thailand (your hotel) and sign this form also.  This is a very short form and is handed out free at the VFS reception desk
Passport Photo in a Special Size
Normal passport photos don't appear to be acceptable to the Indian Embassy so you will need to get some which measure two inches square (2.5cm sq). Most photo booths don't do this, but there is a chap that will produce five of these for you at the VSF office while you wait for a mere 250 Thai baht  (US $8)!!
VSF Office Location
The office is located in the Glas Haus building on Sukhumvit Road.  Getting here is easy from the Asok MRT station (take exit 3) then walk right about 400 metres.  Or from Sukhumvit metro stop (follow signs for Asok station then turn left on the main road)
The office is located on the 15th floor of the Glas Haus building.
The Office
When you arrive, the reception staff will check through your documents and let you know if anything is missing.  If you need to print forms or get your pictures taken you will be let in to sort this stuff out before you get issued with your queue numbered ticket.
Once you have your queue number, sit tight and wait to be called.  Your papers are processed and you will be asked to pay the full visa fee when you leave your documents.   Our visas cost 2300 baht each, but will vary on the type of visa you are applying for and your country of origin (US Citizens pay more than double what we paid).
We had wanted a multiple entry visa to give us flexibility but this office only issues the double entry variety which allows you to enter neighbouring countries (such as Sri Lanka or Nepal) for a side trip before finally re entering India and exiting the country.
We dropped our passports off at around 11am and had to queue for no more than 15 minutes to get processed with a slightly longer queue at pick up time.  Some guides tell you to get there early, but the office is run very efficiently and didn't seem to have ridiculous processing times.
So apart from the fact of being without your passport for six days there is no real hassle to getting hold of your Indian Visa whilst on the road in Bangkok.
Other Tips
They are very security conscious at the office so its best to arrive without bags and you will be asked to turn off your phone and not take any pictures.
On Line Tracking
There is a web tracking facility that can let you track your application with the VFS office, but we found you get one update when its submitted and then a status saying its ready; nothing in between.   Also, despite what the VFS staff team member told us, don't go back to the office for collection until your on line update says so.  He confirmed that they would be ready in five working days and we had a wasted trip back there.
We completed this process in July 2012, if you have any questions or we have missed anything please let us know.