Kuching has been the perfect base for us to explore Sarawak's beauty and wildlife.   A population of around 660,000, made up of the now familiar mix of Malay and Chinese people.  What makes this area more ethnically interesting is the presence of the Dayak indigenous ethnic groups (can be categorized into Ibans, Bidayuhs, Melanaus and Orang Ulu) and those from neighbouring Indonesia.
Depending on who you ask, the name Kuching  is derived from either the Malay word meaning cat or the Chinese word for port (Cochin).  In terms of the city's statue erection it looks like the cat derivation won; as not only will you find a cat museum located here but we counted at least five cat sculptures adorning main roundabouts and intersections in the city, some more tasteful than others!
What we didn't know is that arriving in Sarawak, we'd need to receive another stamp in our passport. Although, very much part of Malaysia, the stamp recognises the regional significance of Sarawak. This isn't a problem, it just means an additional four stamps in John's rapidly filling passport by the time we head back to KL . This means he needs to explain at length, where he wants each stamp placing to every immigration control officer we encounter, interesting times ahead.
After Kuching we had planned to head to Kota Kinabula, and then do some more diving in Sabah. However, due to my foot injury and looking at the cost of accommodation and diving we've decided to head back to KL and sort out our China visas before reluctantly leaving Malaysia.
Kuching and the Surrounding Area
Most people heading for Kuching are here to get to the local national parks and experience some Borneo wildlife.  However, it would be cruel to label Kuching as just a base for visiting these sights.  It has a charm all of its own and in between your more energetic jungle treks and wildlife searches you can enjoy yourself with it's welcoming people, fantastic food and relax with a jaunt up the sleepy Sarawak river artery.
A stay in a traditional long house, to see some skulls acquired by the head-hunters is high on many visitors travel itinerary.  Thankfully, the practice of demonstrating your manhood by decapitating some poor soul has been prohibited for several generations.
The river dominates the city and the local government has been quick to capitalise on this. Building a multi-million dollar regional government building,  and an impressive river embankment promenade along the main city stretches.  Although this continuing 'improvement' along the river isn't popular with everybody, its a great place for watching the world go by.
The Sarawak Tourist office has an outlet located in the Old Courthouse, in the centre of town, and you will get all the information you need here for the trips about sightseeing around Sarawak.  One of the things we had to ask for, that was extremely useful was a local bus guide with times, fares and bus stopping points.  It really is handy and will help you get you to most of the surrounding sights easily and cheaply.  Ask for one, they keep them in a draw behind the desk (which no doubt keeps the local tour operators happy)
Kuching Food Dishes
I know we keep going on about the food quality and availability in Malaysia, but it really is one of the highlights of your visit here.   In Kuching you will see lots of the familiar kopitiams (coffee shops) and hawker centres serving really cheap noodle and rice dishes. Sarawak does have some of its own local dishes which are well worth a try, if you don't like them you won't be crying over spilt ringgit as they will have probably cost you US $1.50 and you can try something else instead.  Some local treats we tried and liked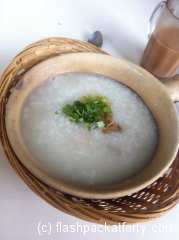 Sarawak Laksa. Is a spicy noodle soup type dish, though with a thicker broth/gravy than you will see in other parts of Asia.  The flavours will vary from place to place but usually contain sambal,  tamarind, garlic, lemon grass and coconut milk, finished off with egg  strips, chicken  prawns, fresh coriander and sometimes lime
Chicken Porridge – this is mostly a breakfast/lunch dish that is a congee porridge made from rice (not our western oats) and flavoured with very simple ingredients of soy sauce, spring and regular onions, garlic, ginger and chicken broth with a slug of Chinese wine for flavour.  The rice is boiled to a glutinous mush and then served.  It does taste better than it sounds.
Kolo Mee – this noodle based dish, like the porridge is incredibly simple and forms a staple breakfast and lunch dish for the locals here served in virtually all the coffee shops and hawker centres.  It consists of noodles (they look like packet noodles) and comes with your choice of meat topping.
Midin is a jungle fern unique to Borneo which has a great crispy texture and flavour.  It is often served fried or as we tried it with some other vegetables and wild mushrooms at the Top Spot food market.
Top Spot Restaurant and International Food
The Top Spot is one of Kuching's great institutions.  It is a food court set rather incongruously on top of a car park in the main town.   You are guided there by a ten foot neon prawn declaring the Top Spot location.   Now these things might put you off, but don't let them.  The top of the car park has been transformed into a canopy and seat laden food heaven with a variety of stalls where you pick your own seafood and vegetables, decide how you would like them cooked, sit down order a relatively cheap beer (US3$) and wait while your fresh food is cooked and delivered to your table.
The place is packed every evening with locals and it is easy to see why. The food is very reasonably priced, you pick what and how much you want from the selection of fresh fish, shellfish, crabs, lobsters and prawns and sit back and enjoy the atmosphere.  We ended up at the ABC stall (there are about 20 to choose from) it seemed the busiest with the locals and the staff were really helpful explaining what was on offer, how much it would cost and recommending how it should be cooked and flavoured.   We feasted on an oyster pancake, fresh crab, squid, wild mushrooms and midin vegetables with rice, it all tasted fantastic and the meal costs us US $10.
Travelling around the world, you sometimes have cravings for foods that aren't readily available. Not that we are yet fed up with Malaysian food, but we thought that as the standard here has been so high and there is such a wide selection of dining options here that we would try a couple of 'international'  restaurants.  We are pleased to report that these two trials stood up to the demanding standards of the rest of Malaysian food.
Our first foray was to a Lebanese restaurant on the waterfront (Little Lebanon) where we enjoyed a taste of the Middle East in the form of some kofte kebabs, home-made hummus and falafels.  I wouldn't be rushing to let the Michelin guide know about it, but it was authentic and a pleasant change from rice and noodles.
Our second off country foray was to a Japanese restaurant to rekindle (hopefully) some of the wonderful taste memories we had  travelling around Japan.  We had to wait for a table at the Sanga Restaurant, on a Saturday evening, and were glad we got lucky, bearing in mind the reservations list.  The standard here was excellent and certainly made us feel we were back in Osaka, after polishing off some great tempura, sashimi and a Japanese seafood and vegetable 'pizza' which was the definite highlight.  This quality was amazing, and the tastes authentic, given the bill was a mere $18 for both of us, and we had an amazingly large doggie bag.
While you are here you also have to try the Sarawak Layered Cake (Kek Lapis Sarawak) there are a host of shops selling them opposite the main waterfront promenade.  They are sweet and buttery and come in a variety of flavours from durian to chocolate.  All of the stalls offer a taster of the flavours so you can try before you buy, or just try if your broke.
Community Events Not Just For The Locals
We were lucky that while we were here the Chinese community were celebrating the ghost festival and treated the city to a fantastic colourful and noisy street parade of dragons, drummers and costumes.  It is always a pleasure when you stumble across these local festivities whilst on the road and allows you to sneak a glimpse at an unfamiliar culture. However, speaking with a local guy, he said that there are a calendar of such events all year round, the next being the dumpling festival.
Apart from wandering the waterfront you can hop on one of the boats lined up on the riverside that will take you on a one or two hour jaunt up and down the Sarawak River.   Don't expect any stunning sights from the boat but it's a relaxing way to spend an hour watching the local sampans ferry people across the river and the peppering of stilt houses which line the banks.   You will however get the best views of the local mosque and the state parliament building from your watery vantage point.
There are a few museums to pass the time if the rains come.  From the Cat Museum situated a short bus ride from the centre of town; or the Sarawak Museum in town which is free to enter and offers exhibits on the history, culture and ethnography of Sarawak.  There is a tiny Chinese museum about the size of your front room on the waterfront and a larger Islamic museum in the south of town which will give you the run down on Muslim history and heritage throughout Sarawak.
Kuching is friendly and distinctly different from Peninsula Malaysia while still having many of the rest of Malaysia's familiar plus points, notably the food, polite people and a clean and pleasant city to base yourself.  Oh did I mention the sunsets, if you get lucky with the weather you will be treated to some spectacular sunsets down the river. Kuching has probably now made it to our very own Top Spot on Malaysian cities, its just a very peaceful and pleasant place.