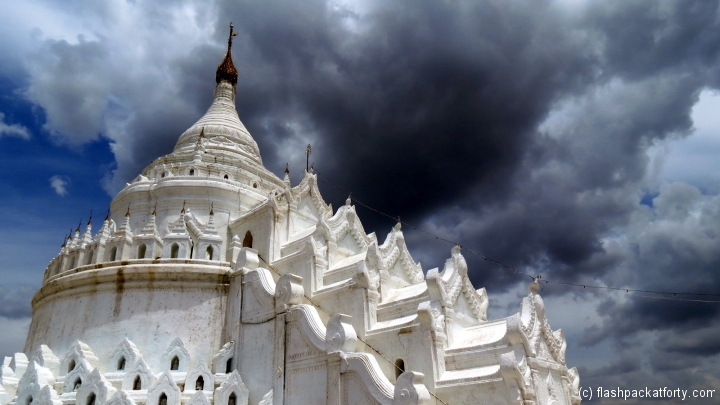 The Road out of Mandalay
Our last Myanmar travel blog post covered the city of Mandalay, but a visit here has much more to offer the traveller.  The surrounding religious sites and countryside add greatly to a visit to Myanmar's last royal capital.  So after you've had your fill of the bustling markets and delicious chapatis, head on out and discover these magical sites.
We spent four days in total in the Northern Province of Mandalay.  Two of those were on trips out of the city into the smaller villages that surround it. The first trip took in Amarapura, Inwa and Sagaing and for the second day we found our sea river legs  sailing up the Ayeyarwady on a boat to Mingun.  Both came to be very special days, allowing us to appreciate Myanmar life at its most serene.
Amarapura,  Inwa and Sagaing
After some bartering with taxi drivers about town, John managed to reduce this day trip by 20% from a starting price of 25,000 Kyat (US$30) to 20,000.  Now I would like to say that for this we got a luxurious car with aircon for the day.  However, unless you want to double this price you will have to settle, like us for a clapped out rusty 1960's Mazda pick up van that has had two benches welded in the back and a bit of foam wrapped round the seats.
After the driver had picked up his repaired front tyre, we were on our way to our first stop of the day at Amarapura to see the monks at Maha Ganayon Kyaung.  As well as enjoying the monastery, history and buildings you get to witness the morning ritual of the monks preparing  for their lunch.  They gather in silence, in single file for their daily dining in the halls of the monastery.
The place is a centre of monastic study and is home to thousands of novice monks who flock to this centre of study and religious discipline as part of their monastic education.   The place is very friendly with signs in English telling you how to behave as a tourist, you are positively welcomed to take photographs.   They are all Buddhist about it and there are few rules while you watch the daily ritual.   The monks are well used to tourists, but I tried to be as discreet as possible taking pictures – lens on maximum zoom.  There were a few crazy dogs there on the day we visited, complete with bleeding battle scars, which slightly upset the tranquillity of the ritual.
Sagaing
After the monks were seated and eating, we left them to themselves, took off and headed for Sagaing.  For us, this meant another bit of exercise in the wonderful heat and humidity of Mandalay as we trekked up Sagaing Hill.
The steps are steep but thankfully the route is lined with stone benches all the way up each side of the sheltered pathway.  So buy a cool water at the base, and take it slowly so that when you reach the top you can fully appreciate the fantastic views across to the Ayeyarwady River.
If you want you can try and count the 500 or so stupas in gold, white and silver that punctuate the landscape like little golden volcanoes sprouting from the ground in every direction.
This really is a sight to behold and no pictures can really do this justice as you have a 180 view from the top looking out across the hills and the river.
We discovered some real Burmese sweet treats at the top of the hill here.   In any temple here you will always be able to find someone selling snacks, drinks or just about anything else for that matter.  What took our interest was some sweet looking delicacies.
We were having a look trying to work out what they were when a kind Burmese woman offered us some samples of her recent purchases.  One taste and we were hooked.  The first was a rice paper wrapped coconut flesh macaroon type treat and the second had the appearance of a soggy carrot cake, but was a coconut and banana rice cake.  A mere 200 Kyat for a bag full of this stuff and it was gone before we got twenty steps down the walkway back to the pickup. Yum yum.
You could easily spend a whole day here exploring the temples, caves and pagodas that lie nestled in the hillsides around the main hill, but we were on a limited time budget.   So with our sweet treats to spur us on we made our way down and were off towards Inwa.
Inwa
Inwa is a funny little place.   Its an ancient city full of old monasteries, payas and temples isolated from the main roads unless you have a boat to cross the rivers and canals to access it.   Our driver offloaded us at the boat jetty and immediately we were surrounded by our first group of cute kids imploring us to buy from them the local trinkets of jade, gems, teak and 'antique' pipes. They are charming and once they know your name and where you are from, they come out with their amusing sales pitch.   Little did they know we had been through Cambodia and knew all the variations of this.
We paid the nice old man our 1000 Kyat fare each at the boat jetty (plank of wood leading to the boat!) and we were off around the lake heading towards Inwa proper.  Getting off at the other end leads you to a similar group of sellers who surround you while the horse cart driver tells you the fixed fee for getting round the temples of Inwa.   If you have arrived by bike you can take it with you on the boat and cycle around, but as we were on our own two legs we knew the 10km or so you needed to cover would be a step too far in the heat of the midday sun.  Five thousand Kyat lighter we climbed aboard our horse and cart off to see the sights.
What this form of transport lacks in comfort it makes up for in authentic charm.  You will see an occasional car or moped bobbing along the dirt tracks here, but this is the de rigueur mode of transport in Inwa and it is really lovely.  Clip clopping along the lanes passing the local villagers, making reed fencing, matting and spinning and dyeing cotton.  It really is village life as it happens here and with the exception of the sellers at the jetties, they carry on with life but do make the time to say hello as you pass along your way to the next stupa or monastery. Charming.
I couldn't do any justice to describing any of the history or the significance of the relics on offer here, but they were quite magical.  The 200 year old teak Monastery with its mighty teak supports, the leaning tower of Inwa (I kid you not) damaged during the 1838 earthquake or the rare stucco (most are wood structures) monastery built in 1822.  As ever try wikipedia if you want to know more look here. A fascinating and thrilling experience.
U Bein Bridge
Our final stop of the day was to the U-Bein bridge which we should have arrived at just in time for sunset, but we got a little ahead of ourselves and arrived at around 4.30pm.  The sky was cloudy so it was looking unlikely that we were going to get any splendid views that evening anyway.   We decided to make the 1300 yard walk across the whole span of the bridge which crosses the Taungthaman Lake.  Its made of teak and still (mostly) going strong after 200 years in the water – there are a few dodgy spots, so watch your footings.
We laughed out loud as a Burmese woman was posing for a photograph and leaned against a teak pillar, the bridge cried out with an almighty screech and the pillar veered towards the water. The woman burst into laughter, and before long there was about 20 people, including us, all in hysterics at this most insignificant of events. More people arrived, and somebody in the newly formed crowd would explain what happened, then they would start laughing, this carried on for sometime.  I just can't imagine this sort of spontaneous and sporadic display of happiness occurring in that many places in the world today, but hey that's Burma for you.
Amarapura's top tourist attraction is also a hugely popular spot for the locals, especially those young Burmese in love and  wanting a bit of privacy from prying parents who can be seen canoodling (Burmese style – which means talking to each other) in the plentiful shade huts along its span.
As we were there in July the lake is at its highest and remarkably you can see quite a few of the lakeside restaurants that have either misjudged the rising levels or only operate in the dry season as they are completely under water apart from their roofs (there is a pic in the gallery below).
If you cannot face the walk back across the bridge, there are plenty of row boats you can hire to get you back to the other side with no effort on your part, the boatman will do the rowing for you.
The day ended with a wonderful drive back to Mandalay town as the sun frittered away its light and we saw the city come to life with the food and drink stalls serving the evening post work crowds.
It was a long busy day, but was special, our first horse cart transport and some really beautiful insights into the religious and royal history of Myanmar.   This special country was growing on us more each day.
Ferry to Mingun
The next day we were up early and in a pick up truck, to take us to the jetty to catch the ferry to Mingun, for our second 'around Mandalay' trip.  The village of Mingun is famous for its unfinished, earthquake cracked pagoda, its huge bell and perhaps what came to be our favourite paya, the Hsinbyume.
You need to arrive at boat jetty for the 9am  departure, but my advice is get there earlier.  Not because getting your ticket is any problem  – it isn't.  Just pop into the shack by the boats and pay your fee, 4000 Kyat – but watching the activity around the boats is fascinating.   Old trucks with tractor engines will pull up by the boats and all manner of goods will be offloaded, by the male and female porters.   We saw beautiful wooden teak chair parts come off a boat ready to be shipped to a local tradesmen.   Women washing babies, clothes and pots and pans  in the river's edge and just the general hubbub of the area will keep you entertained for an hour.
The trip up the river is peaceful and we found a little place on the  back of the boat and it felt like we had the rickety ferry all to ourselves for the seven mile (50 minute) trip up river.   We observed the demands of river life, the small boats ferrying goods and people up and down and the small collection of floating villages pass on by as the fishermen harvest their catches.
You arrive at the Pondaw Paya which is the scale model of the unfinished and earthquake ravaged Mingun Paya that looms above it in the distance.  This Paya is a small version of what the one behind it would have looked like if the King hadn't died before its completion.   It would have reached a height of 1500ft but at its 500ft unfinished scale it is still impressive, if a little monolithic.   Even in its unfinished state it is still a religious monument so its flip flops off to climb and in the searing heat you make it up there pretty damn quick as the soles of your feet are on fire by the time you reach the summit.  The views back across the river towards Mandalay are stunning and you get a good view of the earthquake collapsed lions/dragons (chinthe)  which would have provided the grand entrance to the finished paya.
A quick trip to ring the Mingun Bell and peek under it where I was greeted with a fantastic surprise of a graffiti covered interior.  In fact we have seen lots of Burmese graffiti at tourist spots around the country so far.  We think its a positive love thing rather than them saying "Peter Smith is an idiot" or some other such abusive missive you might see around England.  If you know Burmese perhaps you can enlighten us. The bell claims its fame by being the largest "uncracked" bell in the world – Moscow has a much huger bell but it has a crack in it.   I guess we will give them that one.
We left our final treat until last.  I had glimpsed the Hsinbyume Paya on a postcard on our tour around Inwa when I looked on the back to see where it was; so I was looking forward to this visit.  I wasn't disappointed, the sky got moody, I got ecstatic and got my camera out to do justice to this very unusual piece of Burmese religious architecture.   The main stupa is surrounded by Gaudiesque terraced curves and makes for a wonderful sight.  They are in this form to represent the mountain ranges around Mt Meru,  the mount that is supposed to be the centre of physical, metaphysical and spiritual universes in Buddhist culture.
We finished off  the visit here with a nice fresh coconut drink from the traders,  while I grabbed myself my very own Longyi and tried to learn how to tie it like a man – apparently I kept doing it like a woman, who would have thought!
You are back on the boat for 1pm and then back to Mandalay pier an hour later, a great half day trip, much more leisurely than the previous days slog, but in my view neither of these can be missed if you want to do justice to what this part of Burma has to offer.
All the sites in Mingun are within a very easy and leisurly walk, but if the heat gets too much or you want yet another special transport exprience there are plenty of local ox cart 'taxis' on offer to ferry you the 500M or so  from the jetty to the sites.
Getting closer to the village dwellers rather than the city folk allowed us to start to get a different perspective of life here, but we will pick up that theme in future posts, as we travel more.  By this time the grumpiness of Yangon had left us, and we are really enjoying our Burma experience.
Amarapura, Inwa and Sagaing
Mingun