Gold Coast Gadgets Weather and Driving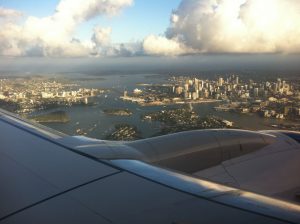 Apologies for the delay in the blog update, we have suffered a slight technical hitch.   The laptop had a bit of a fit and the screen decided that it did not want to behave as a screen but instead as a kaleidoscope of multi coloured pixels.
This set me off in a very bad mood as we arrived in Sydney.  After a days sulking I decided I was going to fix it.  We popped into Paddy's market and found a small set of screwdrivers within an hour of returning to our room the little baby was back up and running.  For those that care the monitor cable had worked itself loose from the motherboard.  I have added something to the Samsung design now in the form of a small pice of additional gaffer tape.
We are now getting to know Sydney and the view of the opera house and the bridge are as amazing as we thought they might be. Our accommodation (Student Halls of Residence) in a trendy suburb called Newtown is functional, but a bit of a shock from our apartment in Broadbeach.  Its rather fun in a way as John and I met some 20 years ago in University Halls of residence so perhaps this was meant to be.   However we do have access to the University internet which in my mind more than makes up for lack of luxuries.  I am not sure John is of the same mind though, but he loves the location.
Anyway back on with the blog as it should have been.
Gold Coast Weather Swells and Storms
In our last update we mentioned we had a bit of poor weather, well you will be pleased to know that this continued, so we have experienced quite a few interesting weather phenomenon in our last days on the Gold Coast.
A tropical cyclone sat off the East coast and created tennis ball size hailstones in Victoria and  thunder lightening and torrential downpours for us along with some very tasty winds.  This also created a very stormy sea which meant that the beaches were closed for swimming.  So while you could wander up and down the shoreline, there was no way in your right mind you would consider getting in, unless of course you were a loony surfer of which there seems to be many in the Gold Coast.
Aussie Driving
Driving in Australia is very easy as long as you get the hang of one or two things.  First coming off two lane roundabouts about a hundred yards in the left hand lane merges into the right.   Which to me seems counter intuitive and nearly caught me out a couple of times.
The speed limits here are strictly enforced which means that on the Motorways everyone sticks exactly to the 100 or 110 Kmph limit.  This only leads to massive bunching across all three lanes.  So while the rules here state that you should overtake on the right, as in the UK, most Aussies ignore this completely and will undertake at will.
Our Parrot Friends
I would like to introduce you to our new friends.  These little parrot type creatures (I am not sure what they really are – if you know you can enlighten us) visited us every afternoon, so we indulged them and fed them, after eventually discovering what they liked.  They were fussy little bastards and eventually crushed Ryvita seemed to satisfy them.  We had to do the crushing.  Give them a big piece and the little bleeders turned their nose up.
Spa Treatment
Remember Jimmy Fivebellies, or Two Jags Prescott?  I am now known as Two Spas Craig as well as indulging in a hot foamy spa bath in the early evening when all that sunbathing got too much I also felt the need to Jacuzzi during the days too.   You have probably worked out by now that this is just a weak attempt to make it justifiable to add two shots of myself to the blog in order to peak any interest of baldy tubby admirers who may happen across this blog.
After our three days driving we were weather dodging and planning the last things we needed to do in Australia before we left.  The poor weather has however meant that we will not get to see the Barrier Reef.  On the days we had planned to out in the calm ocean and witness this natural wonder, nature got in the way and the cyclone meant the boat trips were cancelled as the sea swirled rendering the reef invisible.  Oh well we will just have to return at some point and see it another time!
Virgin Virgins
Our flight to Sydney was with Virgin Australia.  We had booked the last flight to Sydney to save about £30 each on the fare, but it didn't leave until 7pm which meant a bit of last minute lounging by the Hotel Pool, but we got bored and arrived at the airport three hours early.  We got travel lucky again as the nice check in lady asked if we wanted to be bumped to an earlier flight, so we bit her hand off and then bit it again when she offered us the exit seats.  This is becoming something of a habit now and I quite like it.