Having got over our jet lag, our last day in Victoria was given over to mother nature and a trip to view what millions of years of evolution and erosion can do to a coastline.
The Great Ocean Road runs through the south of Victoria, Australia, along the Bass Strait hugging the coastline from Torquay to Warrnambool for about 300Km. Words will not do this trip justice, fortunately, we had two cameras and a decent picture editor so the galleries at the end should make up where my words don't meet the mark.
The Trip Decision
We had considered hiring a car and doing this trip ourselves but on balance we looked at the costs (about the same for two) and the fact that one of us would be driving and should really be keeping an eye on the windy road and not the sights. So we plumped for the one day tour, which started at 7am and it was not until 9pm that night that we rested our weary legs.
We went in the end with Bunyip tours although we didnt book with them as we found the tour offerred for $90 (£60) through an agent so saved ourselves $40. It pays to surf…  Also, having spoken to some people who did the drive by car and stayed over the night in one of the sleepy villages along the coast road, such as Lorne (with it's expensive holiday homes, upmarket fish n chip shops, arty souvenir boutiques) it's very very quiet.  As you leisurely pass through these places on the tour, I can't really see any advantage in staying overnight.
For this price we would get to see the following not to be missed sights and a whole lot else courtesy of our wonderful guide Matt.
Torquay
Bells Beach
Cape Patterson
Cape Otway Lighthouse
Mates Rest
Gibsons Steps
Loch Ard Gorge
Koalas and a Temperate Rainforest
Apart from a few iconic pictures of the apostles we didn't really know what to expect, I just knew that it was one of the things high up on anyones bucket list.  If you haven't yet got a bucket list, create one and put this somewhere near the top.
I now know why, the day was just magical in terms of the scenery, the weather (we had been studying forecasts carefully and it paid off), our tour guide Matt and some wonderful company on the small bus with our new friends from Ceuta, Malaysia, Belgium and New Zealand who shared the day with us.
You start with a motorway hop to Geelong and then meander your way down to the first stop through Torquay to Bells Beach.  Now Bells Beach is famous for the surf and by dint of that being featured in the classic movie Point Break. This is in name only, as our guide pointed out, it ws filmed in Canada!!  Our driver/guide had been cunning and managed to set off before the hordes of big coaches set off from Melbourne, so we were pretty much on our own until we were about to leave and saw the 52 seater buses arrive.  Nice one Matt…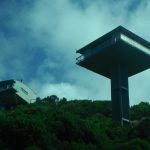 Then we continue the drive to reach the official start of the Great Ocean Road.  The arch originally built by the 3000  men who laboured on the road upon their return from the First World War.   This is however the third such arch as the other two having been burnt down in the 1983 and 1993 bush fires.   After one such event this rather splendid home was built to avoid the fires when they happen again, quite bizzare.
The drive then continues for about 45 minutes as you stop now again to snap other  beautiful coastal vista, and in our cases have a fag, until we head inland and climb into the green part of the GOR in search of a temeparate rainforest and some very old trees.
These trees were indeed very old and the temperature in there dropped significantly as we decended into the greenery.   After our  little look at nature it is off then to the Cape Otway Lighthouse for a light lunch and a walk up quite a few steps to the top of the lighthouse and try not to get blown off at the top (stop it entendre hunters!) .   On the way back our guide took us off the main road and found us a nice selection of Koalas hanging out doing thier thing (which mostly consists of sleeping, which they do for 20 hours a day) in the trees in the wild.  Yet another special little moment on this special day.
On the journey to the apostles we passed kilometeres of beautiful white sandy beaches and guess what, they were all deserted. Not because of pollution, or that they were difficult to access, but simply because there is a lot of Australia to go round and you can find your own quiet secluded bit of it just about anywhere.  This is the first real example to us of how big this counry really is.
The Great Ocean Road Money Shots
Feeling refreshed and windswept it was then back in the coach and off to see the real jewels in the crown of the Great Ocean Road.   The twelve apostles used to be known as the sow and the piglets until some unknown marketing genius decided that would not look good in the brochures.   It doesn't really matter what they are called in the brochure, there is only one word to describe them – breathtaking.
Even as you are surrounded by hundreds of other tourists vying for your perfect picture taking vantage point you can still wonder at the marvels of mother nature who has created this beautiful natural image for you to capture.  In fact our friend from Ceuta was an absolute master at jostling other people out of the way while we captured our perfect snap.
There was an offer of an eight  minutes helicopter ride around them for an additional $75 which I considered for a while, but decided four of you squeezed into an aluminium capsule might not allow you to get the best view unless I fought for the window seat, and I was too chilled for a gyratory grapple by then.  So we shall leave helicopter rides for another day.
After the apostles visitor centre it was off for the final few sights of Loch Ard Gorge and Gibsons Steps.  The former was a beautiful inlet formed from the rocky coast and came along with a shipwreck tale –  Tom and Eva, survivors of the ship after whom the gorge is named – of unrequited love which made it all the more sweet.
Our final destination for the day was Gibsons steps which lead you down to a stunning stretch of beach and the chance to paddle in the chilly 14C ocean.  Now most sensible people paddle up to their calves, decide its a bit too chilly and come running out.  I was persuaded, albeit far too easily, to go the whole hog and go for  swim.  Which I did.  You know what I don't regret it, it was cold and made my bits shrivel but it was also invigorating, and will hopefully be one of the first of many daft things I shall be doing over the coming months.
As well as the stunning scenery it is worth reflecting for a moment on all the place names that we passed along the way.  Virtually all derive from; British place names, ships of those who dared the journey to discover this then faraway land and the Captains of those ships and those that plundered the aboriginal people and rich resources following its discovery.  Our guide was wonderfully knowledgeable on all of this which really added a lot to the day.  The 'fast'  road back also allowed us to see some of the small farming towns and villages in southern Victoria which consisted of enormous crop fields and a good selection of Fresian, Jersey and other beefy varieties of cow.
Thank you Matt from Bunyip tours for a most magical day and the benefit of your knowledge whilst exploring the natural wonders of the Victorian coastline and also to our coach companions who made the day extra special.
There are two galleries below, one with just the natural beauty of the sights of the Great Ocean Road and another with this natural beauty in addition to our ugly faces getting in the way. Feel free to comment on which works best, I know my mind is made up.