Arriving in Melbourne this morning Sunday, 11th December 2011 at 09:30hrs we disembarked our second leg Air Asia X flight from KL a little bewildered. There were plenty of empty seats on the plane; one nice guy even offered us a bank of three seats for a sleep, not that we did, too excited to sleep.
I know Craig has mentioned this before but the Air Asia cabin crew were their usual charming and efficient selves along with a nice group of fellow passengers which made for a good flight. Nothing is too much trouble for these flight attendants, turning your personal overhead lights on off for you without even asking, removing litter from your table without waking you from your nap. I think Air Asia flight attendants must achieve ninja status as part of their customer service training, but seriously these people are excellent at their job, no request is met with a frown and their anticipation of your requirements is of a world class standard.
This was a tee-total flight for us, as somebody (and it wasn't me) slightly overindulged on the whisky for the London leg as we'd booked into a Gatwick airport lounge, we both think this was excellent value for money, I especially enjoyed the Jack Daniels and Coke chasers over the couple of hours we enjoyed at the bar.
I anticipated it would take at least a couple of hours to get through immigration after arriving in Melbourne.  This was my impression , after watching a couple of episodes of the TV show "Nothing to Declare" It took about an hour for us to pass through, due to the size of the queues, as we weren't stopped or questioned at any point.
Obviously those with Australian & NZ passports got through a lot quicker in their express lane. The Australian border staff were very animated and direct when dealing with arrivals at their country, who appeared to be on this occasion predominately from China and other SE Asia countries from what I could glean from peeking at people's passports and their faces. I was reminded a little of Basil Fawlty's approach to dealing with "foreigners" as I witnessed other arrival in Melbourne.  However, this "direct" approach did seem to keep things moving, albeit at a snail's pace.  I do think the airport border control would benefit from a major review, as I wouldn't be too happy if I was a regular business visitor to the city, at least there was no waiting for our bags.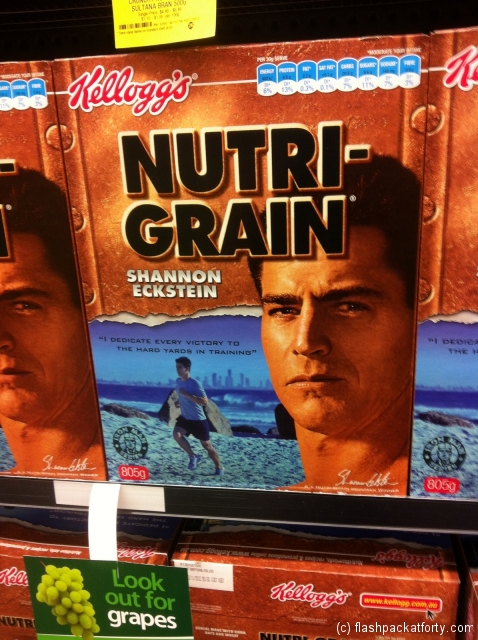 On a lighter note, all is well and the tech bubble hasn't burst yet. Craig managed to get the bits n bobs he we needed before leaving the airport to make our travel gadgets fully Aussie compliant, and managed to satisfy his technology fix at the same time. Whilst, I spent my time nourishing my craving for nicotine and people watching outside the airport.
Smoking is becoming a real drag, you really can't smoke anywhere these days, can't even get a smoking hotel; do you sometimes get the feeling someone is trying to tell you something! I've spent far too much time calculating when I'm going to get my next hit, I suppose you have to be grateful at least it's not heroin I'm addicted to and I could pack it in with relative ease should I have any willpower whatsoever.
On a heavier note, Craig and I have had a chance to chat about some of our wishes and desires for our road trip, in between bouts of slumber. I'm not going to share them all with you now; you'll just have to keep following to discover more. I hope one outcome from our journey will be that we become fitter, healthier and consequently lose some weight. We did a quick weigh in on the scales before we left home and we're both shocked but not surprised to realise that we'd both breached the 14 stone barriers, something we'd never managed to achieve before.
I put this down to the hospitality of my parents, who have kindly over indulged us over the last 6 months, whilst we've been staying with them. So I announced to Craig, that as we're going to continue to be without our own kitchen for a long time we need to be vigilant to the temptations of junk food whilst travelling. I then proceeded to lecture at him that we are no longer eating bread or crisps and a few other things on my our quest for a more svelte appearance – I just got a muted frown and eye roll but no adverse reaction to the plan.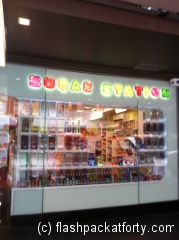 First impressions after arriving in Melbourne: though tired and dry eyed, is this place is sweet. As you'd expect from Australia everyone we've met so far has been really helpful, friendly and fun.
Apparently there are 3.9m people living in Melbourne, I don't know where they all are though, even though there are loads of people around, the place feels very spacious and safe for a city. I'm sure they are all hiding inside the amazing amount of cafes, restaurants and eateries dotted along every street. The place seems to be coffee and cafe crazy which we're both very pleased about.
Just to let you know, I broke the bread rule first, by indulging in the most amazing dim sum type things, my favourite being green bean sesame balls, and then later some amazing savoury and sweet pastries… Sorry no pics – I ate it all so quickly… but I think we're going to leave the weight loss agenda until we leave Melbourne as it would not be right to indulge in the cafe and restaurant scene with our fellow Melbournians. I can honestly say I've never seen a place with some many delicious restaurants and cafes per head of population. I can't turn a corner without the sweet aroma of coffee or some mouthwatering plate of food. My first guilty confession of this blog is that I devoured a curry doughnut today, *yum yum*
It's 1am and our first day in Melbourne has been great, apart from not perfect first day weather, cloudy , damp, 18C.  It's not detracted from our fun, but I just had in my head the sun would be cracking the pavements here – which is not the case, not yet anyway.  Time to crack open that bottle of duty free to help get some sleep, early start tomorrow. First stop tourist information, as we look forward to hitting that tourist trail early doors – but what to do?