So Marrakech, I am afraid we did not get one too well did we? Here's why …
The Hotel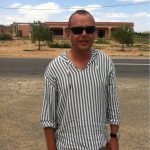 As I mentioned in the last update, we had decided to try and treat ourselves to a bit of luxury after all of our Riad value hotels so far and booked in to the Hotel Atlas Targa. It looked good, reviews weren't that bad and we thought we don't need to stay so close to another medina.
The only decent thing I can say about the hotel is that the showers were hot and powerful. That's it, the only single redeeming feature of the whole place. The breakfast was shit with sloppy eggs which would make you want to vomit, a toaster that took three pieces of bread (for a hotel that caters for over 500 guests) and I could have toasted the bread faster with my ciggie lighter.
The room had a balcony, but without any seats or a table, the toiletries consisted of a crappy soap and bit of shampoo, conditioner and the place was miles out of town. They did have a shuttle bus, but it was timed for the most useless moments in the day. So our recommendation do not stay there it is not worth it. Did I make that clear the Targa is turgid. It also took one hour from us arriving at check out for them to summon an overpriced luxury taxi to get us to the station, dickheads. There that feels better now.
The City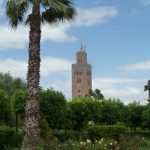 We wandered on our first day into Marrakech and for some inexplicable reason, maybe it was the experience of the hotel, we all just didn't get it. In the El Fna square and in the medina we all felt for the first time on this entire trip a little unsafe and it was all a bit hostile. Don't get me wrong, we would return for a long weekend and this place comes alive of a night, and its not aggressive, we'd just been spoilt by cheaper and better quality elsewhere. We persevered and wandered through into the tanneries and then got out of the nearest gate, which smelled like faeces  Deep breaths and gathering of composure and John flagged down one of the horse drawn carriages and we set off in pursuit of some gardens and royal monuments as a bit if a respite from the medina mishaps.
This was pleasant and the gardens were pretty, resplendent with multicoloured roses. They all however surround many of the royal palaces and these are so heavily guarded by uniformed and secret service security men who will put a bullet through your head if you much as dare and try and take a picture pointing at one of the royal buildings.
The best bit was wandering down the large boulevards of the Hivernage and the Gueila areas of town with the swanky hotels and houses and the tree lined streets.
Re-planning Plans
We were only ever intending to spend a couple of days in Marrakech and then the plan was to go out into the desert areas on a tour for three or four days. This bit of our plan also failed; one because options were limited and tours full as a result of bank holiday business and the weather took a real turn for the worse with forecast of cloud and rain for the next five days.
The only reason I wanted to do this part of the trip was to ride in to the desert aloft a camel and watch the sun set over the dunes, we had successfully managed to resist all attempts by locals to get us on one thus far, lay back by the Berber tent and watch a sky full of stars before getting up the next morning and watch the sun return for another day. This idyllic bucket list trip was doomed though as the forecast cloud cover would have made this impossible.
So what do three intrepid travellers do when faced with crap weather and find themselves in a city they have not really gelled with? They go to McDonalds, have a friendly big mac and take evasive action by coming up with a new plan.
A quick trip to the train station, a change of pre booked tickets, a nine and half hour train journey later and we are in Tangiers for the day enjoying it's French colonial splendour, wishing we could stay longer but poor weather again drives us back to Europe, and we are now sat on a ferry ready to re enter Spain and leave Africa behind for now. We will definitely be back to Tangiers, and Morocco, when the sun returns and the torrential rain stops, it's not too conducive to a cafe culture.
The journey was fine and Moroccan train travel is brilliant, comfy, and again we were treated on the train to a mix of some annoying and some truly lovely cabin companions. We also had an hour and half connection in Casablanca, so I suppose I can now say I have been there even if all we saw was the plaza outside the station and ate a quick tagine at one of the local restaurants. One Moroccan chap made sure we were ok getting a taxi when we arrived at Tangiers in the pouring rain. Yet another demonstration of Moroccan hospitality which we have encountered time and time again.
Just as none of us got Marrakech, all of us really liked seeing Tangier, from what we saw briefly, and want to come back to explore more at some time in the future. It's weird how things like that happen with travel. I knew the moment I
arrived in Hong Kong
or in Barcelona that the cities held some magic and others you come to and your head immediately screams "get out".
I am sure others feel the reverse of what we felt about Marrakech and we have spent some time discussing why. We have decided that we have been spoiled already by Fes, Chaouen and Essaouira and had probably had enough souks and strange alleyways, the weather didn't help either, so maybe Marrakech was on a hiding to nothing even before we started.
We stayed in a fantastic little hotel in Tangier for the night, the Rembrandt . It is getting a little past it's sell by date, but it must have been built in the deco era and came complete with period features, a fantastic old paternoster lift and a beautiful spiral staircase, pic provided. The staff were great and thankfully when we rolled off the train at nearly 11pm and found the hotel, the bar was still open for a few much needed beers. Breakfast was great, as was the shower, and so the lesson here is you don't always get what you pay for and our £100 a night Marrakech luxury hotel, replaced with this one at half the cost and we had a far better experience.
We are going to spend the last few days of our trip on the costa del sol somewhere, don't know where yet, it will be decided tonight over some patatas bravas and tapas and a nice glass of Spanish red.
Location:Boulevard Pasteur,Tangier,Morocco