What does our visit to Essaouira bring us? Sea, sand, seagulls, more great food, an epic hunt for the only off licence in the village, a town layout you can navigate without a guide and a tale of two properties that's what. For the more energetic there are plenty of water-sports including windsurfing to keep you busy.
The marathon journey didn't in the end feel like one, the Moroccan first class carriages were comfortable and we were entertained throughout with a variety of cabin companions as we made stops at the major cities en route to Marrakech. Thankfully a few cabins down the train and not in ours, was a very loud English gang who appear to have got lost on route to Benidorm and clearly had managed to stock up on alcohol for the journey… Thankfully they got off at Rabat so a peace descended on first class once again.
We had the Moroccan gynaecologist who spoke wonderful English and made sure we got the best deal from the buffet cart. I decided he was a gynaecologist by nosing at his laptop which said something about cytology research and the fact that he had very clean hands and lower arms and his nails were neatly trimmed. I am sure that is important in his line of work.
We had the Indian princess on vacation with her father, and she was about as unhappy as can be with just about anything she could think of. Especially when the guard came by and told them they were in the wrong carriage and had to move to the other one, we giggled at this final injustice, she left muttering about how life is just so unfair.
The final leg was shared with a Spanish looking woman with a small child who managed to do a big smelly poo in their nappy about an hour before Marrakech, so the final leg; and my lasting memory of entering Marrakech was of a shitty odour from an unchanged nappy. We were ruminating on her profession and decided that she was a lady of the night as she ended up swapping mobile phone numbers with a random Moroccan chap with and iPhone and lots of money!!
Scam Avoidance Lesson Two
On the last few stations before you reach Marrakech some very friendly types get on who speak perfect English and then do the "how are you enjoying Morocco line" before finally get to the questions about your accommodation/trip plans in the biggest tourist city in Morocco. He then moves on to tell you that his brother runs a fantastic Riad/tour company that can help you. We gave him some confusing answers before getting rid of him, but sure enough as we stepped off the train at the station he was there helping some rich looking American tourists off with their luggage with a big happy commission induced smile on his face.
A quick wait for half an hour in the train station bus terminus and then it was on to the bus for the last two or three hours to Essaouira. The journey was fine and was it was interesting at last start to see more of the scenery get a little rocky, stony and more desert like.
Our Riad was a cheapy
Riad Grand Large
, but what it lacks in facilities it makes up for in charm and the delightful staff, who make you feel very welcome. So much so that we have just come to the end of our fourth night here and would have stayed longer but they are full, so we have found an alternative just round the corner which looks pretty similar, and it's the same price so even better. We are binning any idea of heading for Agadir and will return to Marrakech from here on Wednesday probably.
Highlights of Essaouira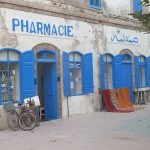 This place is a lovely balance between traditional Moroccan town and Coastal holiday resort. The lives of the local sourris (as they are known apparently) goes on quite happily around the tourists but there are enough restaurants and cafes to keep the tourist happy. It has a long history involving the Portuguese back in the 16th century but it is the French involvement that persists amongst the traditional Moroccan now. Turning some corners you could be forgiven for thinking you are on the cote d'azur until the call to prayer from the many mosques reminds you that you are in Africa and not Europe.
The food has seen us try more tagines, but again we have local twists, a kefka one I had the other night was all peas and herbs and spices but was probably the most interesting one I have had. Essaouira remains a working fishing port so it is no surprise that the fish is never more than a few hours from Atlantic to assiette and is fresh, blindingly white and tastes fantastic too. The fish soup is not bad either.
The best local discovery though is a 'pastil's'  which consists of a filo pastry concoction, which is sweet and full of herbs stuffed with marinated chicken or duck. We have also discovered the local sweet delicacies which are made with figs, dates, nuts and lots of sugar but they are no more than a mouthful so eating half a dozen wasn't such a bad thing.
I have also found the biggest ring donuts I have ever seen so I just had to sample one, here they are waiting to be eaten. How could you not eat one they were about 6 inches honest.
In other news
John and I had our first ever cut throat shave and Moroccan haircuts which involve a snip of all the places that men of a certain age grow hair, up your nose and in your ears. It was a pleasant if disconcerting experience as you watch the barber in the mirror with a cut throat to your neck merrily glancing what is going on in the street without paying any visual attention to what he is doing with the razor.
Next to complete our men's pampering day is a Hammam, which consists of the following
Get undressed to your shorts
Shower
Lie on red hot marble and sweat for a 15 minutes
Get smeared with 'Savon Noir' black olive soap
Lie down again for 15 minutes on slab
Wait while a Hammam assistant puts on his sandpaper like glove and rubs the top two layers off your skin
Shower
Then get a soapy suds scrub down with a slightly, and I mean only slightly, less course glove
Shower again and sit and sweat for another 10 minutes then dry off give the man a tip and leave feeling about the cleanest you have since you popped out of the womb.
The Quest for a tipple
Now unlike Chefchaouen, Essaouira is not a dry town, but by Christ they make it difficult to find the bloody stuff. The town has one off licence which took us two attempts to find (its the pic with two guys outside below) and some of the restaurants and cafes will serve alcohol but most don't advertise the fact, so if you are in the mood for an afternoon beer or a glass of wine with your meal you have to do a bit of hunting. We have got quite good at it in the past four days and now have a choice of what can only be described as the equivalent of a working man's pub down near the port (John and Claire pose above before he entered and negotiated the price of the beer down from 20dh to 15), a very nice restaurant which overlooks the main square and we now know exactly where the off licence is. All our needs are catered for and should the mood take us for a tipple we can satiate our desires, although in saying that we are probably drinking about a quarter of what we might normally on holiday if it wasn't so difficult to find which can't be all bad can it?
So hope you are all having fun in the English sunshine, which appears to have made an appearance judging by the number of sexy barbecue shots I have seen on Facebook.
In our next Morocco travel blog post we'll update you on what else we got up to in Essaouira.