Flying from Liverpool to Gibraltar and onto Algeciras
So we are out of England and in what is just about the most southerly part of Spain, our final destination is Morocco but first we are going to sample the delights of Gibraltar, Algeciras (Spain) then onto Tarifa before catching the ferry to Tangiers (Morocco).
A very pleasant three hour flight with Easyjet and we touched down on what has to be the shortest runway on earth in Gibraltar (and one that has a road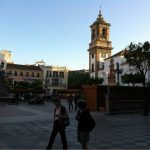 running across it) Sun was shining and all we had to do was step out of a very small arrivals lounge do a hop skip and a jump across the border and we found ourselves in Spain in search of a bus marked Algeciras which would lead us to one out of two of our only pre booked hotels of the trip.
Our Journey from Liverpool to Gibraltar 
Getting the Mottram name heard all over Liverpool John Lennon airport as they made a final call for passengers for our flight. We were too busy finishing our drinks
Wondering where Claire was when we alighted the transfer bus on the Tarmac only to discover that her rucksack tassels had been caught in the door leaving her trapped on the bus.
Discovering a quite delightful string orchestra playing in the church in the main town square in Algeciras which sounded quite magical
Me pretending I knew where the hotel was in Algecrias and taking John and Claire on a fifteen minute detour in completely the wrong direction, they were not pleased!
Moving those Backpacks
Up at very ungodly hour for a holiday, but it was all to an end as today we were going to traverse continents and time zones-that may be a little dramatic seeing as we only really have to move our clocks back to UK time as we enter Morocco.
We enter the port at tangiers, eventually, find out where to buy tickets, and then jump a cab to the other port of tarifa. We are sailing from here as it gives us a better connection at the other end so well worth the hassle this side of the straits.  The hydrofoil crossing was event free except for the lies that all the advertising tell about a 35 minute crossing. It was over an hour, and the sea wasn't choppy, so they had no excuse for taking the foot off the gas. We did however get the chance to meet the Moroccan Mrs Overall of acorn antiques fame – here is a slightly blurry picture of her at work.
We have discovered some truths in the short time we have been in Morocco. The tales that many that you meet are on the lookout to make a quick buck out of unsuspecting travellers are true. The ticket man at the CTM office pretended he had no change of our large recently extracted high value ATM Notes. We held firm gave him a firm Im not moving look and in my bad French explained that I thought the lack of change was his problem to sort not mine. Eventually he miraculously found the correct change.
That the ferry port is quite some way from the boat especially when you have half an hour to find the ticket office, the bus, a bank so you can get some cash and argue with cheeky ticket man above. We managed it though and we are quickly learning anyway that Moroccan timetables and journey times are in fact something they STRIVE for rather than being facts. So the bus eventually set off at around 10.15.
All that was easily forgotten as we got out of Tangiers and hit the road to Chefchaouen. The scenery from the bus is both surprising and beautiful. All those stereotype shots of camels, deserts, fez hats are miles away form the lush green undulating hills and mountains that greet you in the Rif in Morocco. At times you could quite easily have been touring Tuscany or driving throughout the Yorkshire dales. The only noticeable difference is that nestled amongst the beautiful little villages perched on the hills you will see the rising tower of a minaret instead of a steeple. The few 'through the coach window' shots dont do it true justice , but you get the idea.
From Algeciras to Tarifa by Bus
It will take you about 10-15 minutes to get from the boat to the CTM ticket office at Tangiers ville port
If you want to make use of the free shuttle bus from Algeciras to Tarifa it leaves an hour before the ferry is due to depart from Tarifa, we missed it by five minutes which led to a 25 euro taxi.
Do not believe the 35 minutes listed on the ferry times from Tarifa to Tangiers it's an hour- all important if you are trying to hit a bus time from Tangiers.
You are allocated a seat number on CTM buses which seems to be ignored by most until one person gets on and demands their allocated seat then havoc ensues. The cost of your luggage on the bus is 5dh, don't let the bag man kid you for any more, or the ticket man for that matter.
After a pleasant, but at times bumpy journey we find ourselves backpacking to Chefchaouen for maybe a couple of nights, maybe more it all depends how we get on with it.