So goodbye then Samui, we will miss you quite a lot. But we set off this morning very excited about our multiple faceted journey ahead of us. For those of you with attention span of a goldfish here are the highlights before I start blathering on about the whole journey in excruciating detail.
Taxi to Nathon pier on Koh Samui – 40 minutes
Coach to the ferry – 2 minutes
Ferry journey over to Donsak – 90 minutes
Coach journey from to Donsak to Suruthani – 70 minutes
No 86 sleeper train from Suratthani to Bangkok – 12 hours
Tuk Tuk from Bangkok train station to new express airport train terminal – 10 minutes
New fast train to airport – 25 minutes
Wait for flight – four hours just in case train was delayed!
Air Asia flight to Chang Mai – 1 hour
Taxi to hotel in Chiang Mai – 20 minutes
Ferry cross the Gulf of Thailand (sung to the tune of Gerry and the Pacemakers)
Leaving Samui by ferry was a fitting way to wave goodbye to it; it allowed us to savour the last few memories slowly as the island drifted into the distance. As we pulled out of the port and the ferry did a handbrake turn to get us in the right direction (I thought we were at the front till this little manoeuvre took pace), we started to chug away slowly from what was the best bit of the trip so far. Our planned trip around the archipelago's yesterday was thwarted by a combination of bad weather and bad stomachs, more of which later ( if you have the stomach for such detail that is) so this crossing would have to do in it's stead.
And it was a beautiful trip, the sea was calm and the colours of the water changed from emerald to cobalt as we moved between the little islands off Samui. Finally once we worked out fore and aft we found our own private spot right at the front of the upper deck that we called our own and managed to get a few more minutes quiet tanning time with great views as a result. Coming into the pier at Donsak I thought we were stopping off en-route to pick up some more passengers as it was about the size of the jetty at your local boating lake, but in true Thai spirit they managed to dock and unload a car ferry there. Even on the ferry you could still avail yourself of a massage for the trip not that you would need unwinding with the sun and the views available..
Onwards to Surat thani
We all loaded back on the coach at the boating lake pier and, set off towards the train station. I thought this bit of the trip was going to be boring, but I found it fascinating as I got to watch and ponder life going on in small towns and villages along the route, as it does in Thailand without the interference of the tourist tat shops, the chain eateries and most of all us tourists disturbing it's natural rhythm.
I also noticed that the vehicle of choice in Thailand for those with money appears to be a pick up truck, they outnumber saloon cars by about five to one, and obviously some of the young rich have them too. You see them pimped up with wide bore exhausts, chrome wheels and other accoutrements to make their ride stand out from the crowd, some even add offensive football related stickers as John discovered.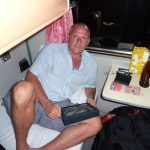 Each town no doubt began its life sprawling from the riverside villages and settlements that took root there hundreds of years ago before any form of sanitation far from water sources was possible. As we passed over bridges in each of the towns you can see the last few remaining stilted teak houses still going strong, fighting with the modernity that has sprawled and enveloped them over the passing decades.
Towns also boast an arch on the way in and on the way out adorned with supersize images of the King and Queen of Thailand. They reminded me a bit of the Welcome to Blackpool Illuminations arch at South Shore, only much more tasteful of course. They like and admire their royal family here and I am becoming quite a royalist myself, although I fear this is down to my liking of the campish tributes that are everywhere picturing their royal highnesses.
I provide you dear readers with the first of my competitions – spot the queens in this picture (hint there are more than three)
Train tuk tuk and Skytrain
I have to confess that this train journey was my major wish on this holiday so a lot was riding on it. Hours of earache to add to my hours of gut ache from John if we didn't get wink of sleep or it was just an awful experience. I am pleased to report, post journey, that I only had to contend with one type of ache throughout the journey.
We arrived at the station about an hour before the train was due so filled up on some street nibble food (I know that is probably not the wisest endeavour given the delicacy of our intestines, but they just look too yummy and interesting not to try them). The train arrived more or less on time and we found our carriage which was already laid out in sleep mode ready for our arrival with crisp clean linen and a wonderful set of pink curtains, not dissimilar to those found on the coach earlier. See below for compare and contrast fans.
Two minutes after departure the waiter arrived and we ordered some beers, he obviously is a good judge of character and arrived back 10 minutes later with the food menu and a bucket full of ice and beer which he deposited in our carriage, took our dinner order and toddled off. I read once in medieval times that we used to drink beer instead of water to ward off germs etc, so we thought this a sensible thing to try to rid our guts of rot. Food he delivered an hour or so later and for the three quid we paid for it wasn't bad. Then it was time to have little read and see if I could enter the land of nod on a train. It was actually very easy to sleep, the bed was reasonably comfy if a little on the slim side for my girth, but this is soon forgotten as you feel the gentle swaying of the carriage and the sound of the wheels passing over the joins in the track and like a baby in a pushchair you are gently rocked to sleep.
I reckon I nodded of within five minutes and apart from a couple of noisy station stops in the night where I woke briefly, I managed a very healthy and restful seven hours until happy waiter man delivered our coffee and breakfast about half an hour before we arrived in Bangkok.
Bangkok for a few hours more
Bangkok train station at 6am in the morning is ever so slightly scary with last nights rough sleepers being awoken by station staff so they can be cleared before the tourists start arriving.
But we were reasonably refreshed after our sleep, if a little unkempt ( the train did boast a cold water shower in the toilet cubicle, but the logistics of showering and still having a towel in the tiny room capable of drying you after it was none existent). Good job we were refreshed because the taxi and tuk tuk touts obviously do not sleep and they pounced as we got off the train. We sailed on through with our fuck off faces went outside for a fag and flagged down our tuk tuk.
He scarily attached some of our baggage to the back of the vehicle and off we were whisked through some eerily deserted Bangkok streets to catch the brand spanking new express airport train service. Given it is new, they charge you the princely sum of 30p for the journey from central Bangkok to the airport while they settle the service in and launch it fully later this year. I wasn't complaining.
All that I can say it that sleeper train travel will definitely be featuring in future trip planning it was fab, civilised, despite the rather rough toilets and was very much part of the experience and not just a means to reach a destination. I am finishing this blog on the flight to Chiang Mai where I shall post it, so for any exciting bits for the last part of the journey will have to wait for a later blog.
Makes you want to give up doesn't it?
I provide below a censored extract of some of the health warning imagery provided by the Thai health authority to ensure that if you do smoke, your children may not die of cancer, but will be seriously traumatized if they find any of your fags lying about.
A Room With a Pet
– some of you will know form previous blogs that I do not get on well with nature in
Real life
so to find on our first night in our proper Samui hotel that there was a resident gecko in the room needed all of John's counselling and hypnotism skills before I would go off to sleep. I would have gotten a snap for you but he is flightily little fucker and I didn't stand a chance of catching him.
Do I have IT Helpdesk tattooed on my head?
Admittedly we spent over four hours waiting for our plane today in the airport but I was approached by four different people to help them get connected to the airport wifi (one Israeli, one Italian, one Aussie and an Indian – windows in different languages added to the challenge?). In addition to this they then wanted to eek every bit of information out of me my seeking my guidance on the best roaming sim while they were in Thailand. When I returned from helping my last internetlesss soul John suggested we set up stall outside terminal 4 and charge 200 baht a pop, fucker.
Smallest petrol station in the world
That's it for now off out to explore Chiang Mai this evening then our day with the elephants beckons tomorrow.
– Posted using BlogPress from my iPhone
Location:Nong Prue,Thailand