The Final Journey – Home
I left you last time as we touched down in Hong Kong for our last leg of the trip.
This one would be easy for us to navigate as we had had a nice introduction to HK at the beginning of the Asia trip, so we knew what we were in for, but this time at a different hotel.
The Hotel Bit
The Hotel (Panorama) overlooks Victoria Harbour and we got lucky and were upgraded, not much difference in the end, but it guaranteed we had the best view from the Hotel and were on a higher floor.
Like all hotels in HK the room and bathrooms are small; they need to squeeze in whatever they can in the space available.  So let's call it bijou, but it had everything we needed, nice toiletries, an ashtray, a kettle, a fantastic view and location smack bang between Nathan Road and the Star Ferry terminal, so getting around is easy.
We did not manage to check in till about 10 that first evening , so we nipped out and found one of the small street food places and worked our way through what they had to offer.  Then got to a small gay bar we had found on the interweb just round the corner from the hotel.  Now I use the word small here because it was about the size of our lounge and had about 20 people stuffed into it and very little atmosphere.  I thought this quite a feat when you put that many people in a confined space together –one would expect some atmosphere, even a bad atmosphere would do, but this was just a vacuum.   After a couple we headed back to the hotel and decided to try out the Sky Bar.
Now I know we have been spoilt by these, but this one was a tad disappointing – it had by far the best view (overlooking Victoria Harbour and all the lights) but it was all glassed in and no outside space.  They had decided to use the outside space on the 40h floor for a 10ft square putting green and a few chairs to look at the view but nowhere to get a cocktail or something while doing so in the open air.  Stupido hotel designer;  that's where the Bar should have been located – dickheads.
However, I was yearning for glass of wine in the skybar (or high up greenhouse as I chose to call it) so we shared a bottle and then planned what our next mad touristy day was going to consist of and toddled off to bed.
The other Hong Kong Police Force
Up and out next day for another one of those multi modal forms of transport for our Christmas Eve extravaganza.
We kicked off on foot with a stroll along the Avenue of Stars (few of them we recognized other than Bruce Lee and Jackie Chan, but they go down a treat with the Asians who have their pics taken next to the concrete hand prints in the pavement).
We then booked a harbour cruise for the evening for the lights show and then headed for the Star Ferry across the bay to Hong Kong Island.  We got the ferry to Wan Chai and then the plan was to wander and find the trams (transport number 2) which run all the way back down to Central .
However, as we emerged from the ferry terminal there John spots a dog walking park so we have to make a detour to go see all the little doggies and their over attentive owners.   I was bored shitless, but John was enjoying looking at all the little mutts and implored me to take pictures.
Finally we made it to the tram stop and then boarded the tram to get us as close to the Victoria Peak tram stop (transport number 3).  We arrived at the peak tram stop after a short but steep walk,  just as it was getting busy and the queues were forming and getting larger.  This does give me a perfect segue into a little commentary I wanted to make since our last trip here.
Now I know we British are famed for our queuing habits;  the orderly way in which we wait in line and woe betide anyone who dares to push in or try and form a separate queue.  Well I don't know whether this is an offshoot of us running Hong Kong for so long but they do all of that and go one step better.  They not only behave well in queues, but they go one better.  They do active queue management- to ensure that those non queuing tourists learn the rules very quickly –  they have frigging queue Police to ensure everyone joins in properly.
We first came across this when we arrived at immigration.  There all nice neat counters are labelled for different passports and at the front of each queue there is a bossy officious looking person telling  – no make that barking – everyone when to stop,  when to proceed,  and shouting at anyone who dares to break the rules of engagement in queuing;   and pointing ever so precisely about where you should next queue.
This was also encountered in the queue at McDonalds who arrange you in font of the tills.  I know we are bad boys but I warned you that we were getting close to succumbing and we did the first morning in HK – and it tasted good too.
A Peek at the Peak with Bossy Lady 
Then the most scariest and shouty/pointy QPolice was the tiny little lady at the queue for the Peak Tram – Now maybe there is a pecking order for Qpolice  in Hong Kong.  Perhaps a special level which they attain based on their finely honed bossiness and crowd control capabilities.  Let me tell you the one at the peak was one scary mother fucker and could teach this stuff in her sleep. Anyone tried to move without their permission out came a flurry of animated hand signals and barking in Cantonese (it does not matter if you don't understand Cantonese, you absolutely got the message if you were on the receiving end).  We obeyed all queue orders and proceeded after about half an hour to board the peak tram.  I would have loved to get a picture of her in action for you but I feared picture taking during queue manoeuvres may have sent her into a wild frenzy
The peak was good for the views and we did have a pretty good view for this time of year (its the tail end of their winter and they get a lot of fog/smog), but sadly it has now been turned into yet another shopping opportunity with its own 50 store shopping Mall at the top.  So after we enjoyed the view for a bit we buggered off back down again paying great attention to instructions from queue police .
Our final mode of transport for the day was the mid level escalators  which are the longest covered escalators in the world (http://en.wikipedia.org/wiki/Central-Mid-Levels_escalator)
We rode these as far as Soho and got out for a mooch but then realised the escalators only go one way at any one time (they only go down from 8-10.30 each morning ) so we had a very steep walk back down.  On the way we started to realise what a big thing the light show was going to be that evening as we saw all the police cordoning the bay viewing areas and surrounding roads.
Most of the harbour roads had been closed off and it looked like everyone in HK was making their way to the harbour and decided to go watch the show that evening.  So if you suffer from Enochlophobia (crowd fear – I just looked that up, I thought it was a phobia of 1960's politicians who stir up racial hatred) Hong Kong on Christmas eve is not the place for you. We got herded and redirected down
to the Star Ferry on the route the Police wanted us to go which bore no resemblance to the fastest way of getting there and doubled the length of the journey – have a look.  I fully expect that the Hong Kong Police force have the Peak Tram QPolice woman co-ordinating these events for them.
We made it to the ferry port and boarded the boat just in time for the show to start.  Good idea because when we looked back to the harbour there was just masses of people.  We enjoyed the show and got treated to a bit of Hong Kong hospitality.  On board with us were some 'Hong Kong Ambassadors'  who are college kids hired to do their bit for tourism and they came and chatted to you and hen gathered round to sing carols, which at any other time might have made me place a finger down my throat to barf, but it was Christmas so I thought it was kind of sweet.  Now they wont be entering choir of the world competition 2010, but they were ok and added a little festive cheer to the evening, and here is the video so you can share in the cuteseyness of the moment.
We disembarked an hour later (do you see how I am getting on into all this nautical nomenclature now I have rode a couple of ferries) then headed for another gay bar which we hoped might be a little larger and livelier than our watering hole last night.  We found it with the aid of Google maps and the gps (I love it when technology works) after fighting our way through the throngs of people.
A Slightly Surreal Christmas Eve
Now this one admittedly was a little bit bigger, but also very 'local',  we were the only non Hong Kong people in their at first but then a another English couple popped in and we got chatting and then began to realise that it was in fact a gay Karaoke bar.  The microphones get passed round the bar and they take it in turns doing a number no getting up on a stage to 'perform a la Sunday night at your local.  It was quite surreal, but as midnight approached we were in the swing of it (or getting more pissed and couldn't give a toss anymore) and the locals involved us in letting in Christmas Day with some streamers and lots of Christmas kisses all round.  We enjoyed it so much that we rolled back to the hotel about 3am on Christmas day having avoided joining in with the karaoke which is a major achievement in my view given our level of inebriation.
Christmas Day therefore started with a bang – in our heads –  and it goes without saying that we missed breakfast (in fact we did not rouse ourselves till nearly midday) .  We went out for a wander and to grab some food.  We were astonished to see people still going crazy shopping mad and Christmas day was even busier with more people out and about.  We saw queues for people to actually get in stores like Chanel and Burberry, Gucci and other big brands (yes they do have QPolice , but they are dressed in designer clothes and are from the beautiful people Queue Police Training College and control crowds with condecension and scorn rather than barking.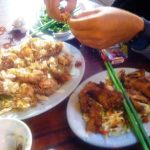 After a couple of hours we decided we were just too hung over to be tourists and came back to the hotel and got some sleep instead. This was in preparation for some serious shopping at Temple Night Market and to find something ridiculously unchristmasy to have for Dinner – and so it became spare rib, peking duck, pork noodles and deep fried prawns.  Tasted great and gave us the energy to do the second part fo the market which took about four hours in total.I am also glad we did the 2nd part of the market as it allowed me to pick up some nice shots for the silly poster/sign awards.  First I got to see middle aged Hong Kong Ladies sat at stalls selling nothing but sex toys – with the usual variety of dildo's love eggs and other paraphernalia on sale.  Apologies for the poor quality but I didn't want to get caught takign this shot.
Best things I saw on these stalls (I could only take furtive glances, my mum taught me never to stare at sex aid stalls).
An inflatable bum hole with a picture on the front of the box of a man who was clearly very happy with his inflatable bum hole judging by his smile
One of these middle aged Asian ladies giving what I can only describe as a hands only demonstration of how one of these special curved vibrating devices work to a middle aged  Asian gentleman who was so obviously getting his rocks off at the demo and watching her every move.
And so finally it is Boxing Day and here we are the end of the trip a late checkout and a trip to the airport with my new favourite crazy taxi driver.   Now this was by far one of the highlights of this return bit of Hong Kong he was just a real gem. Here are the reasons why
He clearly suffered from OCD and throughout the journey clicked and pressed just about every button on his dashboard 100's of times but paid particular attention to the temperature control knob which he would move about a nano millimetre and then feel the temperature of the air coming out of the vents with his fingers He was also one of those commentating cab drivers and part of his OCD meant he repeated everything he wanted to tell/show us many times over:
 

"They just open this new fryover only 10 days ago"(5 times)

 

"They just open new bridge to airport only 10 days ago"(8 times)

 

As we passed onto the said new bridge "this No.1 longest bridge in Asia"(15 times – Obviously very pleased with this one)

 

As we passed onto a not so new bridge, "this No.2 longest bridge in Asia" (5 times – obviously since the building of No.1 bridge this bridge has lost some of its lustre so only merited five repeats)
While all this was going on he continued to monitor and change the temperature of the car by making micro adjustments to the temperature knob every 10 seconds, clicking the overdrive on and off about every three seconds, indicating off and on without actually moving the car between lanes.
 The best bit was him turning the volume up and down on the dispatch radio so it actually made us jump when lady dispatch started broadcasting. He would then immediately turn it down only to begin to make incremental increases until it was back at the same level and the whole process started again. Absolutely bloody hilarious we loved him and he was a nice end to our trip, so we gave him a nice tip and he was ever so pleased (about eight times if you want to know) and then shook both our hands and shook them vigorously for one final thank you very much, and then back he went to his knobs.
Slopes – Now I know you wouldn't believe me seeing as the photo I shot as evidence was too shaky to use so I had to look it up on the internet – I kept seeing these little yellow signs which said slope registration number on them when we were over in the hilly part of Hong Kong.
I have gathered a few of my finest signs for you in this final blog
We have a sign from the public toilet and the Star Ferry port, This one amused as some fo the instructions given are mutually exclusive or contradictory at least. How can you use less water if you also have to wet the floor to make it slippy enough in order to merit cleaning it in order to keep it clean.  But I am glad I was not in danger of being thrown in the toilet bowl if people heed this multi instructional sign.
Falun Dafa is good you know it says so on a big sign at Victoria Harbour.  Now I could not actually find out any details of why Falun is either a real nice chappie or chapess, or whether it is in fact the latest brand of dried noodle in a pot
One of my favourites has got to be a shoe shop where they had shows with little BOGOFF notices on them, I thought it was always the deal you got a pair in a shoe shop.
And finally some very bad translations of what I think are great powerful and deep Chinese proverbs but have lost all their beauty and meaning upon translation into  English.
Distance Travelled and Airports Visited (in miles)
MAN – CDG – 367
CDG – HKG – 5990
HKG – KUL – 1588
KUL – DPS – 1227
DPS – BKK – 1848
BKK – HKG – 1055
HKG – CDG – 5990
CDG – MAN – 367
Grand Total – 18,799
Apologies to the environment, but I will never produce children and they in turn can never produce offspring so I guess I am about even on the carbon footprint front,  if I even it out of a generation or two.
Thank to this lovely website for helping me with this calculation- http://www.world-airport-codes.com/
Airlines used and summary  in a sentence
Air France – Got us from A-B with a minor delay but don't expect any sort of in flight customer service beyond a tray of food dropped in front of you and a bonjour and au revoir at either end fo the journey.
Air Asia – Beautiful, attentive, efficient, on time and great value
Malaysian Airlines – gorgeous staff, couldn't do enough but the Men's uniforms need a revamp
Hotels stayed in
I have provided links should you either wish to avail yourself of their services or avoid them at all costs based on our experiences or by the mere fact that dickheads like John and I may be your neighbours.
In this order, Tsingtao,  Bintang, Bali Hai, Singha, Chang, Ashai, Tsingtao.  In terms of quantity the bottles will probably fill a small van
Weight gained
Well  I'm not telling but a jump back on my trusty scales this morning says that the news is not as bad as first expected.
Forms of Transport used
Airplanes (Airbus A320, Boeing 777E, Boeing 757, Boeing 777 ER), Taxis, old and new , but mostly made by Toyota , Tuk Tuks, Cable Cars, Vernicular tram, RegularTram, Passenger Ferry, Chinese San Pan, Thai Longboat,  Use of own legs, Very fast lifts, very long escalators and  horizontal people movers type ones,   and at least one glass lift and finally bicycles
Number of stamps in my brand new passport – 10 🙂
And finally I leave you with something I wrote but never had the space to include and could not let it go to waste before I signed off the holiday blog and my life returns to the boring mundane cycle of work, eat and sleep that it once was.
Thanks for reading, I have enjoyed this blog thing tremendously and, as you know,the quality has been variable.  However, they will remain for me a nice record of the best trip we have ever had.
When I begin to suffer from dementia in my later years I can hopefully still work out how to find this on the internet and remind me what fun life can be if you have a good go at it.

Bags for everything
One of the things I have mentioned about this trip is the constant living out of a suitcase. So I need to talk to you here about the different bags which you need in order to make this 'living out of a suitcase thing' work with minimal tutting and huffing when you can't find something.   It's all about the bags .   What you need are a whole series of bags for the different purposes.  Here are the thing you need
Main Suitcase – This is the wardrobe of your travel bag suite – its where a lot of the smaller bags we talk about will go
A bag for the flight/transfer bag– now these are one and the same and slightly larger than the resort bag because they need space for things like inflatable pillow, mints, earphones, ipods, current reading  and small laptop .  The advantage of this bag is that when you are not transferring it stays in the corner of the hotel room untouched once you have taken out passports, electrical toys etc and put them directly in the hotel safe .
Man bag for resort – this is required for i-phone, lip balm, spare lighters, back up pack of fags, wallet (not all shorts have pockets!!)  and room key for the hotel.  When travelling man bag goes into flight bag whole and is taken when at new resort only.
Beach bag  – this contains towels, sarongs , sun cream, mossy spray,  current reading books, wet wipes and again spare pack of Marlboro Red and lighter just in case – Beach bag goes into suitcase lock stock and barrel after simply removing reading books ready for next destination.
Lots and Lots of plastic carrier bags – now these are useful for sweeping up stuff as you get on the move.
You have one to put all your bathroom toiletries in which you tie up (protection in case of spillage caused by those gentle baggage handling boys) and simply untie at next destination.
Another plastic one of a different colour which begins to receive clothes no longer wearable and need to be washed (now did you notice I did not say clothes that had been worn there – they go back into main stock until such time as they become 'no longer wearable' , which is a judgement thing)
A third in a different design which begins to accumulate all the stolen booty of hotel toiletries and slippers that you have insisted must go home with you (I am not ashamed of this  – other people collect stamps or friggin train numbers why can't I have this simple pleasure)  – again sealed against baggage boy gentleness.
Finally a fourth in the collection which will begin to accumulate the shitty souvenirs and other things which you must buy on your hols because you can't get them back home
Now the advantage of this multiple bag technique is that after in one foul move lifted out the placcie bags and beach bag form the suitcase all you are left with is s stack of clean (or not yet deemed 'no longer wearable')clothes which can remain in the suitcase until you need them. We have now got this packing and unpacking lark down to about a two minute military style operation.