Denpasar You Did OK
Right  – nothing much to report about the airport on departure more stampy stampy from the officials then through not one but two security checks and then off we go airside to view the duty free, not much of excitement to tell you other than it was the usual collection of tourist tat shops, duty free and some proper brand name shops which was first for me in Bali.  Best bit was I managed to grab a snap of the world smallest McDonalds.  Believe me when i say that's it there was nothing else close by – I don't know whether you ordered your meal here and collected it in Bangkok or some other international destination, but I am dying to know where he made the fries.
Secondly a fine smoking lounge which was all fancy, swish swish automatic doors, aircon to rival KL's lounge and it was sponsored by a ciggie company.  Now if you are going to provide these smoke dens for us in airports then why the hell not get them sponsored and make them flash.  I shall be buying a packet of said sponsors whereever I can.
We have just taken off – another Air Asia smooth transition through the usual airport processes.  So in my mind they are still Ace.  The crew this time are form Bangkok and not as beautiful as the Malaysian staff on our previous Air Asia experience – but hey who's looking – well pervy bloke writing a blog that's who?
I am also a little nervous we have Russians in the seats over the aisle, so far they have only managed to cause slight chaos at check in – but I wouldn't be surprised if they make a further entrance in this flight blog at some point.  Sadly, I have to report they were as good as gold throughout the flight so I must have been mistaken they must be Ukrainians who are nothing like the Russians of course.
Craig has a Zen moment or two
As we took off I looked out of the window and jokingly said to John shall we wave goodbye and he did that wrinkling of the nose thing you do when something's a bit sad.  That's how I feel, real sad to be leaving Bali.  We had a glorious time there and glad we did what we did in different locations despite the minor ball ache packing and repacking, and transferring.
Our stay overall was a bit like going for one of those tasting menus at a very posh restaurant where you have a little morsel of some of the fabulous dishes that they offer. All that we have managed to do in ten days is get the flavour of some of Bali's best signature dishes, the culture of Ubud and the sightseeing, the madness of Kuta and the tranquillity which was Sanur, and the few other special moments hidden in amongst that.  They all tasted absolutely fantastic in their own way and I feel that we definitely need to come back to try out the full menu at some point in the future.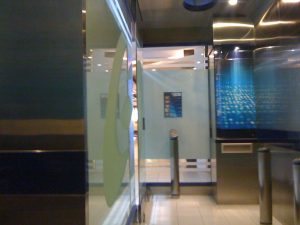 But if you will indulge me my dear readers for a little longer while I continue on this rather reflective blog while I try to give you a few further little morsels of Bali before we enter the unknown of Bangkok.
A nice walk back– in every sense
After our day in Gaysville beach bar and paddock yesterday we decided to set off back and walk down the beach at around half five just as the sun was setting.  I will try and put into words that walk –  now don't go expecting any beautiful prose, but I will do my best and try and give you a sense of it.  To me it was one of those special priceless moments in life you get now again when everything just feels 'together' and here's why.
I started to feel that zen moment about ten minutes into the walk. We were both quite 'sun kissed' as it was our last day on the beach so we kind of pushed the limits of exposure to the sun.  We were chatting, laughing and joking about some of the things we had seen at the beach bar during the day giggling at the little daft things which amuse us (and having a bit of a bitch too) and it was just lovely to feel, smell and listen as we walked barefoot
flip flops in our hands and sand all over our liberated feet ,
the breeze coming off the sea cooling our tingling heads,
feeling the miniscule droplets carried in the breeze land on your skin as the energy of the next wave roars itself into silence and the next one takes its place,
listening to the sound of the Balinese kids playing football on the beach, driftwood for goalposts, laughing and shouts from others as they play on the first Saturday after school has finished for the holidays
the sun getting lower in the sky, weakened , losing the ferocity that had burnt our skin earlier,
finally watching as the sun make its final descent,  lighting up the sky in yellows then down the colour scale until it finishes its light show with a deep fiery orange, slowly disappearing from view
These are those little experiences that you want to bottle up and keep for a rainy day, well I have its stored under 'use in case of emergency'  in my memory and its all mine, I will check it out again when feeling a bit shit at some point in the future. Special, simple moments.
It could all end in tears
One of the things our bike trip guide was able to tell us was why lots of primary school kids were off to school with little straw brushes tucked under their arms.   He explained that it was the last day of term and they were only going in to school to pick up their half year reports and also help to give the school a 'spring' clean.  All the children join in and clean the school before it closes for their New Year break.   I thought this was lovely and even more so when a little later we stopped by a small school and sure enough there they all were beavering away with their straw sweeps and, rather worryingly little mini sickles, scraping away moss and damp which accumulates on the School walls.
Now just for one moment imagine that same scene in any Preston, Manchester or Liverpool School.
Interior design and Indonesian crafts
One of the huge frustrations of this trip has been seeing all the beautiful crafts and home wares that are on offer in Bali. Some of the stuff is truly outstanding, and yet being unable to take any of it home unless I chartered a small Lear Jet.  The hard wood furniture, hand carved into the most beautiful shapes intricate wood carved designs, the stone and pebble ware designs in pottery and in ornate floors,  pots and urns.  The batik fabrics with beautiful complex designs in different colours and the sculptures (no I don't mean those enormous roundabout ones) but you can buy just all sorts of sizes here.  The glass and ceramic ware, the granite or wood carved baths (yes we saw some baths you would just die for).  John and I at one point were seriously discussing the feasibility and costs involved of hiring a small cargo container and coming over here to furnish our home and garden next time we move – we were three sheets to the wind at the time though.
Some Other Holiday Type Thoughts 
Its not the Tan that matters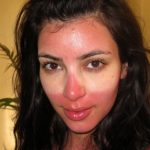 Now you may think that you go on holiday to warm climes to get a tan.  This is in fact wrong, what you go on holiday for is to get 'white bits'.   What I mean by this is that when you get home and people say ooh you look tanned it must have been hot, what's the first thing you do?  Flash your bikini strap line or hike down the top of your trousers and show off the bit where the sun didn't get.
Now personally my favourite white bit is the one under my ring (no not that one ) on my finger.  If I get a white bit there then I know that my tan is really deep and at the 'getting back to the office make people jealous brown' stage of development and I am happy. Not all is ideal through on the white bits front as there is a phenomena known as "unintended white bits".
This is where you leave Sunglasses on and end up looking like a panda with white bits round your eyes.  Now this problem has become much more noticeable over recent years with the change in fashion for large aviator type sunglasses.  I saw one guy like this in Kuta during our wild night (in fact he is my inspiration for this little blog section) bright pink face and two white rings round his eyes the size of drinks coasters (not unlike this image I found courtesy of ivillage, although this is obviously a female) .  He didn't half look self conscious, as he knew everyone was looking at him – and they were –  it is the worst case of eye unintended white bits I have ever seen. Poor sod I do hope it was not on his last day of his hols.
Bali becomes Bangkok
Right we are in Bangkok  – the hotel (Bangkok Hilton – well we had to stay here really didn't we it was such a  good film) is cool but still much less cool and exciting than Traders.  We have had a quick bath (with Crabtree and Eveyln products  – more of hotel toiletries again tomorrow) and off out to sample what Bangkok Chinatown has to offer.  We have already had some interesting taxi experiences, no doubt they will be featuring heavily over the next two days.
Oh and throw a snowball for me please.