So Long Sanur
So goodbye then Sanur it was brief but we loved you and the complete and utter lazy time was just what was needed after a few days of crazy city hopping. A few thoughts on things that we experienced there before we move you dear readers to the cultural and religious excitement which will be Ubud.
Sanur boasts – get this not one but TWO Paul Smith boutiques in addition to a Ralph Lauren, Chanel, Hugo Boss and a Crocs shop to name but a few. Is this the Indonesian equivalent of Monte Carlo I hear you cry. Is it fuck, they are all hooky shops with some quite good and some not quite so good fakes. I guess trademark laws are not up to much in Indonesia. It is funny though all the young trendy kids who work in these shops have an air about which makes me think they actually think that they are working in the real thing.
All things Hindu
On our last morning we went to top up with cash at the ATM's. We found this one which had had a Hindu offering placed on top. Well I don't know whether the gods were displeased with what was offered on this particular day but the ATM was deeply unhappy – it spat Johns card out and the gods said no to cash dispensing from that machine. So we went off in search of an unblessed machine to see if we had any better luck.
Now I attach this photo of me (I'm the one on the left) – I know just how much you all enjoy seeing my semi-naked flesh – as John took it in the beach Hotel pool and when we looked at the shot when editing later that night it struck how much like a Hindu deity I looked. I swear this shot was not posed, so I guess I can call that good karma. I spent all of two minutes on Google to see if I could identify the signifance of this – you compare!
New Place New Paddy 
So we arrived at our next hotel in Ubud  and, despite an hour wait for them to get the villa ready, we were very happy when we finally got in there. The hotel is about 20 minutes outside Ubud set on the edge of a traditional Indonesian village flanked by paddy fields (I just wondered why they were called that so I looked it up – "The word "paddy" is derived from the Malay word padi, rice plant". I am seriously disappointed by that discovery I wanted the word paddy to have some interesting history and origin. I might join Wikipedia and edit that entry and make something up which is far more interesting – Rice fields are called paddy fields, because in the early 15th century the Irish invented this rice growing technique following the freak floods of 1497.
It's another nice one, not in the brilliant location/views that Traders was in KL, but it has its own little delights, First is that it isn't actually a hotel room, but our own little piece of Indonesian paradise in the form of a mini viila with its own pool, outside shower, terrace and walled garden. But sod all that the hotel toiletries are not only plentiful – see my earlier posts on  kleptomaniac confessions – but also housed in a beautiful little teak box. If they think this is going to deter me from nicking them when I leave they are sadly mistaken. They are all mine.
In addition to this nice little touch we also get not Hotel traditional white, but nice yellow coloured dressing gowns, which are obviously made for the average height Asian man because when I adorned mine it only just about kept my modesty intact. They also dot nice little yellow flowers about the place (which I think are of the jasmine family because they smell just beautiful) , so I could not resist being silly for a moment, and I feel comfortable enough with you all now to share this moment of silliness.
Small Children, Americans and Confined spaces Don't mix
After plunging in the pool and upacking a bit we thought we would avail ourselves of the free shuttle minibus provided by the hotel to ubud. Now this has some advantages –
You don't have to pay to get to Ubud
You don't have to converse with the driver about your plans while you are in Indonesia in the hope that he can provide transport for all of your sightseeing needs
Its a modern minivan with fully functioning air conditioning
It also, we discovered this evening, has some disadvantages
Craig gets sat next to small American child called Malcolm
Malcolm is a little tired
Malcolm is a little hot and bothered
Malcolm is a little hungry ( I discovered this after the 17th time he screamed "I want snack" at increasing volume throughout the journey)
Malcolm's parents are those type that thinking to ask a small child of about three to be quiet and behave- in a nice supportive, caring and yet not critical to his development way – in the confined space of a minibus will mean he will immediately be quiet and begin to behave like the child of archangel gabriel himself
Malcolm creates such a fuss that American Mom decides to give him his comforter (dummy for us brits) and American Dad begins to argue with American Mom that always doing this is going to harm his development. American Mom goes in a huff and sulks on the back seat while American Dad (who has sat up front chatting to the driver ignoring all this mayhem behind him)  ignores her as well as his son now
Anyway we finally get to Ubud have a good mooch, and find a nice little place to have a meal. Which it turns out is one of the most authentic (and tasty in a scrummy sort of way) meals we have had so far, and also has an amusing line in cocktails (see pic – apologies this was taken by candlelight – third from the bottom – yes it does in fact say Gorilla Fart) . Then we wander back up the main road and get to a bit of Indonesian Hindu theatre – which is quite mesmerising. I have included a pic which in no way does justice to the event, but when I have worked out how to add video to a blog I will post short clip.
We got the shuttle minibus back and this was mostly uneventful apart from a Dutch woman who decided just as we were about to set off she did not want to sit next to John and we had to play musical chairs in the minibus – neither of us could work out why  – neither of us farted or criticised the Dutch Royal family . I do find the Dutch a bit glum and miserable – is it because they don't have any hills or mountains to look at I wonder?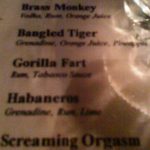 Just as we arrived back at the hotel the heavens opened and I was treated to my first real tropical rain storm, and fuck does it rain big(I have secretly been yearning to see one of these since we arrived) . I am typing this now in the villa and I can hear it beating down on the roof which is kinda cosy and soothing.  I am also very busy swatting mosquitoes who feel the need to feed on me. The bed is a four poster with a mosquito net around, but the only thing I fear I have achieved in pulling the nets round is trapping the bastards in here with me. I will wake up in the morning and look something like the elephant man with lumps all over my body.
We returned to the room to find the turn down service had been done and we found a sweet little leaf on the bed with good night written on it. I thought that was a nice touch and so I will share that with you readers as our parting image. Sweet dreams.
Postscript……….
Some  updates
Yesterday I gave you the second of my sunbathers eye view – well here is todays offering, taken by the villa pool in Ubud. I know you love them and from the interest I have had from foot fetishists monthly it is looking likely that I will be featuring in their Christmas newsletter, and my agent is in negotiations about a 2010 calendar.  If dear reader you don't believe these people exist then think again here is the proof
I regailed about the mad mopedists in Indonesia, well I shall continue to observe and report on them.  Today's highlight was a man driving with one hand; in the other he had a live goose held by it legs, upside down flapping furiously as he negotiated the mountain roads when we passed him. Maybe its like the toyota prius a hybrid moped, part petrol part goose wind power – It was a joy to behold though. Right thats definitley it now I am off to get some sleep –  much sightseeing to be done.