G'day!  We've had a fab time in good 'old' Melbourne. I say old, as although this place is on a massive expansion plan for 2020, the city retains an 'old-fashioned' charm.  Melbourne is pretty big already, as far as global players go, you'll see apartment blocks being erected at a phenomenal rate and  many historic and characterful buildings, set alongside contemporary structures on wide avenues and streets.
Melbourne is Australia's second city, and is a thriving and appealing travel destination, as it does 'tourism' very well. We've had an absolute ball, and have been completely bowled over (excuse the cricketing puns but Shane Warne is in town and Craig is beside himself).
There is plenty of space here to spread your wings in what appears to me to have an almost 'European' feel, and I don't just mean all the historic references to 'blighty' dotted around town. Even in the busy, but by no means claustrophobic city centre, you can enjoy the green spaces, public art displays and beautifully maintained parks and gardens. It's sometimes easy to forget that you're in a major city, but for the amount of attractions and things to do.
How can I begin to describe Melbourne, I suppose it's not really possible after only six days, but for those of you who know the city of Manchester (UK) the similarities are endless and I would love to draw your attention to them but it would detract from what I want to say about Melbourne – needless to say they're both great cities, but the food and weather are definitely better in Melbourne..
Melbourne Cuisine: A real smorgasbord for food lovers
So I'll start with the food, as the city's culinary delights will remain as one of my lasting memories, partly due to the massive choice and variety on offer, but also the quality and availability to meet all tastes and budgets. Apparently nearly a quarter of Melbourne's residents (not including us tourists) were born overseas, speaking over 180 different languages. This has led to an exciting and wide ranging cultural food scene. You can eat Italian; Vietnamese; Greek; Middle Eastern, Kosher; Chinese; Korean; German; not to mention the classic British Sunday Roast Dinner; the list is endless and derives from the many different nationals who've made Melbourne their home. I've never seen so many places to eat so this must be a serious pastime for Melbournian's with at least one cafe, restaurant or food outlet on every corner.
There are of course the standard fayre of chains you'd expect, that every city seems to have these days, but there is still an overwhelming mouth-watering array of places that are unique to Melbourne. Whilst sitting in a cafe the other day experiencing Melbourne's booming cafe culture, I read an article in the local newspaper about the latest coffee craze to hit Melbourne, this isn't on-line, but if you like coffee you may want to try Bird Poo Coffee.
The pub and bar scene is definitely alive and kicking, with no shortage of places to cater for all tastes. Plenty of alfresco and roof top bars, also worth a look is the Brunswick St area, a little like Camden town, funky bo-ho chic, yea get me.
Essential Aussie lingo for beer lovers like us, are the words "schooner"  and "pot", good local brews in Victoria are Victoria Bitter (VB) and Carlton Draught as there seems to be plenty of promotions around on these at the moment $5 schooners etc..
Also, more restaurants than in the UK allow you to BYO (bring your own) and may charge a corkage fee. Wine seems surprisingly expensive, even in the local bottle shops (off-licenses). A really (LOL) funny woman, who we met the other day, told us you can ask for cleanskin bottles.
Culture: Melbourne Travel
There is definitely more to see and do here than just, the obligatory trip to Neighbours Ramsey St, and no we didn't.
Melbourne is culture crazy: a city of arts with many galleries, museums, cinema, theatre and exhibitions so there's plenty to keep you entertained and educated.
no images were found
This kept us pretty busy, so we didn't make it to the Star Voyager exhibit exploring stars and space on screen or something like that (sorry Craig just too much to do) or the Edge Tower.
I had an idea not long ago, I'm a bit like that, that I would capture public art/memorial displays along my journey as a reflection on the places I'd visited, not going to get all arty farty on why, but Melbourne has well over 300 such displays alone, and not just of Queen Victoria, so I'd still be here next Christmas, but that wouldn't be too bad eh?
There is also the obligatory full calendar of events that any major city boasts such as gigs and festivals all year round to cater for a diverse crowd, and many of these don't have a sporting bias. However, I would love to go to 'The Melbourne Cup' but I've just had to make do with the 'pokies' and 'TAB' shops to satisfy my gambling needs.
Weather: Melbourne Travel
We can't complain. The weather in Melbourne is very changeable, and at times it seems to change every 10 minutes. The summer average is 28C, and through the clouds and showers we've experienced we've also had some great sunny days for sightseeing. You do need sunscreen whatever the weather, we've both suffered from an unplanned ex foliation  after applying sun cream religiously every day (except for our first day of arrival – we thought it was cloudy, fair dinkum!) We've both invested in hats, an essential for baldies, purchased from Victoria Market. I'm sure you'll see us in them at some point, I've gone all native trying to sport a Crocodile Dundee inspired look – don't laugh.
Shopping: Melbourne Travel
Melbourne is not an overly expensive city, although it doesn't feel like that for us at the moment due to the strength of the Australian Dollar. (Hey ho – no champagne and shucked oysters down the docklands for us)
I'm not going to talk about the shopping available in Melbourne, AS I CAN'T DO ANY due to my backpack already bulging at the seams, but this place makes for a shopper's paradise. Loads of great markets, designer brand shops e.g. Louis Vuitton etc., independent boutiques and massive discount outlet malls, you name it Melbourne's got it. Melbournians are very easy on the eye: fashion conscious and well manicured, so dress to impress!
It took me awhile to realise that a thong is a flip-flop, that conversation could have all gone a bit Pete Tong.
Getting Around: Melbourne Travel
I won't bore you with information about the transport system, but it's superb and easy with trams and buses everywhere making for easy navigation whatever time of day or night (some of it is even free)
Walking is great way to see the city and there are plenty of self-guided walking maps, available in the excellent tourist information centre.
Every morning you can see the fit and active Melbournians burning off their wonderful cakes or too many Tim Tams cycling around the city. As a visitor you can hire a bike and it's a good way to circumnavigate the Docklands area and outskirts of the city.
As our journey to Melbourne  Travel experience ends as we head back to Melbourne Airport (Tullamarine) on the Skybus as we fly off  to the Gold Coast (OOL). Skybus is an excellent 24:7 service with buses running every 10mins to and from Melbourne airport; it takes about 25 mins one way trip for $16, or $26 return. (We purchased two one way tickets as we didn't intend to return to the airport as we'd booked tickets out of Melbourne on the 'Overland' train – but all our plans have changed as we want to see a little bit more of Oz).
A Violent Last Night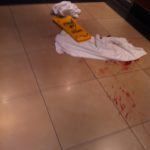 Melbourne is a very safe city, but ironically on our last night in Melbourne at our hotel it turned into an episode of CSI:Melbourne when over half a dozen police officers attempted to sort out a drunken brawl in the hotel lobby and no we weren't involved. The picture on the left is the hotel night staff's attempt to hide the blood pools till the cleaners arrived.
It's not often town planners deserve praise, however on this occasion it is merited. Melbourne is the real deal, and I know it's selfish, but I don't want it to change too much before I return. So please, and I'm not saying anybody will, don't bulldoze the green space and public areas in the name of progress and obliterate the feeling of space by overpopulating your clean and polite city with high rise apartments. Hopefully, this won't happen as property prices have been falling here for a while!
…